Social Media Marketing Agency Cologne – We sell brands and products through clever social media management in all relevant platforms. Social networks make our everyday communication with friends, colleagues and family so easy, that's why we humans are "Allways On". Constantly monitoring your community multiplies the effectiveness of your marketing. The Instagram agency for national, regional and international advertising campaigns. For social networks, we are the best contacts and planners. You understand, for innovative digital marketing our social media managers are your contacts.
Social Media Marketing Cologne – Influencers, Multipliers andTV!
Social Media One – The reliable professionals for online communities
We rely on strong, viral media in our social media management. Why? Social media platforms like Facebook, Snapchat and Youtube offer your social media campaign enormous potential for targeting, efficient audience communication but also viral events. Increase your profit for your company now. has become commonplace for many digitally advertising companies, social media contributes a share to the campaign budget. Youtube, Facebook and Instagram: Our consultants manage your fan pages wholeheartedly with ever-innovative social media strategies in marketing for more organic growth. Our social media managers digital advertising for well-known clients from Hamburg, Cologne, Hanover to Munich with customers realized. Offensive advertising in online portals is now one of the standards of modern companies efficient communication in communities Tell your Berlin fans in social media a story and convince fans for many years. Build brand fans today in a planned way. With us you have professionals for social media campaigns you can be sure to reach the right people.
Best Practice: New Influencer Campaigns + Events of our Agency
In the last few months, we've had some exciting campaigns and events. To give you a little insight into our agency's work with bloggers and influencers, here are a few best practices in influencer marketing:
Social Media Basics for Facebook, Youtube, Instagram & Co.
Here you can find all social media marketing tutorials.
Up to date! Social Media Marketing and Management: Speaker for Cologne
We give you answers to the most important questions: Will your markets be sustainably influenced by the digital transformation? How can I efficiently network my company digitally? How can you convince influencers of your company for sustainable cooperation with a considered concept? How do you position your company for digitalization? What is your brand's positioning and reputation in a digital world? What expertise and technology do your managers need? Read more and send us your non-binding booking request for Cologne.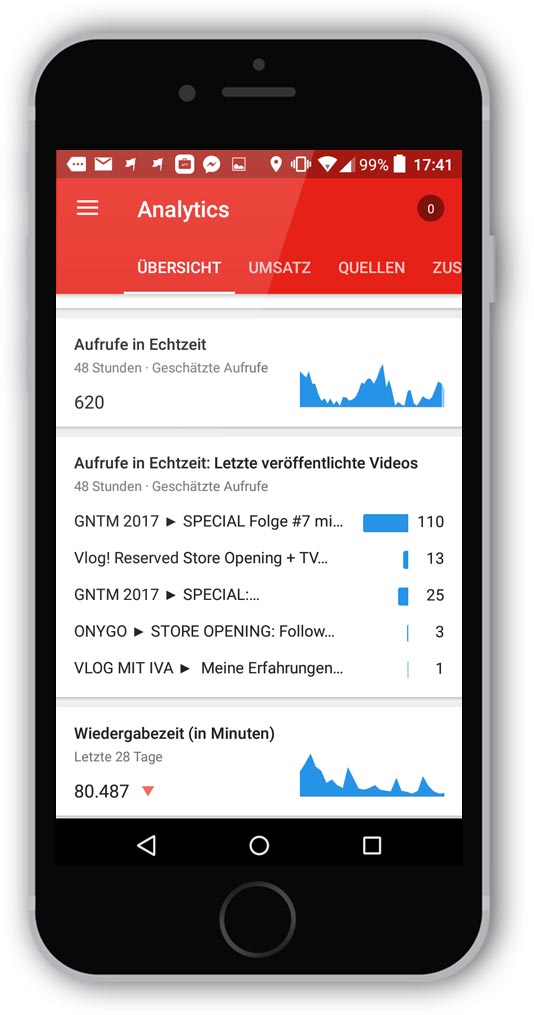 The word influencer stands for a person who is perfectly suited for marketing products because of their strong presence in social media such as YouTube and Instagram. The strategy in modern influencer marketing is to win over experts in a certain subject area as multipliers. Influencers can, for example, exert influence on the assessment and on the rating of products and thus influence for you. The wide-reaching communities of influencers as opinion leaders are used extremely effectively here with always low wastage for your campaign. Influencers can be politicians, athletes and authors who are strongly active in social networks Influencers have thus made a good name for themselves as experts with tens of thousands of subscribers. Locally then a hotelier active in Facebook can also be suitable. Increase the reputation and credibility in your brand with the leap of faith through media support of influencers. In social media mangement, influencers are for example: Youtuber, designers, professionals, musicians, bloggers, Instagramer, VIPs and celebrities, journalists, existing customers, actors and social media users with many followers. Basically, three types of influencers can be differentiated:
The brand lovers: They have a lot of experience with a brand and a strong connection to it.
Brand experts: These are socially recognized as renowned experts. Influencers draw on their in-depth knowledge when evaluating products and are neutral towards brands in their work.
Brand critics: They are generally critical of the company or have not had such positive experiences. Because they tend to express themselves negatively in public, their comments exert a negative, direct influence on the willingness to buy or the opinion of third parties.
Influencer Marketing: Your key to organic reach
For more on the topic, check out the blog, with new and interesting articles all the time.
The Social Media Marketing Report Cologne – We reveal all the numbers!
It all started with social networks like MySpace. Today, the biggest networks like Facebook have billions of users. Here you can find everything about the development of social networks.
1,060,582 inhabitants currently live and work in Cologne. Social media advertising is worthwhile for companies with 2619 inhabitants per square kilometer. As you can see from the statistics, that's an extremely large number of consumers, immediately, not far away in your neighborhood. In 2010, there were still 1,007,119 in the big city. Absolutely not a new phenomenon, the population of Cologne is growing over so by 5% or also 53,463 city residents in the last 5 years. Data from online studies reveal that, statistically, Cologne companies, brands and businesses invest over 80 billion euros in online advertising every year – would you believe it? 23,764 Cologne residents use social media absolutely naturally also for professional reasons. Why not? New projects and work are always present in social media for all users.
The largest amount of visitors are on social media in the peak time from 7 to 8 pm 222,722 Cologne residents are active on social media with friends and acquaintances. This permanently 83,468 additional people that you will reach with campaigns and ads. Scattered over an entire day, approximately 6 am – 2 pm, 139,254 internet users in Cologne will be online. Other time periods are less worthwhile. Accordingly, between 8pm-24pm there are then barely 127,270 people online, definitely fewer people.
Statistically, 753,719 people in Cologne comment on photos and selfies of friends every day. Like is clicked on by users 714,050 times a day. 1,586,778 direct messages are sent back and forth between people every day, from smartphone to smartphone. 55,537 photos are posted. Keeping in touch with friends is something 264,803 users want to do. 139,192 like to constantly communicate with other people on social media. 101,847 try to meet new friends. Professional contacts for their own network and career opportunities but also looking for new ways 23,764. 13,580 also want to find new clients.
Times for Cologne
Interaction
Facebook
Instagram
Youtube
Snapchat
People / Users
People / Users
People / Users
People / Users
social media
User / day
in Cologne
100.849
9.856
10.752
5.376
Period
5-8 o'clock
17.818
2.252
2.457
1.228
8 am – 1 pm
85.525
10.809
11.792
5.896
13-16 h
100.967
12.761
13.921
6.960
4-8 p.m.
114.331
14.449
15.763
7.882
20-24 h
71.271
9.007
9.826
4.913
Prime Time (Peak)
19-20 o'clock
124.724
15.198
16.580
8.598
Daily cut
100.849
9.856
10.752
5.376
Peak increase
at a daily average
100.849
9.856
10.752
5.376
Viva la Colonia! With power to Snapchat, Instagram & Facebook
Media use is shifting more and more to social networks, and not just in this decade. According to the ARD and ZDF Online Study, over 60 million German citizens are active on the Internet. 1/3 of German citizens are registered in the social network Facebook, for example. Millions of potential customers, which you can promote at any time extremely accurately with Facebook Ads quickly for new brands.
Many marketing departments still don't see the social network Instagram as a sales channel. What makes Instagram so effective as a sales channel is the extremely accurate information of the users. With highly individual users, you can inherently expect little wastage from promotional efforts. With options like Graph Search from Facebook, you have great options at your disposal, not just to analyze fans accurately. With Social Media One, your company always has the social media consultants for the upcoming campaign or even your first campaign. The interaction of the users in Berlin is what matters in social media marketing. The precisely defined target group increases the user interaction factor decisively. The social media managers of our agency advise all companies with interest and motivation.
Interaction
Facebook
Instagram
People / Users
People / Users
Intercations / Day
in Cologne
422.083
51.432
Interest
Comments, Likes
399.868
48.725
News
888.596
108.279
Photos
31.101
3.790
Contacts, friends
148.290
18.070
Chat, Entertainment
77.947
9.498
New acquaintances, friends
57.035
6.950
Profession, Job, Career
13.308
1.622
New customers, acquisition
7.605
927
Views per month
Interaction
Facebook
Instagram
People / Users
People / Users
Visitors / month
in m
7.384.739
205.800
Visitors / year
in m
88.616.873
2.469.603
https://socialmediaagency.one/wp-content/uploads/2016/10/social-media-marketing-agentur-report-koeln-auswertung-nutzerverhalten-medienverhalten-soziale-interaktion.jpg
600
1200
Stephan Czaja
/wp-content/uploads/2021/02/social-media-one-agency-marketing-strategy-brand-strategie-marke-agentur-youtube-instagram-tiktok-facebook-seo-logo.gif
Stephan Czaja
2016-10-02 19:21:44
2021-04-07 18:50:20
Social Media Marketing & Influencer Agency Report Cologne