Social Media Marketing Agentur in Los Angeles, New York, Moskow & Paris
Your social media agency for Berlin, Hamburg, Munich, Düsseldorf and Cologne! We sell brands and products through smart social media campaigns. Social networks are a network of dynamic groups of people, different platforms and technical functions that makes our communication with friends omnipresent and multimedial. What we are looking for is the famous 'cracking point' – the virality! With social media marketing and campaigns we have already intensively engaged in the study. Since then, we have been working daily in Social Web. Why? Social media platforms offer you enormous potential for extremely fast real-time generation, efficient target group communication and targeted response. The use of media has not only shifted increasingly into the Internet since the last years. With Social Media One, the professionals for social media management and Facebook advertising campaigns, you can be sure to reach the right people. Tell your users a story and win fans for many years! We have advised many companies and designed and implemented numerous campaigns. Build your community today. Call us and we will tell you how it works.
When you read this Social Media Guide, you understand social networks and their impact on people a lot better. There are technical terms in the Social Media Wiki.
Social media basics for agencies and managers
How do we deal with this? In order to answer these questions in advance, we will explain step by step what social media marketing is all about. If you would like to book us as a speaker for your next employee training or the next online marketing congress as a speaker, read more about Social Media Speaker.
Recommendations for your social media marketing
a title="Twitter Linkaufbau Hilfe" href="#twitter-marketing">Twitter
Why? Why do we spend hours every day in social networks?
Social networks are separate rooms:
They are networked with other offers (crossmedial, multimedial)
No second website but require independent content
Content with added value provides for interaction, because social networks live by communication and interaction
Bring proven success and sales
Reach target groups extremely precisely
Social media is relevant to:
Brand and image formation
Recruiting and Branding
Contact to media, opinion leaders, multipliers and others
Marketing and Sales
Development of new target groups
Product development and / or development
Before we start, let's take a look at some of the findings of Hootsuite / We Are Social 2017. The cooperation always publishes new reports and reports on global social media behavior, but also for individual countries. We wanted to point out three points:
Youtube and Facebook are market leaders in Germany
Information search starts on the Internet
E-commerce is now standard for companies

Source © We Are Social / Hoot Suite / global web index
Media usage in social networks
Development of on-line use in Germany 1997 to 2016
Persons aged 14 and over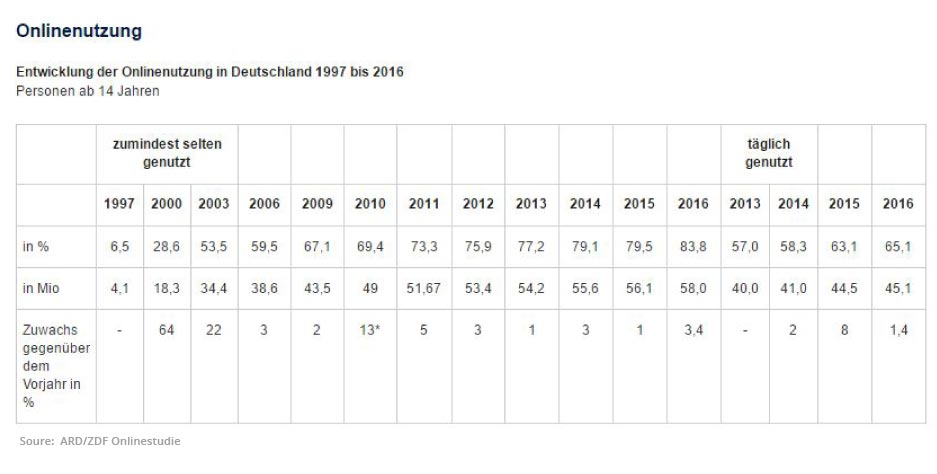 Source © ARD-Onlinestudie 1997, ARD/ZDF-Onlinestudien 2000-2015
Does growth continue? Yes!
Today, 83.8% of those aged 14 years and older, 56.1 million
10 years ago, 59.5%, 38.6 million
20 years ago 6.5%, 4.1 million
Jump 2015, 2016 with 3.4%
Media usage worldwide: The Internet conquers the entire world
Here you can see that half of the world's population is now online. This creates great new opportunities for companies in online marketing.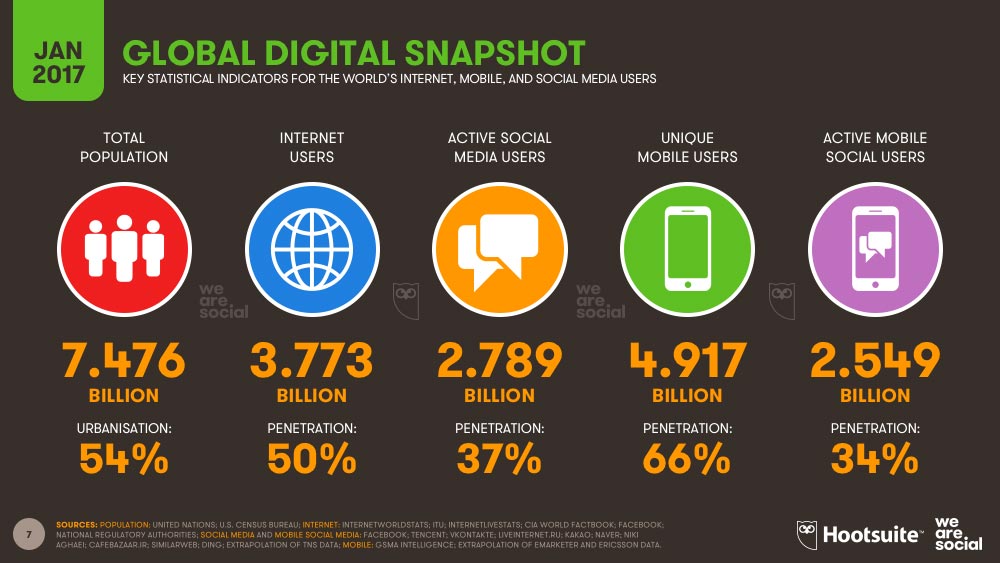 In doing so, the use worldwide is distributed differently. America and Europe are far ahead in digital networking.
Media usage times
January 2017
Source © We Are Social / Hoot Suite / global web index
You used to say, "You look too much TV!" Today we see 4x as often on screens. Overall, we spend 9.5 hours before terminals. In the morning at breakfast, in the subway, then at work, later with friends and also asleep. Now also smartwatches, permanent presence of small monitors on their own body.
Almost 5 hours we spend on average on the PC
More than an hour on the smartphone
We chat about an hour a day
In addition there are 2.5 hours before the TV
Use by age group: Social Media Report 2016 / Nielsen
In addition, a study by Nielsen, which in 2016 considers the weekly total use time of the media. Users were divided into 3 groups.
18-34 years (Millennials)
35-49 years (Generation X)
Over 50 years (Baby Boomers)
The result was already amazing, also for us as an agency. Compared to the New York Times, Sean Casey, President of Nielsen Social, said he was surprised by the results: "Social media and Millennials have been synonymous as synonymous. But he also notes that the smartphone has become self-evident for his age group, Generation X. "
35-49 years: 31 hours 40 minutes, of which 7 hours in Social Networks
18-34 years: 26 hours 49 minutes, of which 6.5 hours in social media
50 years: 20 hours 22 minutes, of which 4 hours in social media
An average of 25 hours (7 minutes) every week and 5.5 hours on social networks
Interaction and activities of users
January 2017
Source © We Are Social / Hoot Suite / global web index
Mobile is almost as often interacted as on the classic PC / notebook.
Platforms / GER
January 2017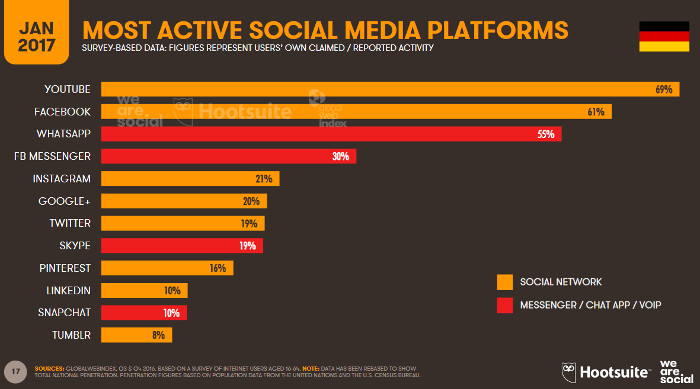 Source © We Are Social / Hoot Suite / global web index
Social Networks and Messenger in Germany
* Messenger, Chat app, Voip
Youtube: 69%
Facebook: 61%
Whatsapp *: 55%
Facebook Messenger *: 39%
Instagram: 21%
Google+: 20%
Twitter: 19%
Skype *: 19%
Pinterest: 16%
LinkedIn: 10%
Snapchat *: 10%
Tumblr: 8%
Mobile activities
January 2017
Source © We Are Social / Hoot Suite / global web index
Activities Mobile in Germany
Videos: 73%
Messenger, Communication: 56%
Card Services: 44%
Gaming: 34%
Bank transactions: 27%
E-Commerce
January 2017
Source © We Are Social / Hoot Suite / global web index
Relevant figures in e-commerce
81% visited shops online
77% look for products to buy them
72% bought digital
64% of them on the desktop, 26% also mobile
Heavy User / Light User
USA 2016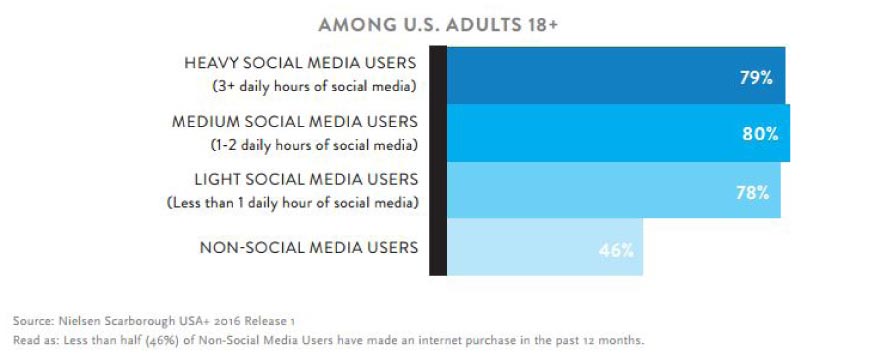 Source © Nielsen Scarborough USA+ 2016, Release 1
Digital sales volume
United States 2016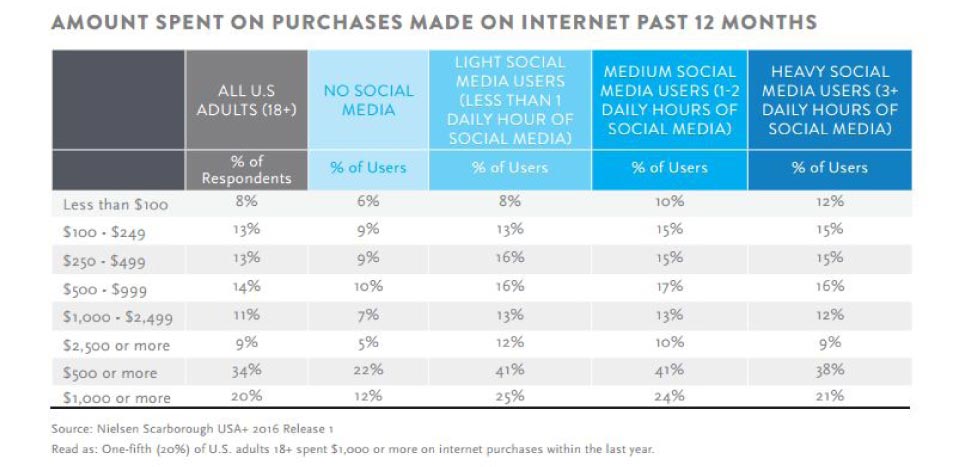 Source © Nielsen Scarborough USA+ 2016, Release 1
How are the expenditures distributed between the different beneficiary groups?
Over 50% of online users have spent more than $ 500 on digital purchases.
20% even more than $ 1,000
Light users are buyers as heavy users (retargeting)
Purchases by department
United States 2016
Source © Nielsen Scarborough USA+ 2016, Release 1
The most frequent purchases are made by users for the following products.
Heavy User: 3 hours daily on social networks
Clothing, Accessories: 58%
Books: 38%
Movies, Cinema: 31%
Furnishings, Accessories: 28%
Flight tickets: 28%
Health, beauty: 28%
Apps: 28%
Games, Toys: 27%
Travel (without flights): 25%
Music: 23%
Light User: Circa an hour daily in Social Networks
Clothing, Accessories: 48%
Books: 39%
Flight tickets: 33%
Travel (without flights): 30%
Furnishings, Accessories: 23%
Movies, Cinema: 21%
Health, beauty: 20%
Toys, games: 20%
Apps: 18%
Music: 17%
Interaction after days
Uited States 2016
Source © Nielsen Scarborough USA+ 2016, Release 1
Usage Mobile
USA 2016
User (mobile):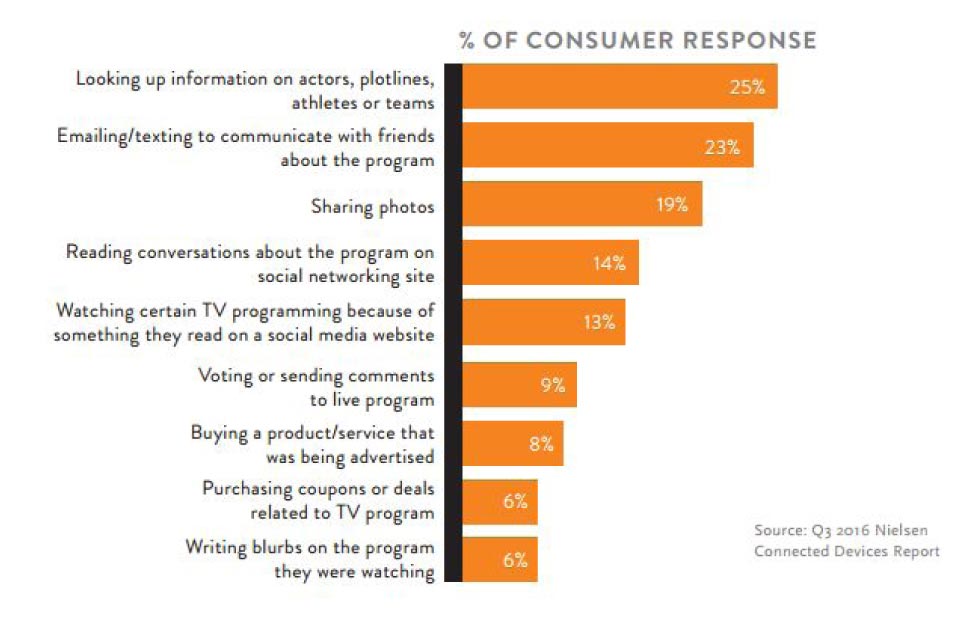 Source © Nielsen Scarborough USA+ 2016, Release 1
Change of Usage
Unites States 2016
Source: global web index
Social media recommendations
We see these points as relevant
Reach target groups> Network expansion
Target groups are on different social networks. The more we spread our content, the more holistic we reach all target groups. Postings Frequency> Binding
Snack Content> Photo / Videoproduction
For this we produce small videos at the Onlineshop! We then use it for the advertisements + Insta / Youtube.
Communication Management> Questions & Answers
For the communication (eg news on FB) should ideally have a competent specialist in the office. Quickly and effectively connect employees and customers. Customer Satisfaction, Quality, Stores, Recommendation.
Retargeting> Advertising
The retargeting code we install asap in the shop, then we collect user information directly. Then start the first ads. Through Adspend, we reach significantly more people than by simple, organic construction. Therefore, we recommend the monthly investment in ads for the extra-produced content. Retargeting> Advertising> Sales promotion> Reinvestment
Link Building> Trend Blog
The user connection is larger. The content can also be post on Facebook and bring new users to the shop. Range and upsells. For this purpose, the content can be further exploited, for example a well-made video tutorial in text form.
Facebook: Statistics and recommendations
Usage
Source: Facebook Company Info & Mark Zuckerberg
26 million users in Germany
Worldwide 1.9 billion users
1 billion uses the FB Messenger
Target group: all age groups (14 – 65+)
60% of the users call the page up to 8x daily
1.6 billion likes a day (2014)
60 million pictures and photos (2014)
Recommendations
Channel Designs for title picture and profile picture
Corporate design for FB and all other social networks
Templates for postings, photos and VIdeos
For themes, products and special events (such as "Black Friday", "Christmas", etc.)
Retargeting
Photos
No Hashtags> direct to the shop
Facebook tabs and functions like Youtube (later also content and shop possible), the contents are so directly via FB retrievable
Posting frequency
We post 3-5x week of current content, also external content, if appropriate.
Gimmicks
Artificial shortage? Sale! Last pieces in stock! Only today!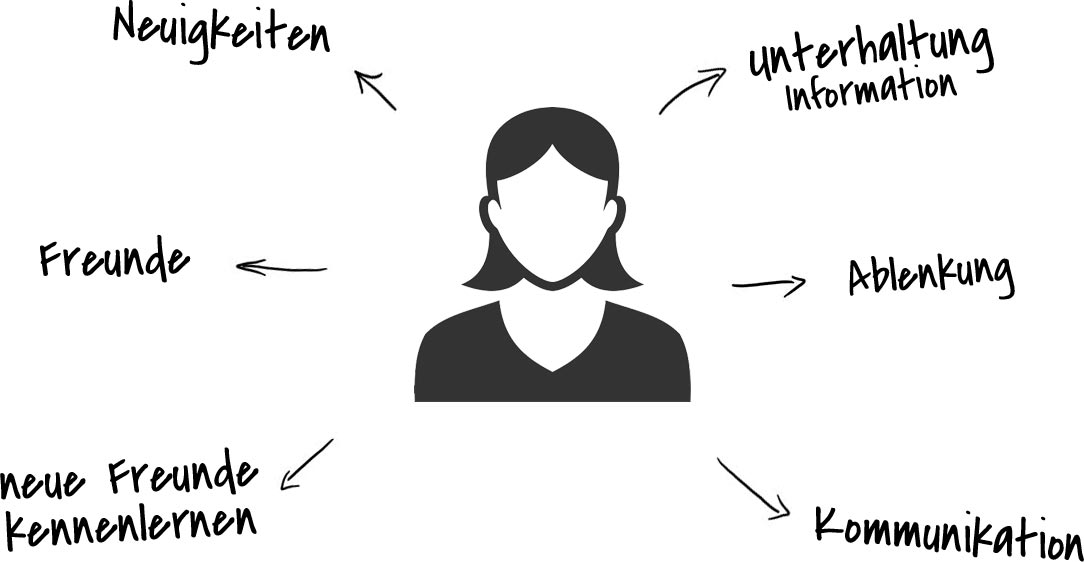 Youtube: Statistical data and recommendations for video marketing
Usage
2016
8 million users in Germany
Target group: 10 – 60 years
92% of all young people and 70% of 30- to 44-year-olds are regular on Youtube
Recommendation
Commercials
Influencer Marketing
Tips and recommendations from employees
Backstage at the shooting, etc.
Presentation of company and tradition
Crafts, manufacturing, technical details and quality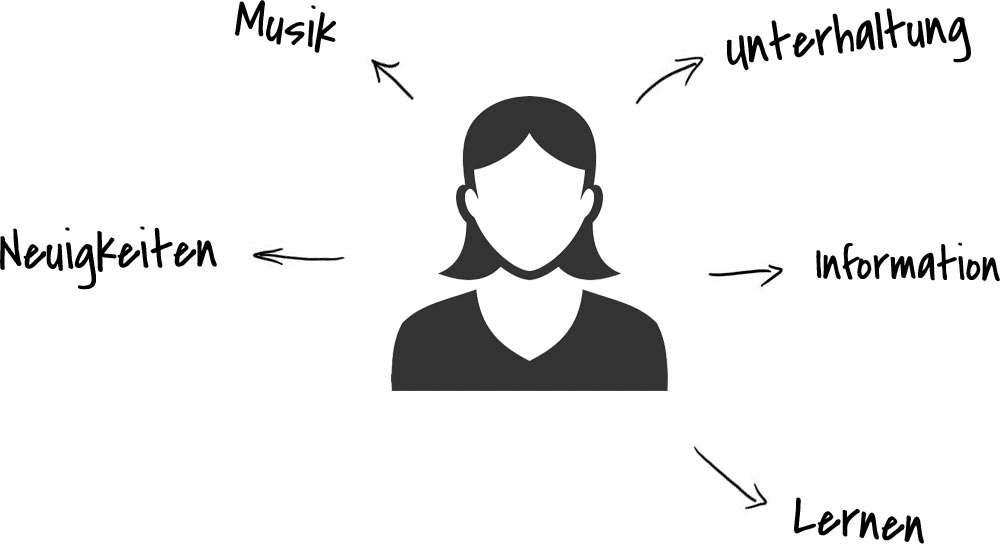 Instagram: usage and statistics
Usage
Source: Instagram Business
9.8 million users in Germany
600 million users worldwide
1 million advertisers
Target group: 16 – 29 years
83% of users are under 35, 60% under 25
36% of all Germans between 16-29 are registered
4.3 billion likes a day
98 million pictures
Recommendation
New target groups reach
With Instagram, we achieve significantly different target groups than via Facebook.
We post daily on Instagram, 1-2x
Trend Keywords
Planned content
Connect to other channels
Software
Pinterest
Usage
3 million users in Germany
100 million users worldwide
Target group: 16 – 34 years, 80% female users
Recommendation
link building
Shopping backlinks for styles
Inspiration (for furnishings and similar fields)
Twitter: The media network
Usage
Source: Twitter Company
12 million users in Germany, with only 3-5 million users have an account
321 million active users worldwide
Target group: 25 – 44 years
500 million tweets daily
80% use Twitter mobile
Recommendation
Easy + Fast handling and advance planning
Relatively little work like Pinterest, we take directly with
Source for media and journalists
Snapchat: Young people inspire
Usage
Source: Snap me if you can
9 million users in Germany
100 million users worldwide
6 billion snaps are available every day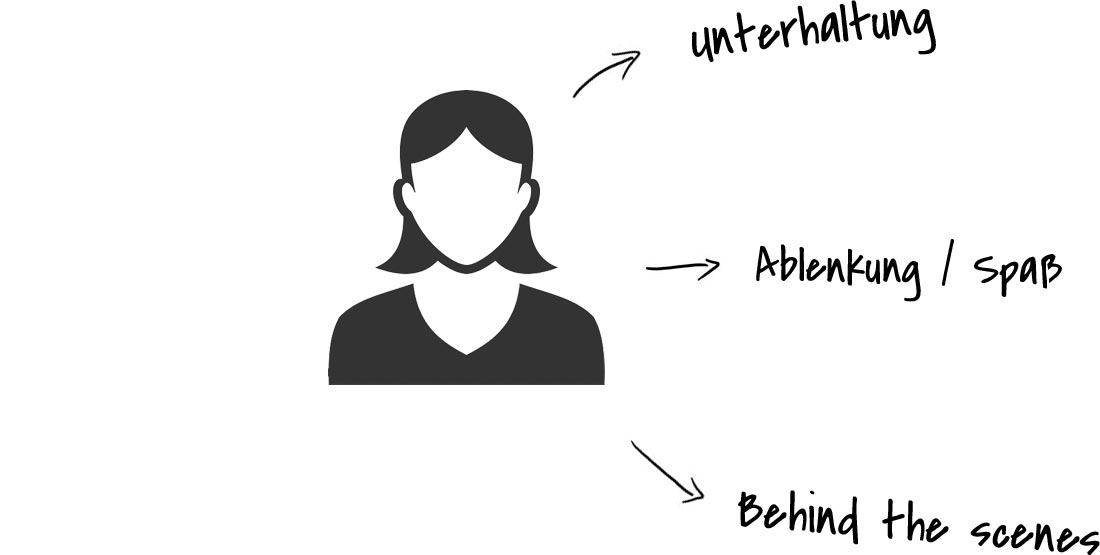 Snack content production for high interaction rates
The content is so simple and fast
Regular stock shooting
Own, fresh image material for social media + short video clips
Team: photographer, 1/2 model / s, visa, on location (stores) and studio in mix
Content in simple form
Example: Instagram, photo from the bed in the morning, with newspaper and cafe. The newspaper shows creative ideas for your own garden. Keyword (s): Influencer.
Agency services and expertise for consulting and management
Social Media Keynote Speaker
Social Media Marketing Conception
Content Strategy and Planning, Basis: Target Group Analysis
Multi-channel management and channel construction
Campaigns, channel and fanpage design
Facebook Ads (Partner Agency)
PR and the public (communication concept)
Design workshops
…
Social Media Agency
Your social media marketing agency for Berlin, Hamburg, Munich, Cologne and Düsseldorf! Our social media managers work every day on new successes for our clients and projects. As a social media agency, we also have the perfect social media consultant for you and your new advertising campaign. Instagram is often an insider's tip in the online marketing of companies and companies for their products and services that are advertised or promoted on social networks. What distinguishes Instagram, especially from the other major social networks, is the very exact targeting of targeting. Due to the hitherto very specialized user group, the picture network is provided by the house with little wastage in the promotion.
Top recommendation
Social Media One is recommended by Internet World Business Magazine as a partner for Influencer Marketing in Germany!