Facebook Ads: run ads
Facebook Ads – Over 3 billion users, a huge user pool for your marketing! The question is: How do Facebook Ads work? Learn the first insights from our Facebook agency on the topic of ads, the strategy behind the ads, the different ad formats, costs and KPIs (key performance indicators) on Facebook.
Facebook Performance Marketing
Social Ads on Facebook – Advantages largest network / largest target group: Facebook is now the largest social network in the world, with over 3 billion registered users. A huge platform for new, but also well-known ideas and products.
All begins in the workshop and with the first analysis.
Strategy development Facebook Ads
Procedure strategy development Facebook Ads:
Analysis actual / target; if necessary, set up advertising account
Facebook Ads Strategy
Concept, design and implementation
Set up campaign structure
Tests, learnings and continuous optimization
Reporting and feedback
Controllable, Measurable: Advantages
Advantage user data (targeting) – Another big advantage of Facebook is the extremely large data pool that you can use for targeted ads, to individual user groups (strategy). The better individual ads (campaigns) are tailored to individual target groups, the more effective the effect (targeting).
Recipe for success for tens of thousands of companies – This is precisely the recipe for success that makes Facebook one of the marketing and sales channels for the majority of companies.
Never before, you could reach people (anywhere, anytime) so easily!
Advantage segmentation – you can play ads to people in small villages showing "rural" media, while people in the big city see a completely different ad, with lots of concrete and "urban life". Younger people, older people, men, women, all these different audiences can be segmented.
We are already providing support for our customers:
over 100.000 Euro Facebook Adspend per month
Advantages of Facebook ads at a glance:
Largest network / largest target group
Use user data (targeting)
Best practice by tens of thousands of companies
Segmentation of target groups
…
Advertisement example: Infographic
Facebook ads can come in different forms. On the facebook.com website, in the Facebook app, even in Facebook Messenger you can use for sales goals, but also employee recruiting. As a rule, however, ads focus on these areas.
Here for you simply and schematically represented in an infographic!
Facebook Ads in the app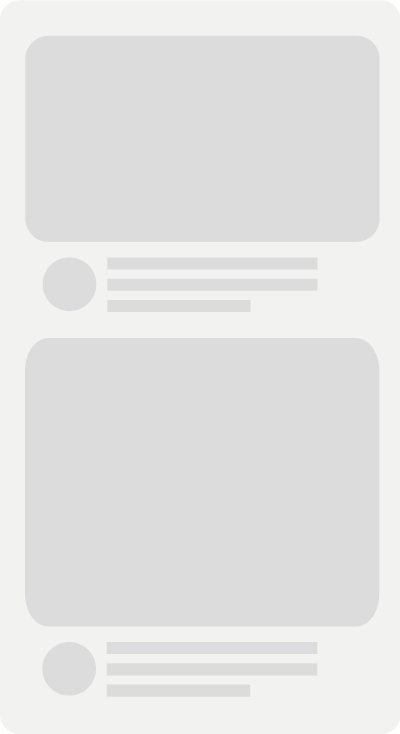 Facebook Ads on facebook.com
Start now with Facebook Ads:
Facebook Ad Agency: Strategy
Let's summarize once again:
The great advantage of Facebook Ads, is the extremely accurate playout of individual ads, to individual target groups.
Example: Apply only iPhone 13 users
An example (target group iPhone 13 users):
Let's say you just want a very affluent target audience. One trick: "The latest iPhone model". Means, only Facebook users with iPhone 13 (relatively expensive in comparison), so exclusively a specific model, the iPhone 13. Probably more purchasing power than users with iPhone 8,iPhone 9 or iPhone 10 or other brands.
Targeting the advertisement:
Cell phone
IPhone
Model: 13
Facebook formula: 3 steps to strategy
So for a good Facebook advertising strategy that sells products, you need 1) audience segmentation, 2) individual campaigns / media, and 3) the right qualitative, quantitative reach.
Good Facebook Ad strategy means: Your products
Segmentation of the target groups
Segmentation of campaigns / media
Qualitative, quantitative range
This mix guarantees performance.
Media budget
That's exactly what a good Facebook ad agency is for, selection! If you think through all the parameters, play out ads on website, in the app or in Messenger, to different smartphone manufacturers, model types, women, men, age groups, interests…
Many possibilities, many sources of error – experience makes the difference!
Here you can quickly burn a lot of media budget! A good and experienced Facebook agency takes care that budgets are used efficiently. Individual campaigns and are constantly optimized so that the key performance indicators (KPI) become more and more efficient!
Advertising on Facebook is made easy by the parent company meta. Just enter your credit card details and you're ready to go! Why? Because a lot of money can be earned quickly. The more accurately an ad is sent out, the better the metrics you're about to learn. The better the metrics, the better the ratio of acquisition costs and profit per customer, if we stay in the sales aspect.
You have questions? We have answers!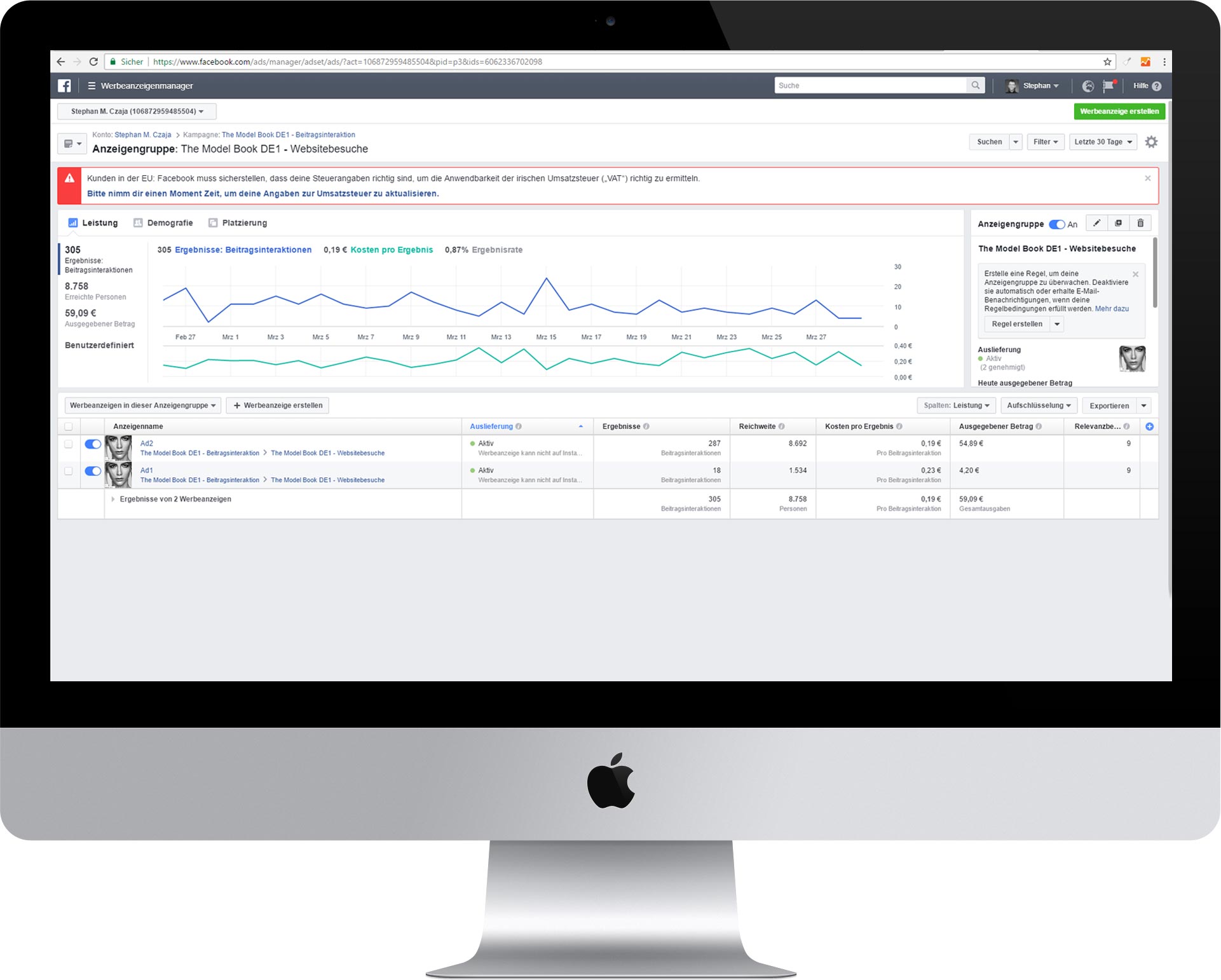 How do Facebook Ads work? Insights
Here is a little insight into the technical possibilities that we use for you as a Facebook agency. 3 small examples.
Content first! Content is king. For the users, but also for Facebook's algorithm. Without good content nothing works, that's why we do "more than just" posts, we focus on performance.
Just one example, away from the 85% regular ads
Clickbaiting: Attention in 1 second
For example, through clickbait ("bait"), for quick attention and the desire for more, that is the goal of this tool.
Content must activate users directly, because you only have a fraction of a second to generate attention. Your competition is just a swipe away.
A very simple example would be a Facebook video displayed to users as an ad. Tip. Always include voice and text if sound is disabled. The beginning:
Do you already know this?
We have not yet created a lurid headline, but attention to the user, "do I know what"? Directly the rate jumps up, no matter whether average time a user watches the advertising video or also clicks. But clickbait is even more blatant.
This thing here, has changed my life!
A certain percentage of users will now pay additional attention, "what changed his life"? Already they want to know more and you, have X more viewing time and clicks.
Or also:
8 points that change my life. Number 7, was intense!
Through such headlines, more users are activated, attention is aroused. The more efficient the ad, the better the performance, the more goals you achieve with your Facebook Ads.
At the same time, you can see that there are many ways to target users with ads. That's why they are all tested against each other! Here we come to. Two of our little Facebook Ad Insights.
Split testing: campaign optimization (example e-car)
Simply explained, split testing, or A/B testing, pits different ad formats against each other.
Using a key figure, such as the click rate, the different ads (but also target groups, etc.) can be compared with each other.
Display A – 5.6%
Display B – 5.9%
Display C – 3.6%
…
Ads are tested, but also target groups. Ad A / B / C for men, for women, for a certain age.
Display A / Men – 6.2%
Display A / Women – 6.9%
Display B / Men – 7.3%
…
However, cell phone models are also tested, as previously described, landing page colors and much more.
Display A / Men / iPhone 13
Display A / Men / iPhone 12
Display A / Men / iPhone 11
…
Also possible are interests, say for an e-car manufacturer:
Display A / Men / iPhone 13 / Interest "Tesla
Display A / Men / iPhone 13 / Interest "Nio"
Continuing with media:
Ad A / Men / iPhone 13 / Interest "Tesla" / Photo Ad
Ad A / Men / iPhone 13 / Interest "Tesla" / Video Ad
And so on…
Good performance is given more media budget, less good is changed or eliminated. In this way, the individual ads (campaigns) become more and more efficient and the key figures better and better.
KPIs for Facebook advertising
Depending on the social media strategy, general advertising strategy, the goals differ with the corresponding key performance indicators. Social media monitoring looks at various key performance indicators(KPI, performance targets) on Facebook. Here are a few of the most important examples and technical terms.
For the many (with online store but also in stationary trade) one thing counts above all: sales closures. The technical terms in social media marketing, conversion (achieve certain business goals), or the conversion rate for newsletter subscriptions, registration for a webinar or just your direct sales in the online store.
CPM: Cost for 1,000 ads
CPM – CPM (cost for 1,000 ads), i.e. "Costs Per Mille" tells how much it costs when your ad has been played or displayed 1,000 times. Speaking of costs, the cost of ads is never the same, it differs due to many parameters. Important for the price difference, however, is for example the competition, how many competitors also place ads on your keywords?
Calculation:
CPM = Costs / Views
0,20 Euro = 2.000 Euro / 10.000 Views
CPC: Cost per click
CPC – CPC (cost per click), i.e. "Costs Per Click" describes the amount of costs incurred for a click on your "target" (your own Facebook channel, your Facebook store, job ads on Facebook, your online store, landing pages, etc.).
Calculation:
CPC = Cost / Clicks
2 Euro = 2.000 Euro / 1.000 clicks
The key figure (CPC) is important because reach alone (especially in the sales aspect) has little significance.
But even more important is the conversion rate and the LAC.
Conversion rate: target measurement
Conversion rate – This percentage deals with the achieved success of Facebook ads. Calculated very simply: If your ad was played 100,000 times on Facebook and your goal was reached 2,000 times (e.g. sold), the conversion rate is 2%.
Calculation:
Conversion rate = Leads / Views * 100
2% = 2.000 / 100.000
LAC: Lead Acquisition Costs
LAC – LAC (Lead Acquisition Costs), or cost to close a sale, shows the ultimate "purchase price per customer," simply put. According to this, the effectiveness of Facebook advertising can be quickly measured, simply put the profit per customer in relation to the acquisition costs.
Engagement rate: Interaction
Engagement / Interaction – Engagement rate (interaction) is calculated by likes, comments, direct messages, mentions (tagging), impressions (page views) for clicks to the online store.
Run Facebook Ads: Website and App
Ad in Facebook feed (app)
Ad as Facebook Story (App)
Ad as a post in the Facebook feed (website)
Advertisement as recommendation in sidebar (website)
Ad in Facebook feed (app)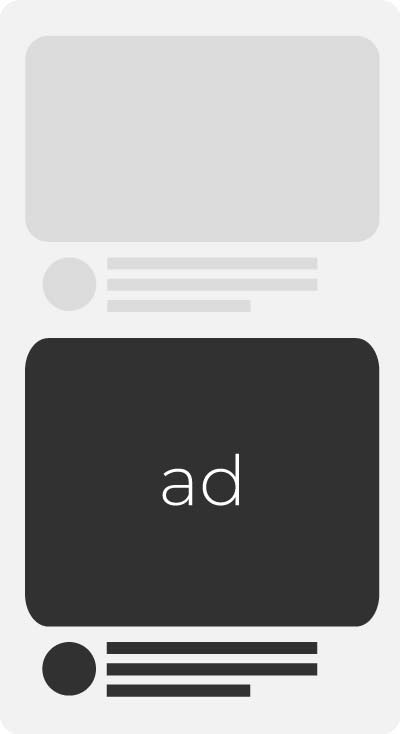 Ad as Facebook Story (App)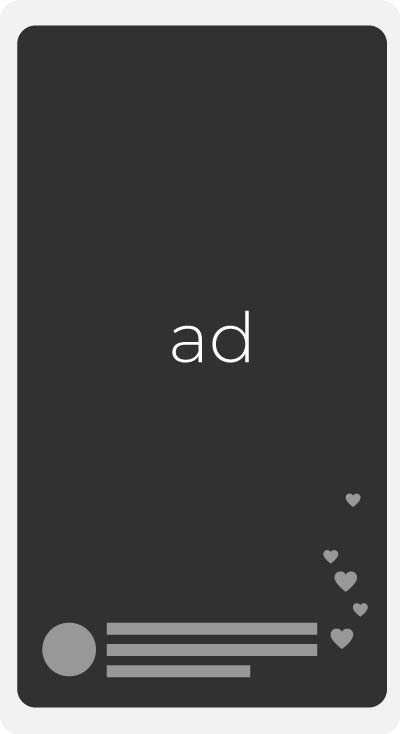 Ad as a post in the Facebook feed (website)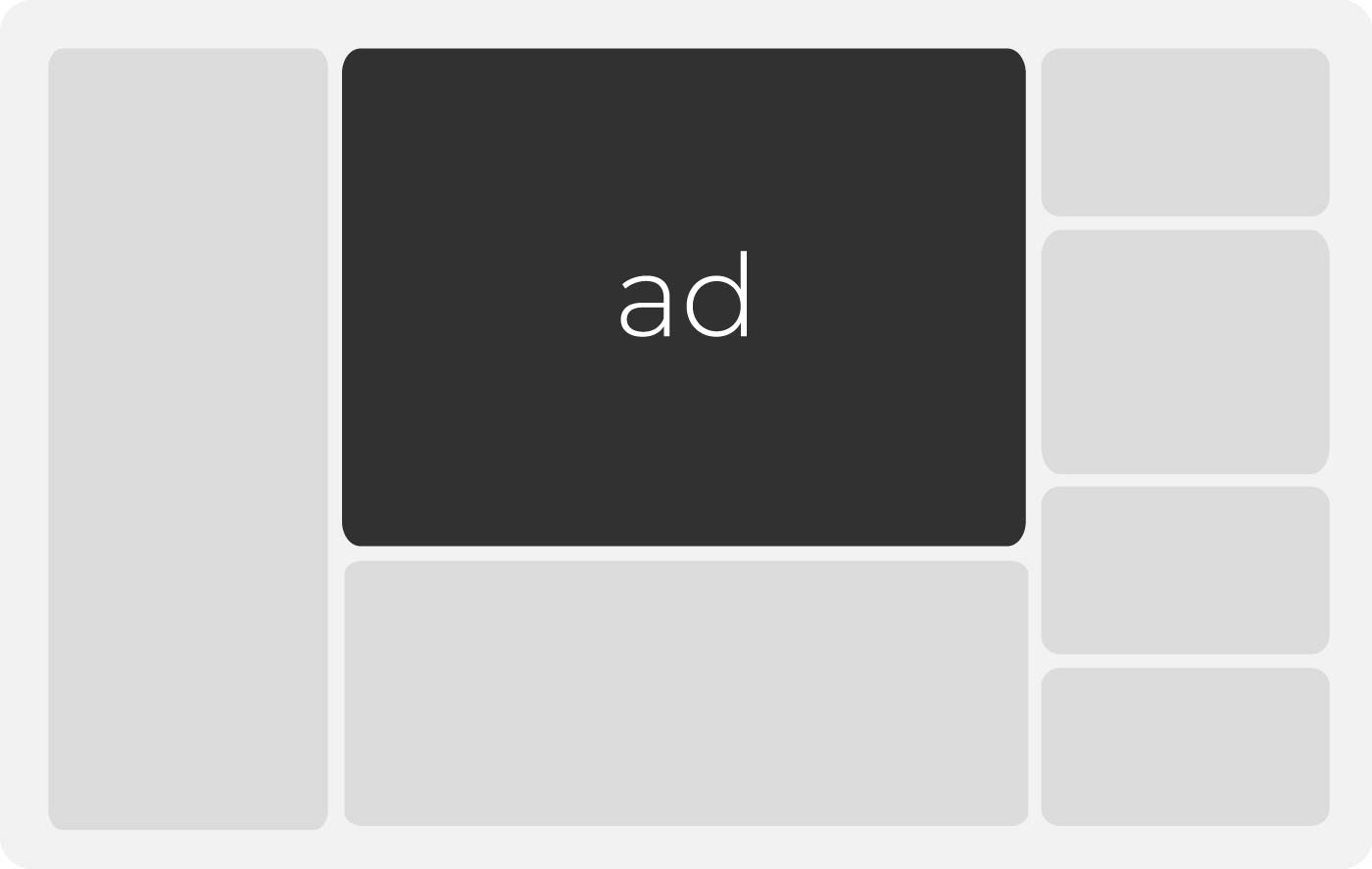 Advertisement as recommendation in sidebar (website)
Facebook agency
Facebook Agency and Marketing – Hardly any advertising platform has developed as rapidly in recent years as Facebook. Initially, you had very few options and very limited ad formats to effectively reach the optimal target audience. Since then, a lot has happened. Here on Facebook, all topics are discussed, whether cute pets from cat to dog, the next or last trip, camping, cars, but also fashion and much more.
Jobs: Facebook Ads Manager wanted!
You are looking for 1) a new job with challenges + great team and you have 2) already gained experience with social ads? Wonderful! Make a career at Social Media One, with our clients and the whole Performance Marketing team.
More about us, vacancies and contact details for your application can be found here: