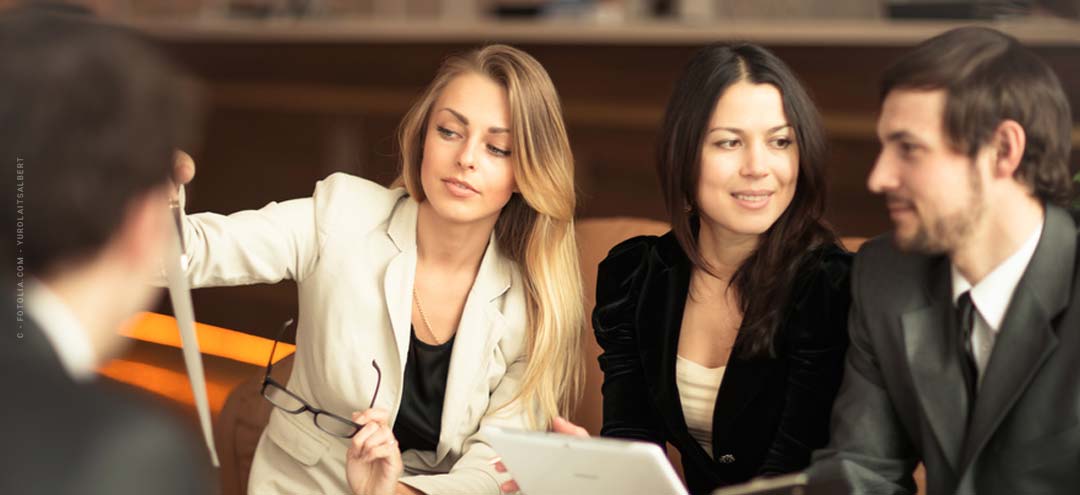 Employee Advocate: Reinforcement (Recruiting)
For the recruitment of personnel and of course the positive image, advocates among the employees are very important. If you need very good personnel due to high technology, complicated processes or first-class management, you will get to good people through the short distance. E.g. recommendations made by your own staff. This is not only possible at the university or within one's own circle of friends, of course also through evaluations on social networks. Because where does the search begin? Usually you look at Google, Facebook and other networks like Kununu or Yelp. What do former employees say? What do the current employees say? Don't just give negative voices space, because very few people who have positive experiences report about them. Therefore, employees should be actively asked whether they would write an assessment. It's worth it because hardly anyone thinks about it. If you as a company then with only 2 ratings, twice only got one star out of five possible, it looks directly negative for outsiders. You should pay attention to this in your reputation marketing!
Of course, today we could take a look at the general question, how do you get happy employees? From working hours to flexible working hours, bonus payments, more vacation days, the general mood in the team to small attentions that one should give to the employer! But we want to focus on our reputation in the digital media. After all, when have you ever checked your ratings on Google? Or rather, when was the last time you positively influenced the ratings?
The active organisation of the evaluations only takes a few days of work, but has a positive impact for months and years. Passive, positive PR. It gets even better, after all a third person is talking about you, namely Google. She rates this platform with 4.8 out of 5 stars. Recommendation marketing of the best form.
Positive reviews are worth too much. Especially when it comes to qualified employees, because they inform themselves in advance about them as a potential new employer. And the reputation, i.e. the external reputation, has become enormously important for companies in times of social media and evaluation portals. The fact is that very few companies think about actively influencing valuations on a day-to-day basis. It's not a question of bought reviews or influenced reviews, but only of asking satisfied customers and satisfied employees whether they would write a review.
From experience we have been social media consultants in many companies. Even companies with more than 1000 employees and 100 locations rarely pay attention to their reputation on the Internet. In particular, portals that are not directly in focus, for most only Facebook, are usually ignored. More than 80% of people search their information on Google. Have you ever actively looked at your Google ratings?
Many who inform themselves in advance, however, also go to other portals, which deal e.g. only with the topic business, business and employers. Rating portals like Kununu. We would therefore like to take a look today at the most important platform for our own reputation.
Google reviews
Google is the platform and contact point when it comes to searching for information on the Internet. From simple words to formulated questions, users search here several times a day for everything they want to know or buy. Ratings on Google are all too important to find employees. Satisfied employees who give positive ratings as advocates are of course worth their weight in gold, because all interested parties will read through exactly these ratings. Google allows any user to rate, so any company can also rate products and online stores. The rating does not only play an important role for the Google algorithm, especially for prospective customers it is an important source of information. What do the others say?
Social reputation is an extremely important issue in the recruitment of employees. After all, as an employee you get involved with a company for months, years and sometimes even for a lifetime. Every decision has to be well made. Especially if you have previously invested many years in your own academic education, you want an employer who promises satisfaction. The primary issue here is not always the amount of the salary payment; the working environment in particular makes a big difference. The team is very right, do you get along with the others? Flexible working hours are important, what if I have to stay at home? Do I have to be in the office every morning at 6 am or can I start flexible?
All these questions can be in the form of evaluation text and positively packaged in advance. For example, when several employees talk about flexible working hours or the generally very good mood in the team. When every day at work is fun, it doesn't feel like work anymore!
Active question, for example, at the end of the internship
Answer typical questions through little stories and phrases
Facebook reviews
Facebook is also an important platform for personnel recruitment. Because here there is a large average of society, from 20 to 70 years. Many of you will be taking a look at the new company for the first time before applying. What's the company doing? What's this all about? What do the others say about company XY? Facebook is the largest social network in the world and of course Facebook also relies on the rating option.
Did you know? Facebook has started as a pure rating platform. Company founder Mark Zuckerberg developed a platform on which students at Harvard University could be compared with each other. Hot or not? Of course it was an immediate and big excitement, not only on campus, but all over America. So Facebook spread like wildfire. More and more students at universities wanted to know exactly what Facebook is. The rest is history.
So reviews have always been the central means of Facebook. Just think of the like button, in the end also an evaluation form. Accordingly, you should also win over your employees as advocates when it comes to positive reviews on Facebook. The majority of potential new employees first check out Facebook. Insofar as their recruitment strategy does not involve employees under 20 years of money, Facebook is an excellent way to find good employees. Always pay attention to your digital reputation and check your reviews on Facebook. If necessary, ask employees if they would like to give a positive assessment! Especially when employees have been working for you for two or three years, it seems like a great job! Why not make it a little story?
Many of the reviews that are made relate primarily to products. Companies and enterprises, why should they be evaluated? As a rule, you will have to deal with negative comments on social networks if you have hardly any public relations work otherwise. In order to counteract this, one should pay attention to one's own positive reputation in digital media. The active organisation of the evaluations only takes a few days of work, but has a positive impact for months and years. Passive, positive PR. It gets even better, after all, a third person is talking about them, namely Google. She rates this platform with 4.8 out of 5 stars. Recommendation marketing of the best form.
Kununu, Yelp & Co
There are other social networks besides Facebook and Google? By Google we mean of course the whole Google universe, including YouTube. In fact, there are other relevant platforms fighting for opinion and reach. A few of these platforms are relevant when it comes to evaluating companies. This includes e.g. the company rating portal Kununu but also yellow. Both platforms have relatively little reach compared to the two companies mentioned above, but in the specific area of company research they are relevant and should therefore also be considered when it comes to the positive, digital reputation.
Social ads for your target group
If you want to recruit employees extremely efficiently, use your employee advocates for a small pr-video, which you then use for your social ads.
Imagine two young people philosophizing on a park bench about their future after graduating from high school and looking for the right job. Suddenly a small video pops up on Instagram, with a friendly young man who briefly talks about his job and counts the benefits of an education. Spontaneously the two young people talk about this job, the employer and maybe you send your application.
Through social, they can reach extremely accurate target groups, with exact interests and of course geographical characteristics. Whether you are a nationwide chain of tyres and car parts looking for new sales staff or a fashion chain looking for dedicated staff for its downtown stores, Scherz can reach the right people with a joke. It gets even better, for example they can specify that they only want to apply to people within a 20 km radius of Berlin, they must be between 16 and 21 years old and have indicated that they do not have a job or are at school or students. This means that they exclude an extremely large number of people and, of course, avoid unnecessary costs for media advertising.
It is important to emotionalize the video, which tells and shows everything important in a very short time of 15 to 30 seconds. It is important to keep in mind that font must be set on the video, because on smartphones most videos start silently. This must be taken into account when designing such personnel recruitment videos. The second step, a real employee who tells and reports in a friendly way. Roller, the perfect video with your employee as an advocate.
https://socialmediaagency.one/wp-content/uploads/2019/05/bank-marketing-social-media-konto-kunden-gewinne-reichweite-bekommen-banken-geld-anlage-sparen.jpg
495
1080
Laura
/wp-content/uploads/2023/01/social-media-one-logo-tiktok-instagram-youtube-facebook-marketing-1.svg
Laura
2019-06-26 07:00:36
2021-04-07 18:49:37
Employee Advocate: Reinforcement (Recruiting)