Facebook Marketing Agency
Facebook Agency and Marketing – Hardly any advertising platform has developed as rapidly in recent years as Facebook. Initially, you had very few options and very limited ad formats to effectively reach the optimal target audience. Since then, a lot has happened. Here on Facebook, all topics are discussed, whether cute pets from cat to dog, the next or last trip, camping, cars, but also fashion and much more.
How can you profit from it? Find out here how you can increase your reach and sales cost-effectively with the power of Facebook advertising. Consulting, ideas, implementation and content marketing. We help you in all steps of Facebook marketing. The tasks of a Facebook advertising agency are extremely diverse.
Questions? Talk to our Facebook experts: Contact
Stephan M. Czaja, Owner
CXMXO Group
Consulting for employees and managers
Are you looking for a consultant for your Facebook channel? Facebook started small and has become an absolute giant, now with 2.5 billion registered users.
Advice, experience and best practice in campaigns, are therefore even more important, because the competition is increasing! Our Facebook consultant and consultant, introduce you to the basic principles or against you together, already deep into the matter, e.g. in the campaign circuit, depending on what level your Facebook channel is currently!
With our experience, you can develop or evolve your strategies. Read more here:
Advertising, content and community
First, an overview of the contents of this page:
What does a Facebook agency do?
Facebook Marketing Strategies
This is about goals for businesses on Facebook and cross-media work between online marketing and social media marketing.
Facebook Advertising (Ads) and Community
How does advertising on Facebook work and what are such ads based on (keyword targeting)? From the integration of the Facebook Pixel to costs and prices that arise. Learn everything you need to know about organic and paid reach on Facebook and how to target groups with the right ads.
Targeting of target groups
In this part, we want to show you once again the exact advantages of ads and targeting of target groups. We will also describe the process of reporting and monitoring Facebook Ads.
Best Practice / Case Study
In the Best Practice section, we only briefly present options in excerpts. We ask for your understanding that we do not show concrete examples in the open space. Here you can see the advantages of Facebook advertising.
Facebook Marketing Tip
There are many Facebook marketing tips and accordingly many Facebook marketing tools, but which are the best? We will introduce you to the Facebook Ads Manager or Power Editor in Facebook in particular. The central tool for advertising on Facebook.
Facebook Marketing Strategies
On Facebook, people are there with real emotions, they don't just look at a poster, they interact during the with friends, look at fan pages and interact in their own Facebook groups. The whole environment is all too private and intimate, companies need to adapt their content accordingly.
Marketing messages need to be packaged in a completely new way so that they touch people emotionally. Whether it's the daily content that is published, based on an editorial plan, or advertisements that are published as a so-called dark post.
So today it's about more than just advertising. Social networks are a completely new environment in which any content must be adapted to a communication strategy. Social media agencies help to find the right way to address people on Facebook. Whether it is through advertisements, targeted communication to their own community, through the fan page also became the group marketing, which is becoming increasingly effective, especially on Facebook.
But what do you start with? First, however, you always need good content, that is, content. Content marketing has become so important nowadays that every company invests or should invest here. Content marketing influences search engines like Google but also social networks like Facebook, YouTube and Instagram but also the users and the community.
Lots to do! Let's summarize everything, the most important goals for companies on Facebook:
Goals for businesses on Facebook
Send information directly to the digital target group; this includes advertising but also general information such as "changed opening hours over the holidays".
Achieve additional sales
Increase brand awareness
Expandreferral marketing
Better performance (findability) on the Internet
Maintain and activate customers
Direct communication (also feedback, suggestions for improvement and criticism)
Step 1: Roadmap (strategy)
First of all, we look after you as a customer and develop a sensible strategy. On the basis of this strategy or also gladly called roadmap, all operational and strategic contents are aligned. The first step is not about specific advertisements, but about a general guideline. The larger the company or group, the more detailed such a guideline and roadmap will be. As a Facebook agency, however, you don't just take care of strategic planning, but of course also the operational business.
In operational Facebook marketing, the main focus is on content creation and community support. There are various ways and possibilities. Some customers already provide a large image and video archive, from which creative content can be developed. Here, for example, additional informative graphics are made, funny texts or even small videos. Thus, social media agencies are the modern counterpart of the advertising agency, specializing in online marketing in the field of social networks. However, such social networks as Facebook are something quite different from the classic advertising.
Crossmedia: Online marketing and social media marketing
Companies today are cross-media, which means that there is not just one channel through which advertising is spread. Facebook is part of the entire media network. From the company's own homepage, to the online store, to the Facebook channel, to Instagram and Tik Tok for younger target groups. In order for content to have a cross-media effect, it must be prepared correctly for the individual channels. In this way, social media marketing quickly becomes online marketing and thus an even more comprehensive advertising medium for your company.
Facebook Ads – Live from our office:
Facebook Advertising (Ads) and Community
Let's take apart the most important areas: channel / community for organic reach and Facebook advertising.
Facebook advertising
Advertising on Facebook means one thing above all, lots of tests and comparisons. If you are dealing with the topic of Facebook advertising for the first time, e.g. if you have read our blog post on how Facebook advertising works, then you know that special target groups on Facebook are one of the central means to reach people but also to work effectively, because through the targeted analysis of the interaction of users you can make decisions and optimize advertisements. The famous golden cash cow.
If you have such a Facebook cash cow, then you can quickly and effectively allocate more budget to this single campaign. In this way, the targeted testing and comparison of several Facebook ads ultimately allows you to select the most profitable advertisers.
Read even more about here:
Facebook Ads in the app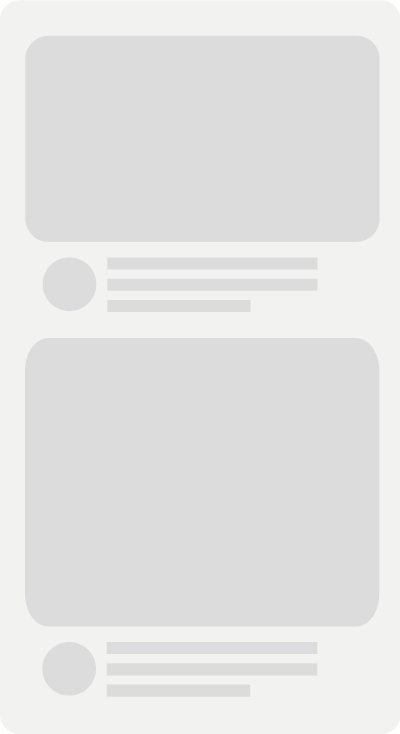 Facebook Ads on facebook.com
What are such advertisements based on?
Targeting people on Facebook is based on various factors. These include age, for example; ads can be played to different age groups. In addition to age, there is also the place of residence, which is particularly interesting for companies that have a local or regional market. Of course also for larger groups, e.g. one can switch here also individual events or also branches of the business advertisement. Thus can be addressed e.g. purposefully humans from Berlin, Hamburg or also Munich. In such an advertisement there is not only the general message but a personalized message, e.g. "now new courses in Cologne!" People who see this ad are of course much more likely to feel addressed than by a general message.
In addition to parameters such as age or place of residence, there is of course also gender. After all, women have different sensibilities and expect different images and messages than men.
In addition, of course, there are many other parameters that you can use for the ad, for example, that it can also work with their own fans. You can e.g. specifically switch off for ads, e.g. in these specifically optimized to win new fans for the fan page. Furthermore, you can also target friends or create special target groups, e.g. from the visitors of your homepage or online store.
So Facebook ads parameters include:
The age of the users
The place of residence of the users
The gender of the users
Exclude and include existing fans
Form new target groups
Organic reach? Once upon a time…
Facebook has enormously reduced the reach of organic fan page posts due to the rapid growth of the platform. Use this to your advantage! Together with you, we develop a strategy to promote your posts to relevant target groups, e.g. through geo-filters. For example, it is often worthwhile to promote posts to your own fans, but not to their friends (therefore be careful when using the "Promote post" button). It is also possible to increase the reach of posts through organic reach, paid reach or sponsored posts to people interested in competing products, to your email subscribers or to visitors of your website.
Social Media One – your specialist for Facebook marketing. Its job is to get your marketing message to the right prospects. With targeted Facebook Ad campaigns you can quickly increase your sales, perform quick testing and build your community through steady Likes.
Facebook Pixel
What does the Facebook Pixel do? Basically, a Facebook Pixel is integrated just like any image or text on a website. As soon as it is loaded, data is sent back and forth between the various partners. The pixel registers all users who are logged in on Facebook and adds these individual contacts to those Power Editor. From this you can now create target groups, so-called Target Groups.
As we have already described in our XXL article on Facebook advertising, there are numerous functions and filters here. All of them serve the one overarching social media goal of generating reach, organic growth, and of course leads (sales, newsletter sign-ups, etc.).
Pixel is integrated on the own website and in the online store (in the area)
Pixel is loaded on every page load
Users logged into Facebook are captured and stored
Target groups can be created from stored user data
You can then target ads to individual target groups.
Costs, prices
As you can imagine, Facebook advertising prices vary depending on how many people you want to reach and what your social media marketing goals are.
How much does it cost to place ads on Facebook?
If you want to place ads for your company that will achieve meaningful results, then you have to expect a daily adspend of at least €50. For small companies and startups you can deduct another 20%, but in total you have to come to at least 40 € a day, so that the various ads play out to the extent that really sound results can be achieved in the end.
In addition to the cost of the ads, there is the fee for managing the Verb account. Various factors are added to this depending on the project, e.g. content creation, brainstorming for viral content, but also campaign management to different target groups. Groups are the big secret on Facebook! Through the targeted selection, ads can be played out extremely accurately.
Tips for small businesses and companies! If you have never placed an ad yourself and cannot afford a professional social media agency, it is worth looking for Facebook vouchers. Often Facebook gives out vouchers for new customer acquisition, with which you directly get 50 or 100 € budget. This pays for the first two or three days of advertising on Facebook!
Recommendation daily budget (minimum): 40-50 euros
Best practice: Simple Facebook campaign
Here is a small example of a simple Facebook Ads without complex extras. Reached 8,758 people, with 109 sales and a spent budget of 59.09 euros. The profit was 490.27 euros. Here in the example, 2 campaigns were tested against each other.
Key figures:
59,09 Euro cost
8,758 people reached
109 contracts at 19.90 euros (gross) / 18.59 euros (net); margin 5.04 euros (net)
549,36 Euro profit
490,27 Euro net profit (excl. Facebook Ad expenses)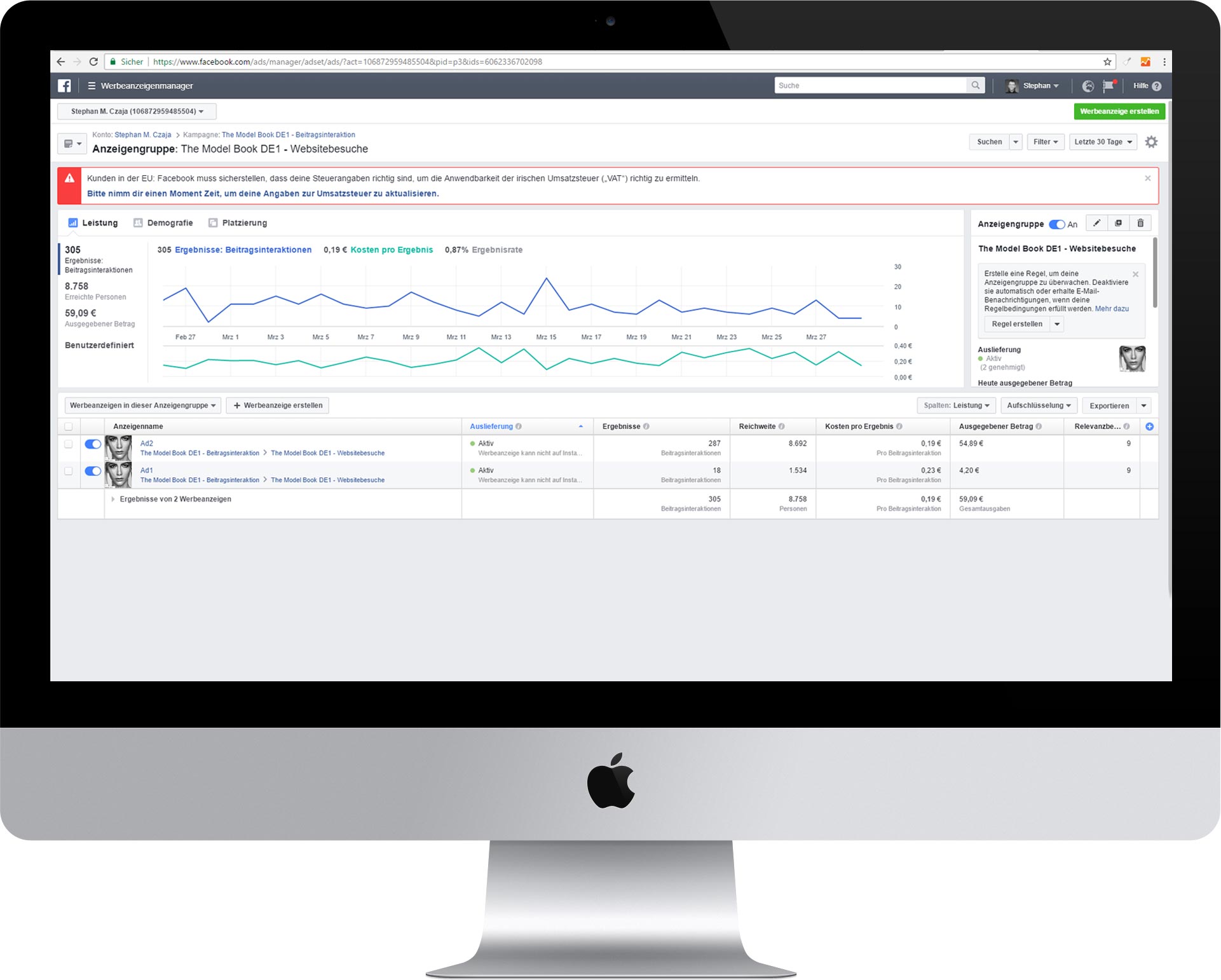 Community and data for advertisements
We work daily with Facebook internal tools like Graph Search and Audience Insights to give you very detailed insights into the interests of your potential target customers. To do this, we examine exact behaviors of your existing customers and people who share similar interests, demographics and psychomatics. We also use the membership of groups and indication of interests to determine targeting criteria.
A functioning, active community is essential for the success of your social media channel. The community, your fans, are the decisive factor for users to like, comment, share and interact with your posts. That's why you should define your target group precisely before you start your campaign. A precisely hit target group increases the interaction factor considerably. Interaction is what matters in social media.
A small example: You publish a post, the first fans presses "Like", already your post has increased its reach enormously. If your fans had 100 followers, more people interact than before. Had your fans 200 followers you have more to people x2. If 10 fans interact with 200 followers each…
You understand: The community of your Facebook fan pageis the cornerstone of your success. Because only an active community promises interaction. And interaction is the key to perception and success. We help you with high-quality social media content, sophisticated channel strategy and individual concepts – added value for all users (or stakeholders).
Social Media Strategy: Read more
Advertise community: Ads by interests, etc.
Target your website visitors on Facebook? This is very easily possible for any advertiser through "Website Custom Audiences". Website visitors already know your company and are therefore very receptive to your messages and ads on Facebook. How important are impressions for your website or online store? Read more here: Impressions (page views).
Re-targeting: Addressing visitors again
For example, if a visitor to your website has visited a specific subpage of your website, you can target them with different ads on Facebook based on that. In this way, very relevant Facebook communities can be built or online shoppers can be reminded that they have not yet purchased items in their shopping cart. We offer:
Increase in corporate awareness
Creation and research for the optimal target group
Valuable data acquisition about your existing and new customers
Creation of huge clusters with similar interests to their existing customers
Group marketing, placing ads, community maintenance, consulting, and much more.
Campaign monitoring
Analyzing data from Facebook Reporting for your own campaign monitoring is probably the most underestimated tool for Facebook advertisers. Did you know? Only every 10th social media manager deals intensively with page statistics and evaluations of ads. But you can find valuable statistics and key figures about your customers, products and services in the Facebook reports.
How does advertising work on Facebook? More on the topic:
Best Practice / Case Study
There are many best practice examples and case studies of Facebook advertising. We have also published some examples of our customer projects in our Facebook blog.
When hiring a company to take care of your Facebook marketing, you should pay attention to such case studies. Because here you can see how effectively the social media agency works. If you are hiring Facebook advertising for the first time, then you should pay attention to a few key figures. These include, for example, the cost per thousand contacts, or CPM. CPM stands for costs per mail, thus the cost for 1000 reached people or users on Facebook.
Another important key figure is the cost per lead. Lead is English and means completion, this can refer to several areas, e.g. the registrations in the center, the placement of a product in the shopping cart or also the most successful, sold product.
You should pay attention to these key figures so that you can compare different offers from social media agencies.
CPM, prize for 1000 people reached on Facebook
CPL, price for a successful completion, the definition of the completion is quite individual in this case
In the following, we would like to show you a small example of how the evaluation of such a campaign can look. Depending on the customer, the complexity of such an evaluation increases significantly. These should only give a small, first overview.
Advantages of Facebook advertising
There are numerous advantages, which is why the marketing method is so popular with companies. On the one hand, you use the social media platform with the currently highest advertising reach for companies. In your advertising campaigns, you use precise targeting methods to identify and address the previously defined user groups based on socio-demographic criteria as well as the individual behavior and very personal interests of the users.
All your played out advertising goals can be easily differentiated. Not only within Facebook through interactions and followers. Also outside of Facebook by collecting data in the form of website traffic, conversions, leads, downloads, store visits, newsletter subscriptions, etc. The content is multimedia, from simple text to video.
But the best of all is the remarketing function. As described, you can easily remind users about products that have already been viewed, for example, products that have been placed in the shopping cart but not purchased.
Facebook is the largest social network with the most users
Precise targeting methods for identifying and addressing users
User groups based on socio-demographic criteria, behavior and interests
Successes can be measured, inside the network and outside (Facebook Pixel)
Multimedia use from text to video
Remarketing (reminder of products)
All in One! Our Facebook Performance
Are you looking for experienced experts with expertise in the field? We are your contact! With best practice projects, case studies on our customers in different countries, we can reach the people you want to reach!
Together we develop your social media brand communication, modern, flexible and always on the pulse of time. Here is an overview of the full range of services.
Strategic planning of your individual campaigns
Setup of your Facebook account, fan page and design
Setup of your Facebook business manager and advertising account
Pixel integration on page and store (tracking)
Target group analysis internal (Facebook) and external (Pixel)
Creation of modern, multimedia advertisements
Campaign management and support
Continuous development and optimization of your advertisements
Analysis and reporting of ads and targets
Consulting and branding on the social web
Influencer contact and campaign support
Consultants: Facebook consultants for your company
Facebook marketing today is more complex than ever before. Starting with the pixel to the various target groups to other specific methods, e.g. dark posts. We accompany you not only as an agency but also as personal Facebook consultants.
Jobs: Facebook Ads Manager wanted!
You are looking for 1) a new job with challenges + great team and you have 2) already gained experience with social ads? Wonderful! Make a career at Social Media One, with our clients and the whole Performance Marketing team.
More about us, vacancies and contact details for your application can be found here: