Pinterest agency: links, SEO & reach
Most people know Pinterest as the place to go for ideas. Whether it's sayings, decorations, DIY (handicrafts), tattoos, gardens, living rooms or hairstyles. But how do I use Pinterest for my company? Berlin, Hamburg, Munich, Cologne / Dusseldorf – Pinterest marketing tools can also be used for regional and local marketing, even in the existing marketing mix. We show you how it works here on our Pinterest agency page and on the Pinterest blog. The right strategy determines the success of your own Pinterest channel. The use of the app and platform is free, but there is also the possibility to place ads on Pinterest. Strategy, keyword analyses, pins, pinboards, organic reach and paid reach: this is how Pinterest marketing works.
Pinterest Marketing: Overview for Beginners
The relevance of Pinterest in the company's own marketing strategy is increasing, and this is also reflected in the share price.
First, an overview of the contents of this page:
Pinterest App: Login to Marketing Report
How does Pinterest work? Basics
Social commerce: Pinterest and Instagram shopping
SEO and link building: search engine optimization
Strategy Example: Organic Reach
Strategy example: Advertising (Ads)
Learn more about the app basics here, then move on to strategies like organic reach through keyword marketing and followers through advertising on Pinterest.
Questions? Talk to our Pinterest experts: Contact
Stephan M. Czaja, Owner
CXMXO Group
Strategy: Presence and link building
Pinterest as a social network is especially interesting for people who are looking for inspiration. No matter if it is about Do It Yourself in crafts or decoration tips, beauty stylings, hairstyle trends, outfits or fonts and old posters for designers. On Pinterest you can find everything from fonts, interesting for advertising agencies and creative director to the Do It Yourself crafts tip for your own living room decoration.
On Pinterest you collect all your pictures in galleries. These individual galleries are populated with photos, permanently expanded and can of course be liked by other users, you can follow the so-called pinboard and you can of course share individual photos. This is called a repin.
Agency services at a glance
Our Pinterest services for companies at a glance:
Strategic planning of your individual campaigns
Setup of your Pinterest account, fan page and design
Setup your Pinterest advertising account
Pixel integration on page and store (tracking)
Target group analysis internal (Pinterest) and external (Pixel)
Creation of modern, multimedia advertisements
Campaign management and support
Influencer campaign support
Further development and optimization of your advertisements
Analysis and reporting of ads and targets
Consulting and branding on the social web
How does Pinterest work?
Of course, we cannot discuss here all methods, tools, concepts and strategies that are suitable in relation to Pinterest marketing, depending on what goals have been set. This should only be a small insight.
Basics, Pinns & Pinboards
Pinterest is usually about sharing individual media, these are then called "pins". Anyone who has a pinboard in their advertising agency, PR agency or similar knows immediately what it's all about. Individual photos are linked together in certain contexts. E.g. in the creation of target groups. This is how a gallery is created in the end. In the example of target group creation, this would be a gallery for each avatar.
The big goal with Pinterest is to capture certain keywords. So that people come to our content when they search. Therefore, individual galleries are provided with exact keywords and topics. As an online food retailer, you could create galleries for individual types of fruit, for example.
Possible theme matrix for the galleries:
Keyword analysis: topic structure and editorial plan
Now we come to the keyword topic. Even better than just "apple" would be "apple recipes", so you could reach out as a food online retailer directly to the people who have a need for food. Ideally online, so that they order directly in their own e-commerce. Therefore, we go one step deeper in the strategy and name all galleries in the following style:
Apple recipes
Bananas recipes
Pears recipes
…
Keyboard structure: Create galleries
Within a gallery can be created again under galleries. Quite simply explained this would be e.g. the apple, which is only subdivided.
Apple recipes is divided into galleries:
Apple smoothie
Apple pie
Apple desserts
Link building and Google
The next important aspect is the consideration of quality, for search engine optimization. The individual media can be provided with links, so that qualitative backlinks are built, for good, organic traffic, which is generated by the app Pinterest. More precisely, through the users of the app, but also through search queries, from Google. This is a key feature that makes Pinterest so interesting as a reach magnet.
The big advantage of all companies that are so brave and invest budgets in Pinterest is that there is little competition. Compared to Facebook Ads, Google Ads, but also Native Ads, you have relatively few competitors who fight with you for certain target groups. Accordingly, the advertising prices, technical terms CPC, PPC & Co are becoming more important, are cheaper.
As a Pinterest agency and social media consultant, we help you and your brand develop your own strategies.
Sayings, decoration, DIY, tattoo, garden, living room & co.
What can I do with Pinterest? How to become famous on Pinterest? First to the question, why is Pinterest actually famous? Pinterest has been around for a relatively long time, here creative people collect photos in galleries. These galleries then contain various photos and thus become larger and larger. Ultimately, therefore, each user has several photo albums. The more such albums are collected together and the better the content or the structure of the keyword structure, the more reach the channel will get.
Top 5 searches on Pinterest:
Sayings
Decoration and DIY (handicrafts)
Tattoo
Garden
Living room
On the question of how to become successful on Pinterest: Currently, it is mainly about sayings, decoration, do-it-yourself, tattoo ideas, but also tips for the garden, inspiration for the living room, bathroom and kitchen. Pinterest is now also very diverse as a content platform and deals with its users, or user-generated content, many topics. Perfect to address target groups here.
Pinterest advantages
Relatively high relevance in search engines (SEO)
Content does not have to be created, but (can be) only collected and managed in galleries
Easy to work with, doesn't require a lot of prior experience from the social media manager
Pinterest disadvantages
Low organic reach, few users
Virtual Shopping List: Pinterest feature for users
Gathering inspiration, creating lists, that's the magic of Pinterest for users and for businesses that have a presence here!
Marketing strategy on Pinterest: examples
Successful channel building almost always has 2 components: Organic build and paid build (additional growth through advertising).
Organic reach: Best practice
Pinterest Marketing Strategy – You may already know organic reach from search engine optimization, in e-commerce, it also becomes important when it comes to social media marketing, even more specifically Pinterest marketing. 100,000 impressions / month for free is 1,200,000 impressions / year. That means over 1 million brand contacts for ideas, marketing campaigns, product promotion, image and much more. Here is a brief overview, how does such a social media or exact Pinterest strategy work? You can see the power of Pinterest very well in this small example of an agency.
Goal: Brand awareness (attention for the brand)
The channel is being built and with the right strategies and methods, it is already reaching over 100,000 organic impressions after a very short time. That is 100,000 users who have a contact with the brand. Of course, everything was thought of here, too, that strategically a large part of the pins is provided with the respective branding. But how do you reach 100,000 impressions per month, simply explained?
Advertising on Pinterest
Pinterest advertising – In the area of organically building a Pinterest channel, you've now experienced a bit. The second component, for the majority of successful business channels on Pinterest, is advertising.
Pinterest advertising is also possible, just like in the other social apps. But how high are the costs? What do ads on Pinterest look like and what advertising options do companies have on Pinterest? Here is a small, first insight with an example. Two days ago, we already wrote in detail about keyword marketing on Pinterest. The big topic, organic reach, instead of paid clicks (here to read: Pinterest strategy). Here as a supplement: This is what advertising on Pinterest looks like.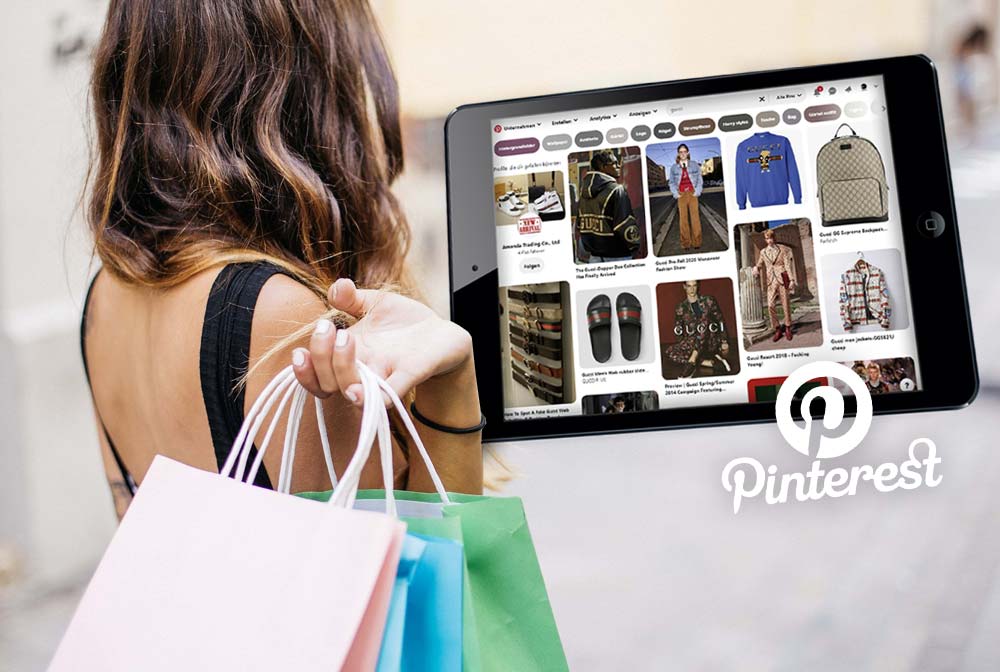 Social commerce: Pinterest and Instagram shopping
You already have an existing e-commerce? Whether your online store is built with Shopify, Woocommerce, Magento or other systems, as an agency we can make your products available to millions of people in no time. Pinterest link building and as a plus Instagram shopping, is a great insider tip! Why? Only a few companies really work actively with this tool. In doing so, you reach millions more people with the Instagram app, in addition to Pinterest. You can also connect target groups with each other, keyword like re-targeting, i.e. re-advertising visitors.
How does Instagram Shopping work? How much does Instagram Shopping cost? How do I activate Instagram Shopping? Especially in combination with Pinterest:
SEO and backlink building
Anyone who deals with the topic of link building on the Internet, and this usually happens in relation to e-commerce and websites, will not get around Pinterest when it comes to more extensive strategies in marketing.
While other social networks virtually hide links, links on Pinterest are extremely present. Every link increases the possibility of expanding reach. The more reach an online project has built up, the more successful it becomes. Ultimately, it's all about sales, whether it's a service, e-commerce, or digital workshop.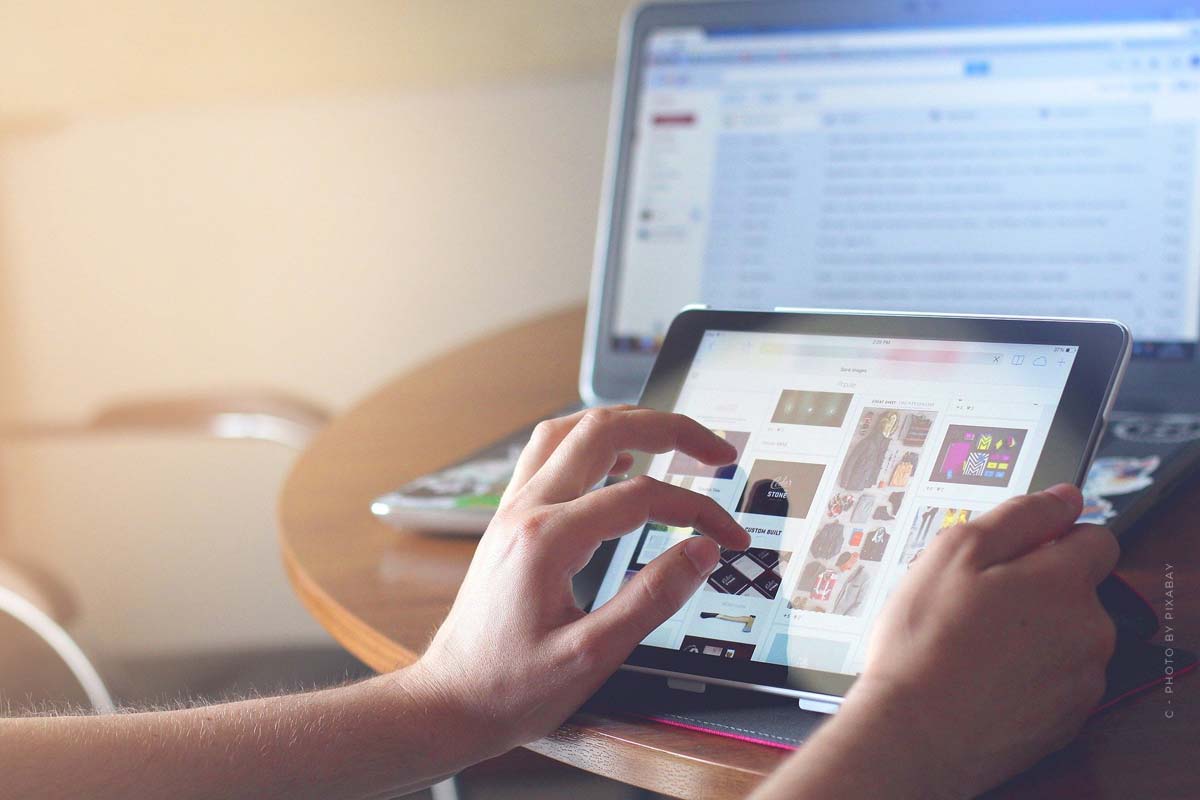 Pinterest App: Login to Marketing Report
Most companies are new to Pinterest, yet the app continues to rise in relevance, on and on. 340% increase in Pinterest stock in less than 12 months. This shows how important the social network is becoming in the online marketing mix. Before we get into keyword analysis and keyword structures, here's how to get started.
Log in: Registration and login
Registration on the app is really very simple, the process does not differ for private accounts and corporate accounts. It only takes a few seconds to sign up. All you need is an email address and a secure password.
Here's how you can sign up for Pinterest:
Click pinterest.com/login
Enter your email address here and choose your password – Alternatively: Click on "Continue with Facebook" or "Continue with Google".
Click Log In
In fact, many, of course mostly private users, ask themselves the question, can you log in to Pinterest without hesitation? The question arises, as with all other social networks, especially through the aspect of data protection. Like Facebook, Google & Co. also Pinterest has its headquarters in the U.S. and can accordingly process a lot of data, so in turn targeted advertising. The big advantage for your Pinterest advertising! Because this is then oriented e.g. to interests or visited galleries. This in turn is the great advantage for companies that want to use Pinterest for their marketing. Efficient placement of ads.
PS: Forgot your Pinterest password?
If you've forgotten your email address, this link will give you a tip that may help you remember your password. Click pinterest.com/password/reset and enter your name or username.
Pinterest agency: Contact
No time for tests and trials? Trust the experience of our social media consultants and experts. We develop your social media brand communication together, modern, flexible and always on the pulse of time. Here again the full range of services, also for Pinterest marketing campaigns.
Jobs: Pinterest Ads Manager wanted!
You are looking for 1) a new job with challenges + great team and you have 2) already gained experience with social ads? Wonderful! Make a career at Social Media One, with our clients and the whole Performance Marketing team.
More about us, vacancies and contact details for your application can be found here: