Influencer Event: Planning with strategy
Why is influencer marketing (POS, event, trade fair, travel destinations, etc.) so important today? Here you will find everything important about our agency, strategy, planning and examples.
Influencers and bloggers for event, POS & Co.
There are many ways and means to market products, but the most effective option is still referral marketing! There is no one we trust as much as friends, acquaintances, even opinions from strangers on the internet and social media platforms. TikTok, Instagram, Facebook and YouTube are the big opinion leaders today. Brand image, buying decisions, all these are influenceable parameters. Accordingly, building reputation for one's brand image, through brand advocates is so important nowadays.
Two particular aspects bring the advantages:
Authentic recommendations from trusted people
Reach within a specific target group
Referral marketing: Reach meets trust
How important is recommendation when making a purchase decision?
Source Destatis:
A survey from 2019 illustrates which sources of information consumers in Germany are strongly influenced by when making purchasing decisions. At the time of the survey, around 40.3 percent of consumers said they consulted independent comparison tests when deciding whether to buy a product. However, the biggest influencing factor, at around 47.2 percent, was recommendations from friends and acquaintances.
Referral marketing and outreach are of course great to use for different occasions. From employee recruiting, to product presentations, to annual meetings – as you will see later in the Influencer Event examples.
Recommendations have a great influence on target groups.
Agency: strategy, impact and effectiveness
But how do you plan an influencer event? In fact, everything sounds simple, but the greater the reach, the more elaborate the planning and organization in advance of the event. For example, we had an event with over 50 influencers who were booked, some of whom brought partners with them. Accordingly, hotels have to be planned, trips, flights but also the individual transfers, as well as from the airport to the hotel and so on… depending on the popularity of the influencer.
The first step: strategy – planning is everything
Before all that, though, comes strategy!
Because, without reach within the right target group, with an explicit marketing message, reach quickly fizzles out. The better the entire event, the posting planning, but also contracts, the product presentation, brand presentation…. the better the planning, the more effective the event will be. Tip. Also in the post coverage (online media of TV).
Well-known influencers and examples: Advantages
But even more important are the additional spreading effects, especially when booking well-known influencers. Already a few minutes, hours, but also days after the event, other influencers and bloggers react to the content of the known influencers.
Scatter effects: This spreads your marketing message even further!
Social media platform and target group
You can see how valuable a well-planned strategy behind the influencer marketing event is. In order to have an experienced partner at your side, it is worth working with a good agency or influencer agency. It's all about the planning of the influencers, but also the media output:
Instagram Reels, Posting and Stories
TikTok Videos and Challenges
YouTube Videos and Follow-Me-Arounds
Facebook product presentation
Twitch Live Stream from the event
…
Examples: Nutrition, fashion, electric cars….
No event is like the other, no customer, no product and accordingly it needs creative ideas for marketing! In our strategy, therefore, we no longer "only" present products, but meet the needs of the users! A simple example? A test drive in the new electric car, with your own social media star. Exclusive dance lessons for selected people. Fashion events with glamour factor.
WeightWatchers Annual Meeting: Dancing with Motsi
One of our last highlights (before Corona), the WeightWatchers annual meeting with over 50+ active WW influencers. In addition, there was food from star chef Andi Schweiger and exclusive dance performances and training from Motsi Mabuse.
Highlights:
Over 50+ active WW Influencers
Dancing with the Queen Motsi Mabuse
Dinner from star chef Andi Schweiger
Fashion Week: Fashion Show Saturday Night (Final)
There is no business like show business! We don't just do the typical fashion events, we create highlights! For example, at Berlin Fashion Week 2019, with the final show on Saturday evening at 8:15 pm. Among others, "Sat1 Prominent" will be there. This shows, Influencer Marketing has additional benefits, the impact on more media. I want to report all about them! In addition, again scatter effects, for example, if the contribution runs at "Sat1 Prominent" and the next day again in the "breakfast television".
Highlights:
Swimming Pool Runway
Last show of Berlin Fashion Week 2019 at 8:15 pm
Celebrities, TV stations (like Sat1), magazines (like Harper's Bazaar)
Test drive in an electric car: Test drive with fans
Hybrid cars, electric cars, they are taking more and more space on the road! In 2018, the topic was still absolutely "new" and accordingly we should create attention. The idea, test drive with your favorite social media star, at 5 locations and 5 days. Change starts in the minds of people and accordingly the ones with the youth. When they go for change, the parents and grandparents follow suit – sooner or later, simply put.
A simple principle of change.
Highlights:
Bringing new technology into the conversation
Followers meet their social stars privately
Inspire offline, connect online.
Then online, on Instagram: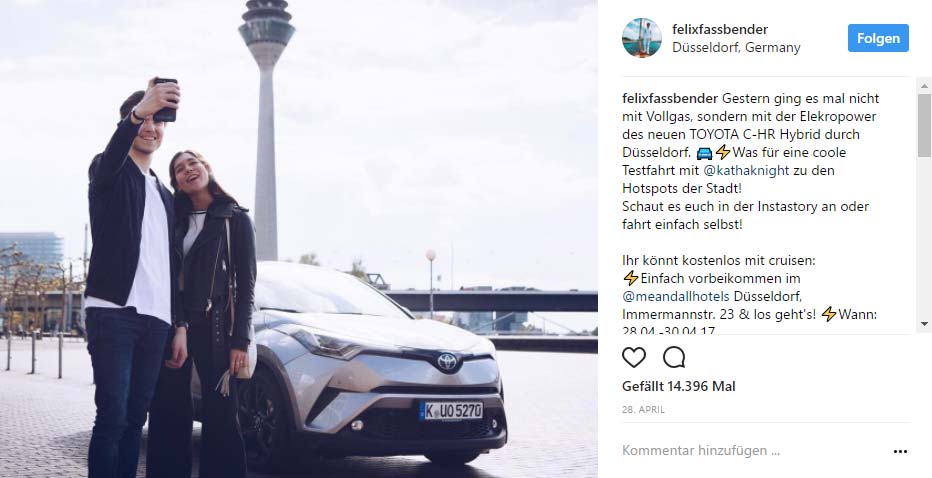 Sports Influencer Award: Celebrating Fitness
How can you make social media marketing interesting for insurance companies? First, we exclude the insurance, in the strategy planning, and bring the actual advantage in the foreground, exercise, nutrition, sports!
Those who live healthy, live longer!
Accordingly, we wanted to recognize the social media stars who are positive role models on social media. No matter if Instagram, Facebook or YouTube. Social media stars such as Pamela Reif were honored, as well as up-and-coming talent from none other than tennis world champion Angelique Kerber.
Highlights:
Award by tennis world champion Angelique Kerber
Over 20+ active fitness and sports influencers
Awarded among others: Pamela Reif
Location: Near Munich Olympic Stadium
Influencer Marketing? In fact, marketing via influencers is now an integral part of the marketing mix of small and medium-sized enterprises, but especially of large companies.
Tip. Increase the reach through ads
Yes, influencer marketing brings organic reach, but also "only" for a temporary period of time.
For example, consider the algorithm of TikTok and Instagram. This is usually set to a 24 hour cycle. Of course, there is also content that is a few days longer under the "top messages". However, the content usually disappears after a short period of time. It is a bit different with YouTube, if the content is well planned, it will still be displayed by the algorithm after weeks, months and sometimes years.
Nevertheless, there is only one method to spread information in the long term > targeted advertising.
Advertising and influencer event? This is how it works:
Placing ads: Influencer event in ad strategy
Advertising can take many different forms. For example, the content published at the influencer event can be used for the ads. This way, you can directly recycle the trust of the influencers and their target group (for your brand). However, the ads can still be customized, for example, by displaying them only to certain target groups, for example, by age. You can also select according to place of residence, interests and many other parameters.
Age
Residence
Interests
…
Read even more about advertising on social media here, using the example of:
Effectiveness and impact > Reach and interaction
Depending on the category of influencer, the effectiveness and impact (reach and interaction) of the strategy differs.
For example, there are relatively small influencers, depending on the network between 10,000 and 50,000 followers, who have a very specific topic, but also a very active community that trusts them! These can be handyman tips, computer nerds, but also influencers for hair extensions, etc. Special topics, with a special target audience.
At the same time, there are large and well-known influencers who achieve high reach, but in relation a little less interaction. At the same time, when planning influencer events, it is important to keep in mind that each individual booking takes time and therefore costs money. The balance between small, special interest influencers and big, well-known names, is therefore also part of the work, in the pre-organization of such an event.

Core Analysis
Core Analysis
Channel, target group and competitor analysis with subsequent consultation and goal setting.

Community
Community
Community management ensures organic reach and creates brand fans. Reading tip: Community Management
Social ads
Advertising
Campaign switching, paid reach for content, dark posts and evaluation. Read tip, example: Facebook Ads
Reporting
Evaluation
Content, community and campaign analysis with subsequent monitoring and reporting. Reading tip: Monitoring
Meetings
Customer communication
Regular appointments with our social media experts for strategy optimization. A little insight into best practice.

Influencer
Multiplier
Brand advocates and referral marketing are a key tool in social marketing.

Events
Events
With expertise from food to fashion, we organize influencer events with top media output. Reading tip: Influencer Event

Speaker
Speaker
Our experts impart their knowledge in a focused way to your employees or guests. Read Tip! Influencer Speaker

Workshop
Advanced training
We bring your employees up to speed and mentor you in influencer marketing. Reading tip: Influencer Workshop
Love
Dear
We work on brand fans, not followers. We crate presence with attention to detail. Reading tip: Social Media Agency.