YouTube Ads Agency: Advertising, Strategy, Reach in the #1 Video App
YouTube Ads – Performance is the brand core of our YouTube agency! Here you will find initial information on YouTube Ads, the strategy behind the video ads, the various ad formats, costs and KPIs (key performance indicators) on YouTube, for qualitative traffic, in high-quality target groups.
YouTube Performance Marketing
Social Ads on YouTube – The big advantage of YouTube as a social media platform, is 1) the large amount of users and 2) the high engagement that users show on the app. Simply put:
You look at a photo on Instagram for 2, 3 seconds, a video on YouTube for 2, 3 minutes or even longer! – High Involvement
More than 2 billion users – This makes YouTube so interesting as an advertising platform and very few companies use YouTube for marketing – Advantage for you as an advertiser. Many have heard of Facebook Ads and are especially present here.
Video ads in front of competitors – There are so powerful opportunities, exclusively from YouTube, so to speak. For example, the targeted placement of videos in front of competitor products (i.e. videos)! This is not possible in any other social app for advertisers. Just one of the advantages of advertising on YouTube.
Organic & Paid as Booster
Organic & paid as a booster – YouTube is not only interesting for an advertising campaign, if you have your own YouTube channel, you can also provide your created content with additional reach in an excellent way.
Through such an "advertised post" the reach increases extremely.
The combination of organic and paid reach is unbeatable. Because, such a promoted post reaches not only your community, which already knows it "anyway", but also strangers, new fans for your channel, your products and your brand.
Did you know… organic reach
Even if your YouTube channel already has 100,000 followers, you usually only reach 6-15% organically.
Organic reach (average): 6-15% of the community.
* Depending on the activity of the channel
Conversely, that means 85-94% of the community didn't see the post (too much content competition on YouTube).
Example: Convince target group with content
The biggest advantage, however, is the exact targeting of users with advertisements, for example, according to interests or location of the user. The basis for this is the large amount of user data that YouTube (or parent company Google) has from its users.
Example (sports fashion, football boots and running shoes):
Campaign A: People 21-27 years, female, from Hamburg with interest(s) in football -> Ideal target group for sports brand
This is campaign A. Now we start campaign B, with the same parameters, but with age group 17-20 years. The media (videos, partly images in the video ad), then show younger people. Users are more likely to feel addressed and the click rate increases.
Campaign B: as above, age 17-20.
After campaign A and B, campaign C starts.
For this in the third step:
Campaign C: People who know our people (i.e. probably have similar, sporting interests)
This creates brand awareness / reach, exactly in the desired target group. The individual ad (campaign), can therefore be tailored exactly by us, to your specific target group.
Many parameters are tested:
Periods of the Ads
Medium (photo, galleries, 360°, videos)
Content (example: tailored to women aged 21-27)
Text and address
This way, your YouTube ads will become more and more efficient. You'll see results in the monitoring (we'll get to that in a moment).
It all starts with the first workshop, together with you as a customer and with our social media consultant. With your knowledge of your products and our knowledge of marketing, we develop your successful YouTube advertising strategy.
Your YouTube Ads Experts:
Strategy: Behind the video ads
We could talk a lot about creativity, best practice, references, e.g. our first Amazon documentary with additional YouTube release, but much more important is the technical component, the strategy!
YouTube Ads: What is it?
How do YouTube Ads work? In this simplified diagram you can see the possibilities you have with ads on YouTube. Primarily, it's about the overview pages (home page, search results) and the individual video page, with its recommendations, to the right of the video. So you can cleverly put your video content in front of the playback of YouTube videos or display it as a recommendation.
YouTube Ads on youtube.com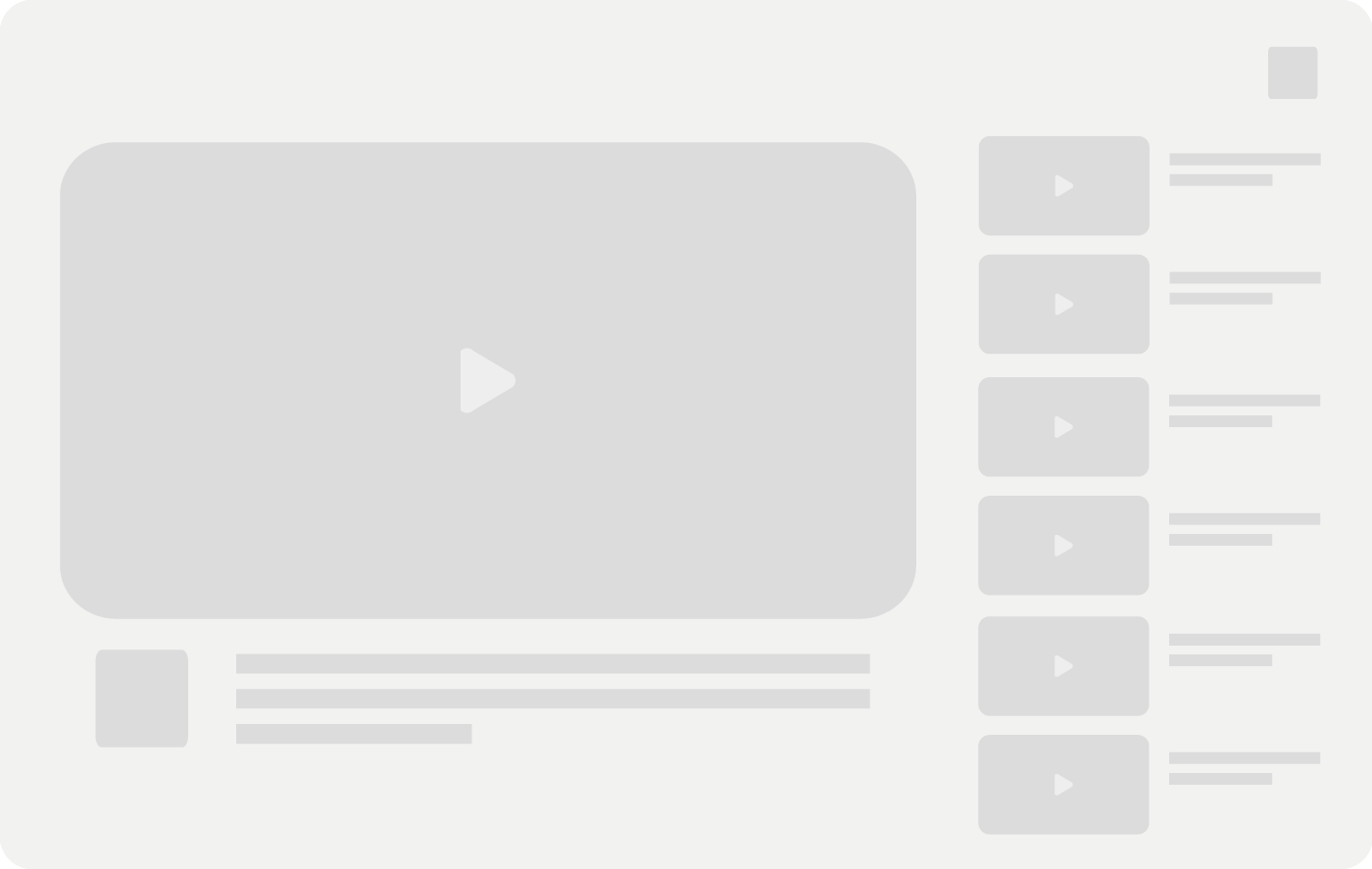 YouTube Ads in the app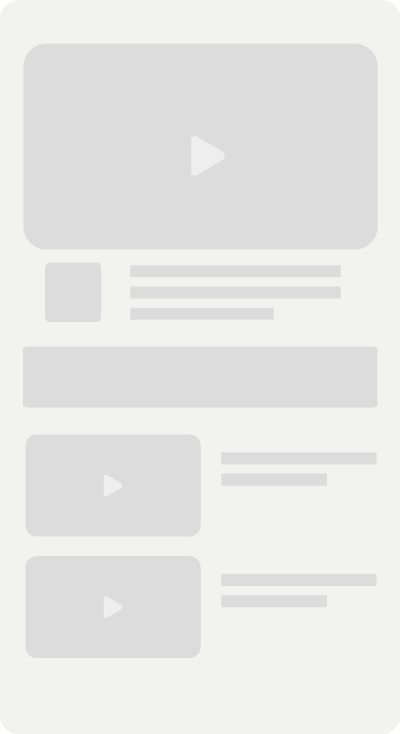 Not tired of YouTube Ads yet? Ok! Then we want to give you a few more insights into the concepts, methods and tools of a YouTube ad agency.
Content first! Content is King: Second 1-5
For the users, but also the algorithm of YouTube. For YouTube videos, the first 5 seconds in particular count. After 5 seconds, users can skip the displayed video. Accordingly, it is important not only to pay attention to a storyline, as in normal video marketing, especially the key messages must be placed very early.
Ideally, we place well-considered, small "baits" right at the beginning that attract the user's attention.
You may already know the technical term in online marketing clickbait (meaning "bait").
Quick attention and the desire for more, that is the goal of this tool.
For example, in the food industry, this could be a simple sentence like:
"There's no way that's going to work! (Short pause for breath) I thought to myself. And then … 12 kilograms in 4 weeks. 12 kilograms. Unbelievable! Have you seen this little can?… "
First the small bait, the absolutely negative statement and then the big success, the typical hero story – in 5 seconds. Of course, including the core statement, right at the beginning.
Testing content on target groups: Optimization
Another key tool from a technical perspective, A/B testing. Here, different videos are tested against each other.
If we stay with the example that you have already seen (clickbait), these could be different introductions, spoken by VoiceOver. For example, the factor "kilos" and period of weight loss could be tested.
When is the most clicked?
3 kilograms in 1 week: 3.1%
6 kilograms in 2 weeks: 4.7%
9 kilograms in 3 weeks: 3.8%
12 kilograms in 4 weeks: 4.1%
So we find, 6 kilograms in 2 weeks has the greatest success, with +0.6% distance. On 10,000 views, directly 600 clicks more.
The same example can be transferred, of course, the automotive industry.
Model X car with 70 hp
Car model Y with 92 hp
Car model Z with 135 hp
Click numbers are of course not everything, more on this in a moment in the reporting (conversion rate). More important in the second step is of course: When is the most sold?
Which form of communication provides the greatest success within the target group? This is how A/B testing works with YouTube ads.
Dark Posts: Especially for advertisements
You don't have to publish hundreds of videos on your channel for this. So here's a quick introduction to a third tool, called "Dark Posts". Dark posts are unpublished YouTube posts, visible only to your ad manager and the target audience that gets your ad played.
This is how the technical system behind YouTube Ads works and accordingly it is worthwhile to fall back on an experienced partner, i.e. a good YouTube agency. If you still have questions, you can find our contact persons here.
Get to know us!
Running YouTube Ads: Website and App
Advertising before videos (app)
Banner under video (app)
Video recommendation under the video (app)
Advertising before videos (website)
Video recommendation on home page (website)
Advertising before videos (app)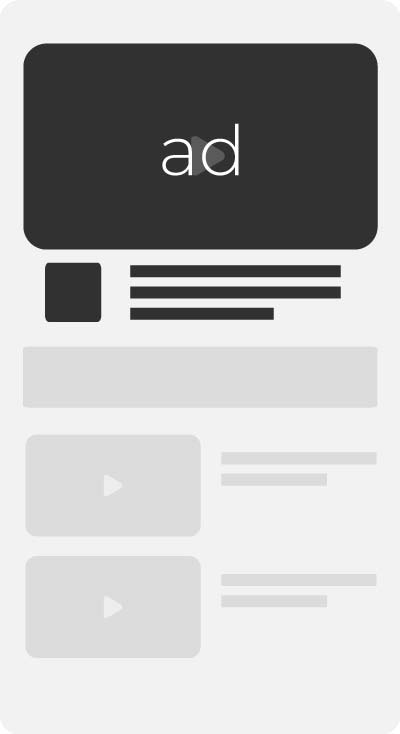 Banner under video (app)
Video recommendation below the video (website)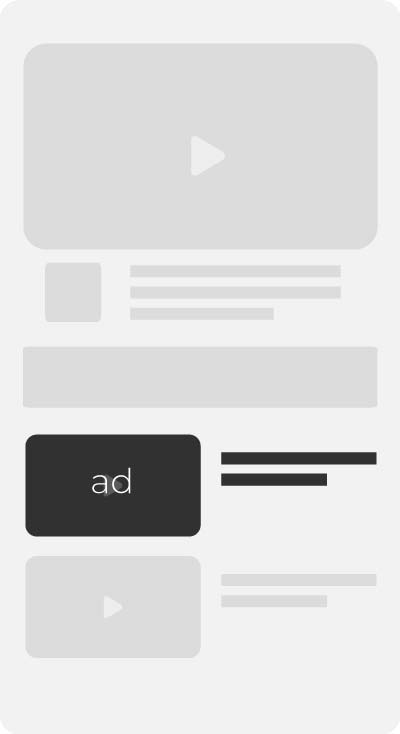 Advertising before videos (website)
For example, directly as a (minimum) 5-second teaser, before other relevant videos (topic) or even directly, before your competition.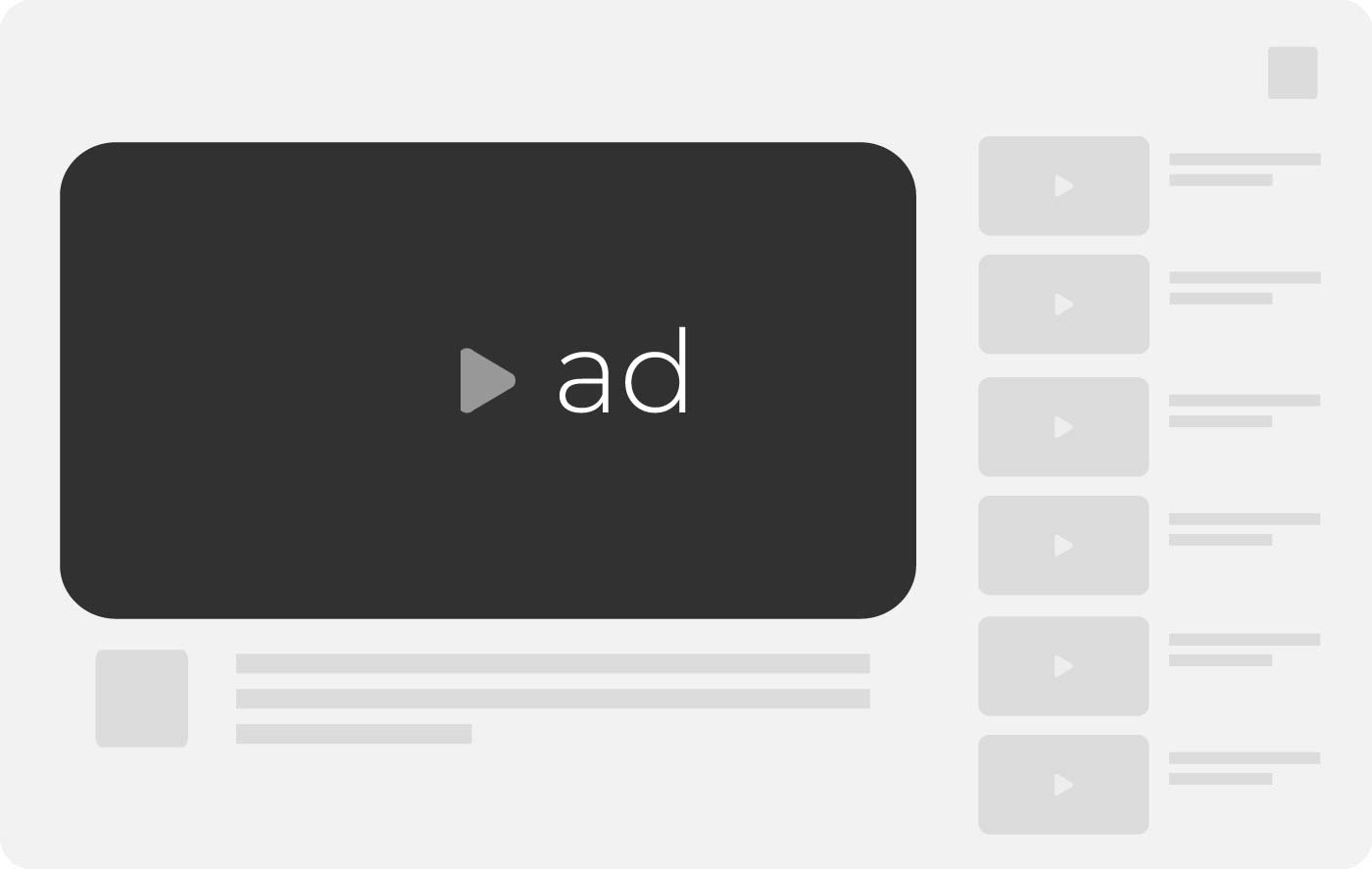 Video recommendation on home page (website)
Alternatively, as a "recommendation", next to the user's current video:
Reporting and Analytics: Monitoring
Creativity, system, strategy, ultimately the actions must also be measured and their successes assessed. All this happens in monitoring. Tip! As a customer, you will regularly receive a short analysis and a detailed one in comprehensive reports. So you always have all the figures in view.
However, it is not many long tables that are decisive, but a few key figures.
KPIs (performance targets) include:
CPM (cost for 1,000 ads)
CPC (cost per click)
Conversion rate (goals reached)
LAC (cost per customer)
Engagement rate (interaction)
Mentions (mark)
Impressions (page views)
…
KPIs for YouTube advertising
Depending on the social media strategy, general advertising strategy, the goals differ with the corresponding key performance indicators. Social media monitoring looks at various key performance indicators(KPI, performance targets) on YouTube. Here are a few of the most important examples and technical terms.
For most (with e-commerce but also in stationary trade) one thing counts above all: sales closures. The technical term in social media marketing, conversion (achieve certain business goals), or the conversion rate for newsletter subscriptions, registration for a webinar or just your direct sales in the online store.
CPM: Cost for 1,000 ads
CPM – CPM (cost per 1,000 ads), that is "Costs Per Mille" tells how much it costs when your ad has been played or displayed 1,000 times. Speaking of cost, the cost of ads is never the same, it differs based on many parameters. Important for the price difference, however, is for example the competition, how many competitors also place ads on your keywords?
Calculation:
CPM = Costs / Views
0,20 Euro = 2.000 Euro / 10.000 Views
CPC: Cost per click
CPC – CPC (cost per click), i.e. "Costs Per Click" describes the amount of costs that arise for a click on your "target" (your own YouTube channel, another YouTube video, your online shop, landing pages, etc.).
Calculation:
CPC = Cost / Clicks
2 Euro = 2.000 Euro / 1.000 clicks
The key figure (CPC) is important because reach alone (especially in the sales aspect) has little significance.
But even more important is the conversion rate and the LAC.
Conversion rate: target measurement
Conversion Rate – This percentage deals with the successes achieved by YouTube ads. Calculated very simply: If your ad was played 100,000 times on YouTube and your goal was reached 2,000 times (e.g. sold), the conversion rate is 2%.
Calculation:
Conversion rate = Leads / Views * 100
2% = 2.000 / 100.000
LAC: Lead Acquisition Costs
LAC – LAC (Lead Acquisition Costs), or cost to close a sale, shows the ultimate "purchase price per customer", simply put. After that, the effectiveness of YouTube advertising can be quickly measured, just put the profit per customer in relation to the acquisition costs.
Engagement Rate: Interaction
Engagement / Interaction – Engagement rate (interaction) is calculated by likes, comments, direct messages, mentions (tagging), impressions (page views) for clicks to the online store.
First conclusion: YouTube for high involvement
You can see how extensive ads on YouTube are, from strategy, to optimization in monitoring – ads on YouTube are very effective because users have a very high engagement, very different from other he quickly consumed apps like Instagram and TikTok.
Advantages of advertising on YouTube
High user loyalty (comparison Instagram, TikTok)
Combination organic, paid for own YouTube channel (create evergreens)
Advertise in front of competition
Direct linking possible (landing page, e-commerce)
Measurable success (analysis and tracking)
Advertising disadvantage
Video production causes more costs than photo production
Advantages enough? Let's get started!
https://socialmediaagency.one/wp-content/uploads/2021/12/youtube-gif-web-tablet-formate-werbeanzeigen-beispiel-social-media-agentur.gif
887
1400
S_kinski
/wp-content/uploads/2021/02/social-media-one-agency-marketing-strategy-brand-strategie-marke-agentur-youtube-instagram-tiktok-facebook-seo-logo.gif
S_kinski
2021-12-07 18:21:15
2021-12-09 19:01:07
YouTube Ads Agency: Advertising, Strategy, Reach in the #1 Video App