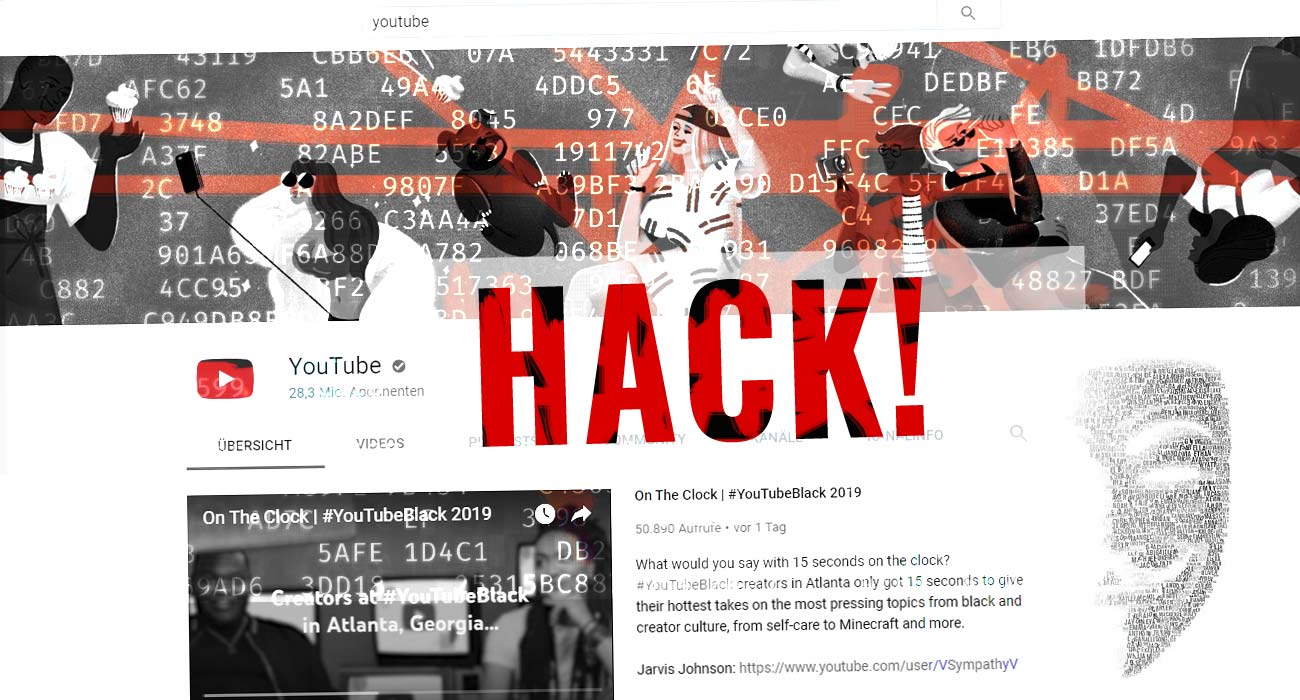 YouTube account hacked! What to do?! Block, delete… – Help
YouTube account hacked! What to do! Often at night we get emails and calls: "Help, my YouTube account has been hacked! What should I do?" There are many tips on Google to secure your account. The problem is, everything doesn't help if your channel has been hacked and you're no longer an administrator.
Hacked! What does that mean?
The word "chopped", like many technical terms. Meanwhile it can often be heard, in the news but also influencers. Hackers have been particularly active in relation to websites, online shops and systems (e.g. from the state). The motives are correspondingly diverse. More and more often Youtuber are victims of hackers.
Access via FTP, for example in online shops or websites, allows hackers to deposit their own code. With Youtube, the channels are used to place links in descriptions, for example. Users think that the content and links come from the influencer but no!
If you don't have a social media agency or a social media manager who takes care of your concerns, you will soon be faced with a big question mark.
That's why we wrote this article today about "My Youtube account has been hacked".
If you're looking, you'll first find tips from Google. These are however rather preventive meaningful (thus in the apron). Here is an excerpt:
Tips from Google: Protect account in advance
Immediately undo any changes to the following settings that are unknown to you:
Your account recovery phone number
Your account recovery email address
An alternate or contact email address
The name in your Google Account
Your security question. Note: You can no longer add a security question.
Confirmation in two steps, e.g. if this setting has been activated or deactivated without your knowledge
Confirmation methods in two steps, e.g. an unknown smartphone or an unknown security key
Apps with access to your account
Access by less secure apps, e.g. if this setting was enabled without your knowledge
Location release, e.g. when your location is shared with another person without your permission
Source: Google.com
The problem is, everything doesn't help if your own channel has been hacked and you're no longer an administrator.
Solution 1: YouTube account hacked – Chat Support for Creator
A direct and immediate possibility is to contact the chat support. This was created especially for
Chat Support for Youtube Creator
Link: Chat support for Youtube Creator
Now here's what you gotta do:
Chat Select language (English is available 24/7, specific national languages have specific times)
Suppress first name and surname
E-Mail address
Channel URL
Open Chat: Contact Google Chat Support for Youtube Creator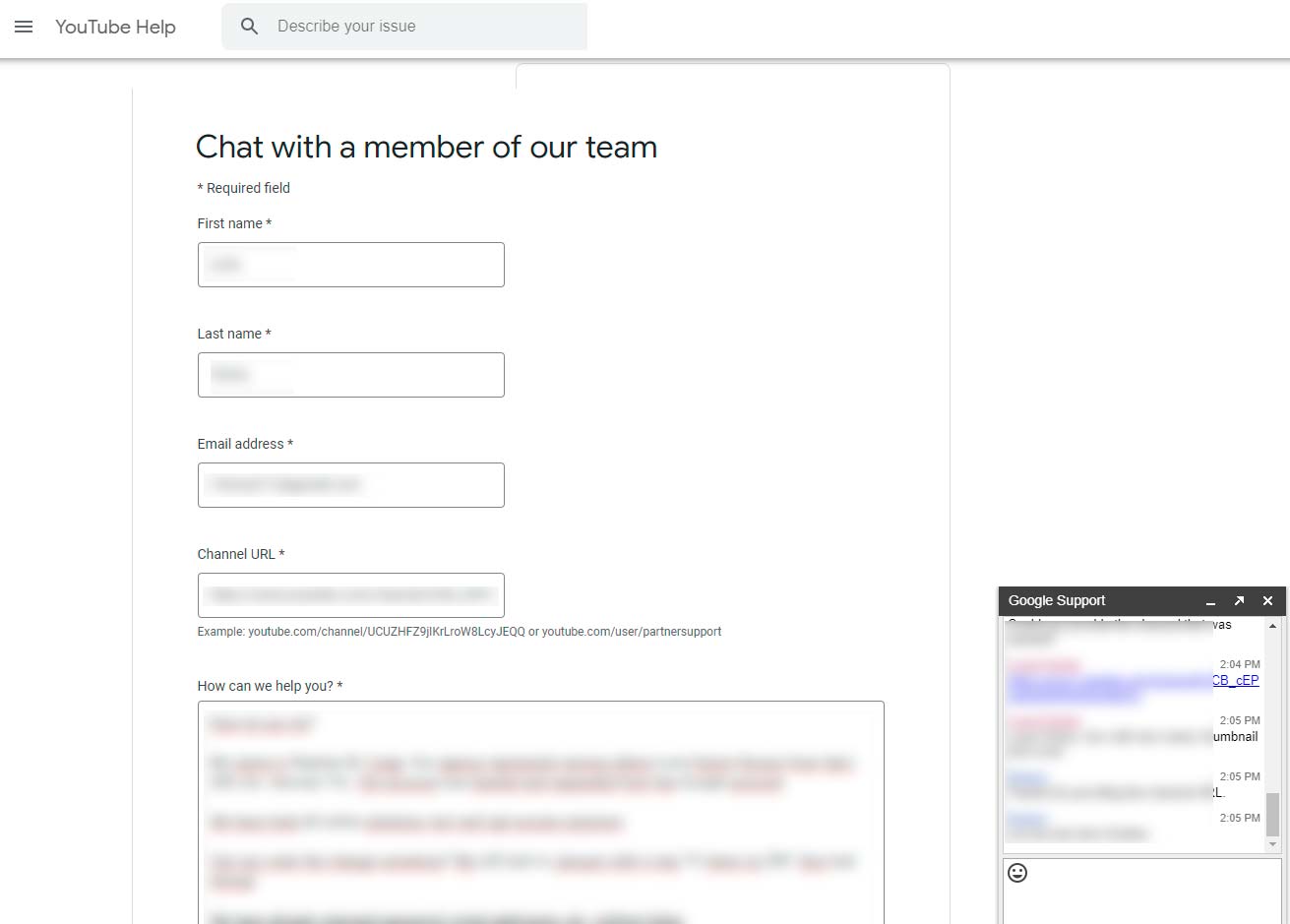 Solution 2: YouTube account hacked – Recover account
The second possibility is to directly use this form specially created by Google.
Restore youtube account
Link: Recover youtube account
Recovery can take a while, but Google employees are usually quick to deal with such cases. Our tip: Contact us directly (1) or use the extra form from Google (2). Good luck!
Tips for a secure password and account protection
If your password is too simple, for example martinmueller2503 have hackers easy game. A good password should:
Always be long enough and consist of more than one word,
It should have a certain complexity and be known only to you
Despite complex assembly, it should be easy to remember
Our tip for secure passwords
Remember a standard. Kcamouflage bstarts in Koil ttraditional am 11. November!
The password is now KbiKta11.N!
Now comes the clou, depending on which website you visit or which social network you use, you add the first two initial letters (name) at the last place. Examples:
Youtube – KbiKta11.N!yo
Facebook – KbiKta11.N!fa
Instagram- KbiKta11.N!in
The same of course for all online shops and websites:
Amazon – KbiKta11.N!am
Netflix – KbiKta11.N!ne
So you can be sure that your password is hardly ever doubled. Even if a channel is hacked, the attacker will not be able to directly access other channels.
Protect Instagram: Two-way authentication
Not only Youtube should be safe, but Instagram and Snapchat also offer options to better protect your account from unauthorized access. That's how you find two-way authentication in Instagram:
Three dashes
Settings
Privacy and Security
Two-level authentication
Snapchat protection: Two-way authentication
Snapchat: Profile picture – Gear – Login confirmation.
https://socialmediaagency.one/wp-content/uploads/2019/11/loesung-chat-youtube-konto-gehackt-was-tun-wiederherstellen-sperren-sichern-hilfe-social-media-influencer-agentur.jpg
700
1300
Laura
/wp-content/uploads/2023/01/social-media-one-logo-tiktok-instagram-youtube-facebook-marketing-1.svg
Laura
2019-11-16 13:43:22
2021-04-07 18:49:46
YouTube account hacked! What to do?! Block, delete… – Help