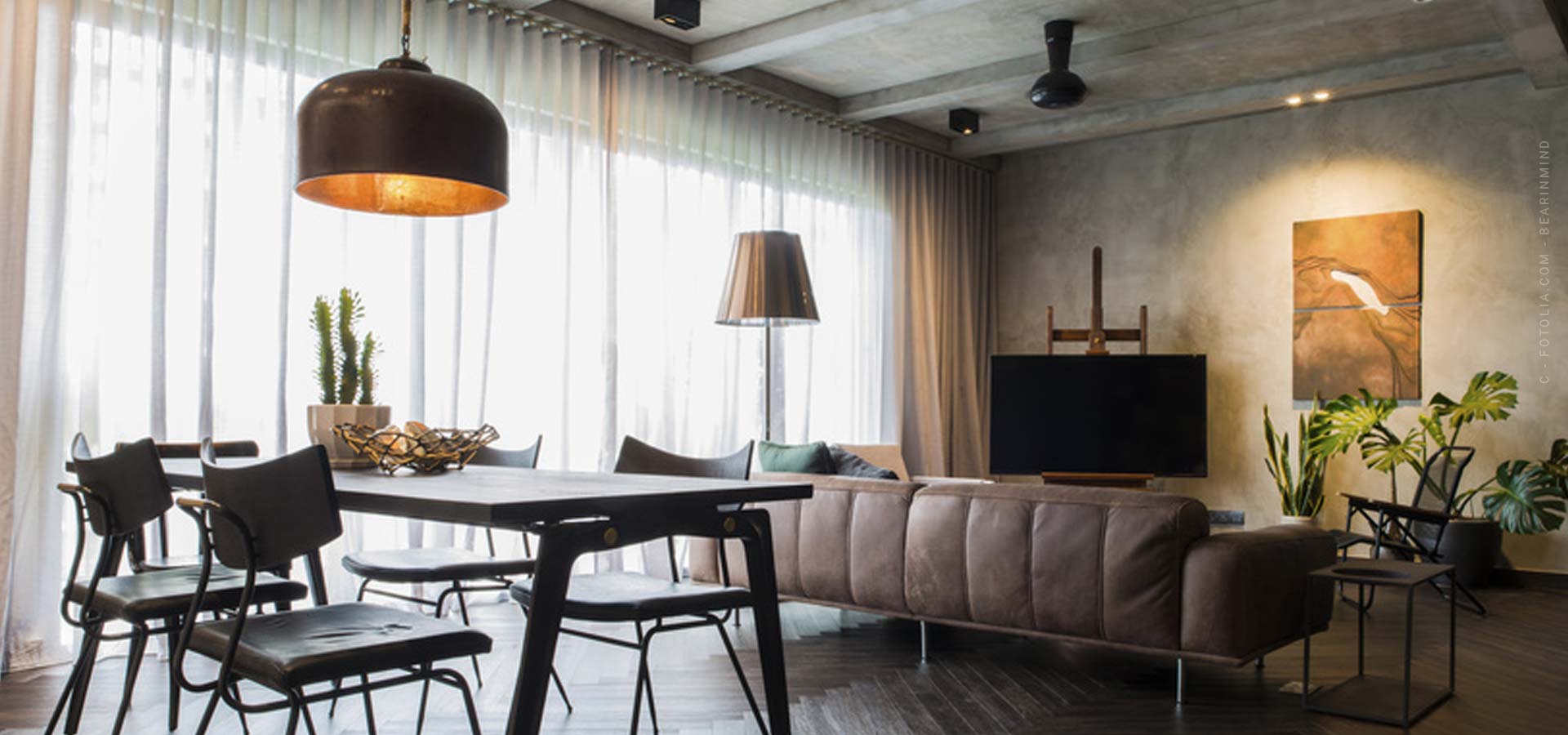 Housing and real estate – Social Media Marketing, Advertising and Influencer
Whether living in a house, condominium or for rent, social media marketing is becoming more and more relevant for real estate agencies, because the figures speak for themselves! The acquisition of potential prospective customers and thus tenants or buyers is with few advertising forms so exactly on a target group alignable but just as exactly in the monitoring. After all, individual clicks, e.g. from Facebook or YouTube, can be traced back precisely. Event tracking, i.e. the tracking of a certain action on the website, makes it possible to track paths and ultimately evaluate which campaign, for example, had a success rate of 4.8% and which only told 0.3%. However, as we are already in a very deep matter, we begin with the basics, social media marketing for real estate & housing.
Objectives and strategies: Housing, construction, real estate & marketing
What are the goals and strategies of a social media marketing agency? Social media marketing carries the word social in itself, so there is a big focus on this marketing method in community maintenance.
Social media marketing is so much more than just a sales channel, it is about people and targeted communication in a different form. Simpler, more image-based, more emotional. These are the core elements of every good social media channel. In addition there are modern methods.
Social media marketing mix: Multi-channel marketing
Did you know they're allowed to repost all photos on Instagram? So why constantly produce your own expensive pictorial material when, for example, in the social network Instagram, you can also fall back on the pictorial material of third parties? On YouTube you can reach through playlist subscriptions, so you can already build through and timely collection of relevant videos followers and subscribers. On Facebook you can not only advertise within your own fanpage, of course you can also do it in groups. Social media marketing is so much more!
In addition to the now almost classical methods, there are of course the newer tools, as well as influencer marketing. The area of influencer marketing counts in particular on recommendation marketing by relevant persons for certain target groups. Every single recommendation in social networks reaches people who follow other people. As a result, the advertising aspect is much smaller. Influencer marketing in the real estate sector could, for example, accompany a person on YouTube in their search for an apartment, and at the end they make two or three videos in which they report on the search for an apartment, first on the Internet that they are desperate and finally found the solution through portal XY! Then our influencer takes the camera and accompanies his apartment inspection, a bit to video number 3, in which the apartment is completely furnished, with the matching keyword apartment furnishing. So we can also do search engine optimization within YouTube. Did you already know that?
The world of social media marketing is so diverse for real estate agents, real estate portals but also for more specific topics such as buying or selling a house.
Ultimately, a lot can be done, from channel construction to advertisements targeted at specific groups of people. But let's first focus on the goals, what is it all about? In principle, social media marketing can be described in four steps.
Target range: Do you already know broker XY?
Our primary goal is reach, because without reach nobody will know about our product. Henry Ford already said: "For every dollar you invest in your product you have to have another one ready to make it known". The more people we reach, the more we become fans of our channel. Because of the added value they get or because of new offers or also because of very exclusive offers.
Target community: added value instead of advertising for tenants / buyers
The second step is to build the community, collecting fans is not difficult, we invest 100.000 € in an advertisement and will be able to win 10.000 fans. 10 € for a fan? That's a lot of money. After all, it's not just about winning the fans once – we have to keep them. That's why community building and targeted community management are among the core tasks of a social media manager, and of course of a social media agency.
The third step involves an editorial plan and the regular transmission of previously planned information. Our channels must not be filled with graphics and texts from the advertising department, they need individual content, i.e. content. The better our information, i.e. advertising content is packaged, the higher the values in the conversion, means the conversion of visitors to buyers, newsletter subscribers or even interested parties.
Target sale: Strategies for customer acquisition from tenants and buyers
In the fourth step we can now concentrate on sales, let different texts or graphics run against each other, in so-called A/B split tests. Through the targeted evaluation in monitoring, the opportunities and risks as well as the advantages and disadvantages of individual target groups can be identified. This allows many questions to be answered, for example:
In which target group does our product sell best?
What target group completes most newsletter subscriptions?
Who asks at the end for a concrete inspection date for a housing advertisement?
Social Media Marketing Agency Services
Anyone who commissions a social media marketing agency for the first time naturally has a lot of questions! To give you an approximate idea of what a social media agency can do for you, here is an overview of the most important services. Social media marketing is advertising, a holistic concept for the dissemination of information about products or services. In the real estate sector, no matter whether broker or real estate portal, it is not different. Social media channels must be created holistically, they must be planned and, above all, they must interact regularly. It's about social media content, that means daily postings, even several stories on Instagram a day, up to you the matching videos with added value on YouTube. Thus they create not only a channel for advertising content, but a platform for all those looking for a new home!
Take the wishes their community was and answer them questions, give them added value instead of thinking about marketing messages. Answer questions as well:
How much does the square meter cost in Berlin or Frankfurt am Main?
What tips are there for the apartment inspection?
How do I leave a lasting impression on the new landlord when I am already at the apartment inspection?
What defects do I have to consider?
How do I discover black sheep in apartment advertisements?
Must I pay the deposit for my new apartment immediately?
When I move out, how long does it take until I get my deposit?
You can keep writing this list forever, because that's what it's all about! Added value for the community instead of advertising. The social media agency helps with the creation of the concept, but also with all strategies and methods, with advice, tips and ideas for creative content.
But where is the concrete advantage? A large part of Germany now watches video content on YouTube. Everybody is informed about what's new, but the majority looks at already existing content. For example, many searches on YouTube will show you that videos have been online for five or six years. For example, if they manage to place their content and topics on the subject of real estate, it can sometimes happen that they get 100000 views and more over time. What's the matter with you? Every year there are 100,000 Germans who change their flats, move, perhaps even move to Germany for the first time. Every year there are thousands of people looking for the same questions and here lies the magic of YouTube. YouTube is also pushed by the largest search engine in the world, especially because it belongs to the Google group. Contents that get a good placement here once, are permanent. They can use this, in cooperation with their social media agency, to permanently generate new visitors and thus new prospects for apartments and houses.
Let's have a look at all contents of a social media agency at a glance. From the editorial plan to monitoring.
Editorial plan and conception for potential interested parties
The editorial plan is one of the basic strategies for a successful social media channel. Because what is particularly important in marketing is the regular publication of the content but the regular interaction with the fans. By planning content in advance, you save a lot of time in everyday business, allowing you to focus on other things, such as answering comments.
Editorial plans show the course of 30 to 90 days, here the postings are planned as well as the contents. For real estate companies that have their own Instagram channel, this could mean, for example, that more and more properties and apartments with warm backgrounds are posted alternately from early summer to late summer. So whether it's the palm tree or the garden that's about to blossom in summer, your social media channel is changing seasons, as is our environment. Of course, you will be a little more precise, you can specify which texts will be placed under the individual postings. Of course, different social networks can also be combined so that you have a multi-channel planning at the end. For example, a concept can look like this:
At the beginning of the week photos appear on Instagram
Parallel appears the first blog article, this is again shared on Facebook, because you can click here directly on the link of the posting and get to the website
On Wednesday the same will be done, with the note that on Friday our new big YouTube video with the big article, 12. For your first apartment viewing appears
On Friday appears punctually at 17 o'clock, with previous posting at 13 o'clock on Facebook and Instagram, now on YouTube the big video on the subject of apartment viewing
Creative ideas
This advance planning enables us to put four weeks on one production day for the production of the social media content. A specially booked influencer explains in YouTube videos simple questions about living, moving in and moving out. At the same time photos are produced for Instagram, Facebook and of course for the block. In one day the social media content is produced for a whole month. On Sunday the influencer will publish a little review by pointing out that the new article was published two days ago on real estate portal XY, "you have to have a look at it"!
This allows editorial plans to be combined with creative ideas in a meaningful way. Your fans will thank you! Because their social media channel obviously doesn't aim to just advertise, they want to help for free! "How nice is that?" This is how the world of social media works. Of course, renowned social media agencies are about more than just creativity and planning, which is already four! When it comes to big and creative ideas, it is also possible to create links to the Pr machinery.
PR strategies (cross media marketing)
You have a social media shoot and perhaps a very special influencer, you should perhaps invite the press directly to it. Whether you're a local newspaper or a national TV station, you can even get the media to report on the shooting if you package your shootings properly. However, this also brings new reach to brand placement, simply through clever planning. Photographer, make-up artist, influencer, photo studio, everything is booked anyway. But if you take care to book the right person for media use as an influencer at an early stage, you can even get press articles.
Here a small excursion into the topic online marketing or search engine optimization. A good social media agency should also inform you about this! Because backlinks can be generated by placing them in the press. Backlinks are references, i.e. links to other sites that refer to your real estate portal. The more backlinks you collect for your website, the more important they will be for search engines. This is why it is also worth working together with the social media agency in the field of public relations. Not only in the area of community care and management is the effort worthwhile, social media are also indispensable for cross-media work today.
After the planning comes the content creation. For Instagram, YouTube, Tik Tok but also Facebook and Pinterest there are different challenges.
Content creation
No matter which social network you choose for your marketing mix, each one has its own challenges, advantages and disadvantages.
Of course we could philosophize about which content is right for which network for a very long time, but in summary the following can be said: photo shootings, video productions and all other forms of content creation are always complex and therefore associated with high costs and prices. This is why it is worth investing so much time in planning that you have as little effort as possible on the day of production. Because, as in our example on the subject of goals, it's about knowing what you're doing. That sounds simple at first, but a lot of planning is involved when you are between community management, content creation and topics such as public relations or influencer marketing. The better the conception, the faster the production.
Social networks life as well as the classic format advertising of regularity. The more often the viewer sees our product, the more likely he is to fall back on it. No matter whether it is a supermarket, a certain product in the assortment or also the apartment search. Those who place their name in the minds of people have regular presence.
Advertising and Advertisements
Perhaps they are social media managers in a larger advertising portal and have not yet had any contact with the subject of re-targeting and advertisements. Briefly explained, maybe you have already looked for a notebook and the next days and weeks you have seen everywhere, no matter if you were on news portals like Spiegel or Welt or also your favourite block, again and again the advertisement for the notebook. This is exactly how advertising and ad management works, of course, in real estate and apartments. For example, you can explicitly send advertisements for Berlin to a Berlin group. It gets even better! If, for example, you offer real estate in Frankfurt am Main, you can send your advertisements specifically to people who live in Frankfurt am Main, are between 18 and 25 years old and single. For all those who have small housing units in good locations, rent them out to young self-employed people, this ad will be worth a lot! Especially in relation to a classic advertisement in a newspaper or real estate newspaper. The losses are much lower because the target group is much more accurate. This helps him not only in the creation of advertisements but of course also in reporting and monitoring.
Reporting and Monitoring
Reporting and monitoring deals with the targeted evaluation of campaigns. It can be about simple things, like posting an influencer for our brand:
How much reach does she have this posting?
How many Likes did the posting get?
How many dislikes were there in relation?
How many comments did the posting have?
When it comes to advertisements, it naturally becomes even more complex when it comes to monitoring and reporting. Here it goes for example polls like:
Which campaigns group from our splittest has performed better?
Which products are profitable and thus predestined for re-targeting?
How many campaigns can we run Split Testings without straining the advertising budget?
The discipline therefore deals with the evaluation of different strategies. By evaluating the strategies, one can discard individual concepts and focus on others. This allows social media to appear and improve performance in social media. After all, it's all about making money.
Consulting and agency
Do you have questions about Social Media Marketing? With the advice of our social media agency you always have the right answers to your questions. Whether it's about instagram marketing, YouTube content creation, Facebook ads, Pinterest search engine optimization or the outlined reaching of young people through social media networks like Tik Tok. We have the right concepts and strategies to promote them as real estate agents or real estate portals. Contact us now, we are looking forward to your e-mail and your call.
Real estate: Helpful links
https://socialmediaagency.one/wp-content/uploads/2019/04/immobilie-makler-marketing-social-media-facebook-youtube-hilfe-tipps-suchmaschinenoptimierung-haus-wohnung-eigentumswohung-vermarktung-werbung.jpg
900
1920
Laura
/wp-content/uploads/2023/01/social-media-one-logo-tiktok-instagram-youtube-facebook-marketing-1.svg
Laura
2019-05-02 07:23:49
2021-04-07 18:49:26
Housing and real estate – Social Media Marketing, Advertising and Influencer