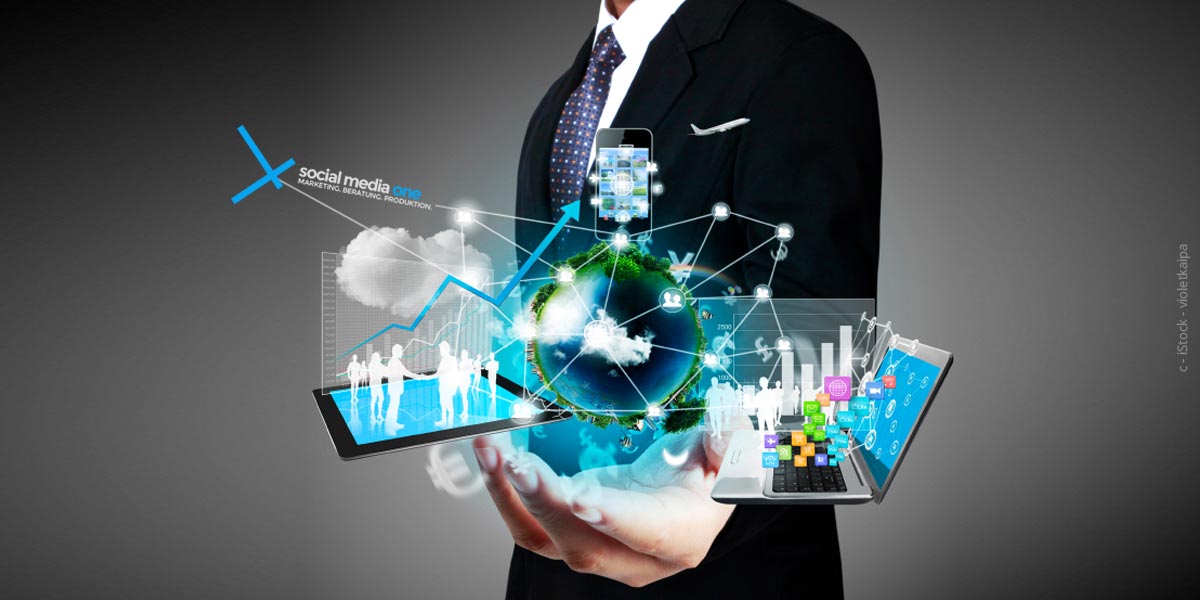 Social Media Strategy for Facebook, YouTube, Instagram & Co. – Agency Tips
The philosophy of a company, the values that are carried from the inside to the outside, partly to motivate to participate, are not only part of the employee strategy but also part of the marketing. The identity of our company, the company or our products is decisive for the authentic effect of our brand. Authentic, this can mean many things, from the quality promise of the products, e.g. for screws or other steel fabrications, but also a sustainability promise, e.g. when it comes to current ecological issues. The philosophy of the company stands for all these characteristics and values. Where do we come from and where do we want to go?
Social media strategy: components and aspects
Even in a social media strategy, one's own corporate philosophy should always play a role when social media managers take over the planning. Especially when an expert dedicates himself to the topic of marketing in the social networks, every measure should be well planned. But not only each individual measure, also the red thread, the overall work must be coherent. The corporate philosophy contains various components and aspects. A great thought, always comes from the founding team.
Those who started with an idea had concrete ideas and usually implemented them exactly according to their wishes. After all, it is your own product, your own agency or your own company, organized with love and time. Depending on the character traits of the owners, the business philosophy is also different. From the quiet and familiar company, with small staff and the offices and bit to tightly organized agency everyday, between planning, organization, implementation and monitoring and analysis. Different concepts bring different results and also different employees. As your own number of employees grows, their voice becomes weightier, also in the company's philosophy. Today we take a very close look at ourselves, our very own guiding principle and also our competitors and the key points that set us apart.
The own market position, the strengths of the competitors but also the own knowledge become an individual picture, if you will a mosaic, from which the own market is composed. The better we understand this picture, the better we can assess where our opportunities as a company. So, after we have evaluated our product categories and our individual products in the last article, categorized them and thus classified them for marketing, we now come to the company and the competition.
The identity of the company/ the products is crucial for the authentic effect of the brand
Different concepts bring different results
The larger the number of employees, the more important their voice in the company's philosophy.
Market position: understanding the competition / self-assessment
First of all, we always have to talk about a rough assessment, at which market position do we see ourselves at the moment? Through statistics, but also diagrams and surveys in our own company or through agencies, we can find out where our company stands. As a young company or startup, it is advisable to look at the big ones. They already invest large sums in marketing strategies also for social networks. But fundamentally it is about a market assessment, how high is the volume that can be generated by sales, how is the current target group and who buys or consumes our products? So that later we can compare perfect target group of our product with the target group on the respective social network, the easier we can determine intersections. When assessing one's own company, it helps too much not only to take a look at oneself, e.g. through the corporate philosophy and the values that are represented, but also an extensive look at the competitors should always be given.
In the end, your own company should be written down in a well-structured way, preferably in bullet points.
Who are our contacts, what does our target group look like?
Where are the strengths of our company, in which market do we operate and where should we go with our own product world?
This is not about a page-long, extremely accurate company presentation, but about thinking for yourself. What makes our company stand out at the moment and where do we want to be, with or without social media marketing, in a certain period of time.
After looking at your own company and your own ideas, you should always take a look at the competition. As already described, especially large competitors invest large sums in their marketing concepts, whether that is point of sale, online marketing or even more specifically social media marketing. How do you design your posting? What times do you post? What content do you post?
Assessing the market position of the company
Not only take a look at yourself, but also at competitors
Direct competition: Identifying market positions and opportunities
In addition to the large and broad spectrum of an overall competition, there is of course also the direct competition. Competition that offer not so similar products but exactly the same products! For example, if you are a food online retailer and sell organic food, a second organic food shop clearly belongs to direct competition. The food startup that produces granola bars belongs to the broad circle of competition. Here from you can take a learning, copycats, that is to pick up ideas from others, you should only do in great competition, from the direct competitors and rivals, on the other hand, you must clearly stand out. So if you are inspired by creative ideas here, they quickly run the risk of posting exactly the same content. Thus, they do not offer any relevant added value and are therefore not relevant for a certain percentage of fans. It should try to stand out from direct competitors as much as possible. Therefore, even with the distinction in the competitive analysis, the separation between global competition, that is, in the general market and the direct competition, that is, the specific competitors, always distinguish.
Not directly inspired by creative ideas
Stand out against direct competitors
Market-specific knowledge: Our USP
For your own social media planning, it is worth taking your own expert knowledge with you. Of course, these are quite individual in every single industry, for every product and every company. Ultimately, however, they always have certain topics that their agency, your company or your product in particular can or does. Be it energy efficiency or even a special component, in the case of fashion perhaps a special application. With these or more unique selling points, you can clearly stand out from the competition, especially in the direct competition. Of course there are a lot of cars and a lot of social media about them, but our brand stands especially for efficiency. Which is enough for us then seen a general news, such as the current debate about the diesel scandal, we can position ourselves first class.
But let's not just think about our own values or ideas, of course there are many other people who have an interest in our company. We call this group of people stakeholders.
Expert knowledge in each industry individually
Unique sales arguments set off in the direct competition
Stakeholders: Customers, new customers, employees, press and media
The term actually comes from economic theory, but especially the social media, the social link to other people plays a big role. We can definitely divide these people into different groups, this gives us different contacts for whom we can develop individual strategies. For example, we have a large segment of private customers, this segment of private customers ultimately provides the sales and sales of our products. So in our social media strategy, they are at the top of the list! Another group of people are employees. Employees can also be picked up in a number of ways, through insights into their work and therefore a bit of fame for them, through to a training campaign for training companies. Another group is often media and members of the press.
Media and press representatives also provide for a large part of our attention and thus for the potential sale of products. Media representatives should therefore also be considered in a social media strategy, models for addressing them must be found. Many use Twitter for this work, although press can of course be reached just as much via Instagram or YouTube. It all comes down to the right planning.
There are many more groups, let's go back to our example in the automotive industry, if we are going to be with energy efficiency, we also have a responsibility in sustainability, ecological aspects for the future. Again, there will be people who feel disturbed by our products or services, for example, residents of a large city, directly on a main road. Such people, the Kauder, must also be taken into account in the social media strategy.
Core regions: Marketing for districts, cities and countries
While we are on the subject of regional responsibility, core regions in particular play a major role in the social media concept. This is about promotion in a region, one or more specific cities, a country or a continent. Of course, the appropriate strategies have to be developed for the different geographical circumstances. The strategy development is not only important for the organic build-up but also for advertisements and paid reach in the social networks. Ads today can be spread very precisely, based on demographics. For example, we can set a target group on Facebook that corresponds to women between 30 and 40 years of age who come from a closer vicinity of Berlin, up to a maximum of 17 kilometers. Is it possible to be even more precise? Yes, of course! Facebook sees its capital in the ads and working with our user data. That's why the advertising manager is very precisely adjustable, as a local business in Berlin Kreuzberg, you can also place ads that are placed only to people from Berlin Kreuzberg. So you have your advertising extremely accurate in Berlin Mitte, with minimal wastage.
Not only in advertising, but also the content of their postings must be oriented to the regional conditions. If they want to get a foothold in Berlin, you should also mention at their texts will. Your photos of them so with the location will be marked. You should also look that the especially with people from Berlin photos with Gefällt mir mark, comments on the pictures or videos, ensure attention in their region! For those who want to work nationally, it is equally recommended to go to the larger cities. The largest group of buyers is located in the big cities. The urbanization of our society is increasing more and more, the famous rural exodus. If you focus too much on marketing measures in Hamburg, you will directly reach two million people. If you try to advertise for the whole of Lower Saxony in return, with the exception of Hanover, the effort is already considerably higher. Also here the question arises, should one rather become in Hanover?
The target group is just as large, but is much easier to reach and they are easy to keep in the communication loop. If we address a person from Hildesheim, the person in Braunschweig already feels no longer addressed. Therefore, regionality should also find its place in their concept.
Core regions play a major role in the social media concept
Philosophy: core message of marketing and business
Finally, we come back to the philosophy, after thinking about the different groups of people, regionality but also around the competition, let's take a look back at us, who are we? How can we bring our thoughts into this competition and into this market, so that we offer added value to the fans, classic concepts but also the new! While in our initial thoughts, our company was still 100% in the foreground, we are now familiar with the others, those that exist outside our world, bloggers, other agencies, magazines, critics and much more. By looking at the competition, we can now choose the exact values that we believe will bring us the most success!
Now we can consider based on the last two, to the products and product categories, as well as to the competition and philosophy to form our own core message. Here I would like to fall back on one of the founders and startup legends of Germany, Carsten Maschmeyer, who summarized the sale of products once beautiful. In a core message, simple, clear and something special. I like to pass on these sentences, because they summarize such a complex social media concept, consisting of planning, strategy, analysis and marketing message ultimately to a simple message. This is the one we can use, towards our customers, employees, managers, trainees, shareholders, regional partners, politics but also media. Let's go to the last step of the first basic consideration, who are we? To a point!
Core message
There are many products that… but we are the only ones who …

There are studies that … / we want to convince, so we get witnesses – why does XY work?
https://socialmediaagency.one/wp-content/uploads/2018/05/social-media-agentur-strategie-philosophie-wettbewerb-regionen-analysieren.jpg
600
1200
Stephan Czaja
/wp-content/uploads/2023/01/social-media-one-logo-tiktok-instagram-youtube-facebook-marketing-1.svg
Stephan Czaja
2018-05-14 16:25:04
2021-04-07 18:51:02
Social Media Strategy for Facebook, YouTube, Instagram & Co. – Agency Tips