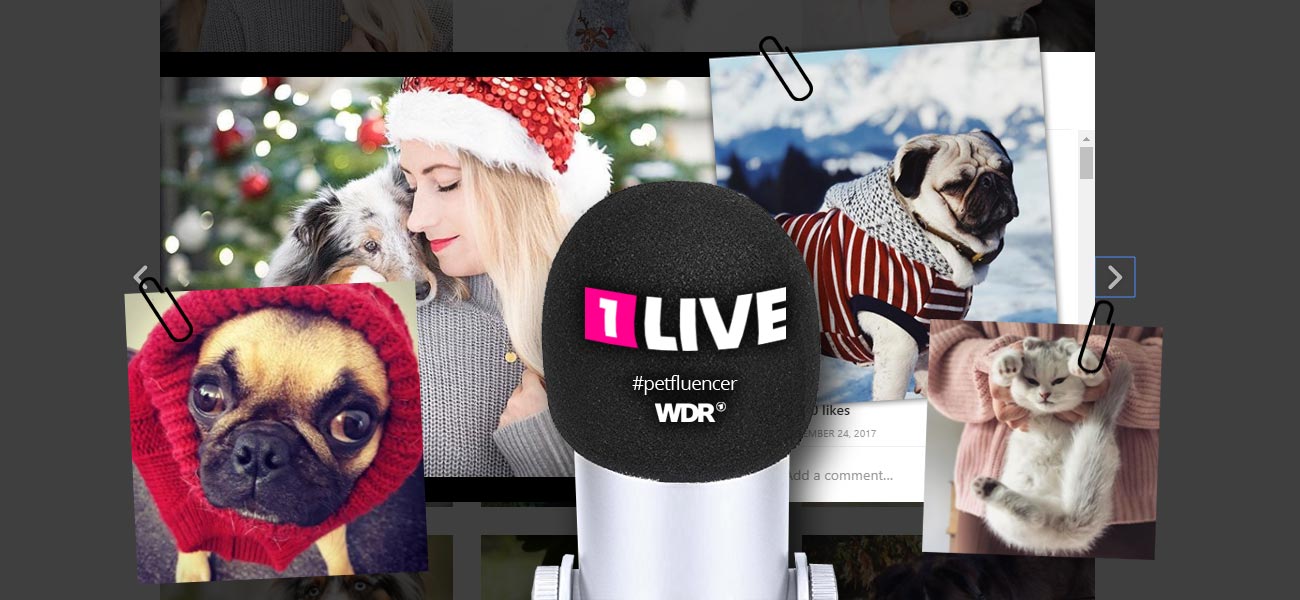 Petfluencer. Cat and dog in social media marketing – 1LIVE / WDR Interview
Petfluencer in Social Media Marketing – Today I was interviewed by WDR or 1LIVE Radio on the topic of influencers and even more special: #Petfluencer! Dogs and cats are extremely popular among Germans, millions are spent here every year on the finest food and all kinds of accessories. Petfluencers are also conquering the world of bloggers. Pets that make it to real fame. Since maybe one or two online shop owners are thinking about getting involved in influencer marketing themselves and booking a blogger themselves, I wanted to summarize some of the thoughts from the interview here. The full interview is available for a few weeks in the WDR / 1LIVE Mediathek.
Short and sweet – 7 questions about Petfluencer:
Who are Petfluencer?
Why are petfluencers more successful in the US?
Are there any successful German channels at all?
Why do petinfluencers work as part of the marketing concept?
What would a Petfluencer campaign look like?
How do you become successful as a Petfluencer?
What do #petfluencer posts look like?
After our 2017 Influencer Review, we're now looking to the future!
Who are Petfluencer?
Petfluencers are social media accounts of pets we all love. Dogs and cats in particular work great as petfluencers, of course. From the little Pomeranian to the big Bulldog. Just like bloggers, new content is posted daily, usually photos in which the animals look very cute. They usually have a bit less reach than human bloggers, yet there are extremely successful social media accounts of animals. One of the most famous in the world is probably Grumpy Cat. Grumpy Cat has millions of fans all over the world and has done so for years. No matter what social network Grumpy Cat is on, she charms people. Marketing concepts and campaigns work here, in marketing around animals, of course, quite similar. Especially people with a high affinity to animals follow these accounts.
High affinity means high trust, ergo buying power with recommendation!
Of course, fans will notice every recommendation made by these accounts. Pet food, accessories, fashion, houses or even new accessories for the dearest family member. With each post, hundreds of thousands or even millions of people are reached, who perceive their recommendation, trust it and ideally adapt it and consume or buy the same product. This is how influencer marketing works, even in the with animal channels.
Grumpy Cat? Here you can see the original on Youtube
Over 20 million views and more than 130,000 likes for the first video of the Grumpy Cat. Until today one of the biggest internet hypes.
Why are petfluencers more successful in the US?
The United States is a much bigger market in general. Much larger than the European market and of course much larger than the German market. With over 270 million inhabitants and an extremely high purchasing power, the domestic market of the USA alone is gigantic. In addition, there is also the scattering effect.
We are all watching the trends in the US.
No matter if we are in Germany, France or even in the UK. Trends are set in the USA. From Los Angeles to New York, Instagram channels are being created, which will be followed tomorrow, which will be reproduced in fashion magazines or even in new TV formats.
The four largest economies in the world
Here are the IMF figures again (2016). An addition: China is now (2018) in first place.
United States US$ 18,569,100 million
European Union US$ 17,371,618 million
People's Republic of China US$ 11,218,281 million
Japan US$ 4,938.64 million
How many American musicians do you know and how many European musicians does an American know? While we know hundreds of Americans who successfully make music, the average American knows maybe one German band, Rammstein. It's the same in the blogger and influencer world.
Americans are themselves part of a gigantic market,
They report in an international language,
The world looks to the United States of America.
That makes bloggers from the USA so much bigger in relation to German ones, people and animals.
More on the topic: Social Media Statistics
Are there any successful German channels at all?
Yes of course, there are not only channels with 100,000 fans. The biggest animal bloggers are currently probably the dogs of Dagi Bee and Paola Maria. Most people know Dagi Bee from YouTube, she has millions of fans there. Just like on Instagram, her boyfriend also reaches millions of fans. So it goes without saying that the family dog naturally needs its own Instagram channel, with daily updated photos and stories. Meanwhile, the two dogs themselves reach millions of people. And that directly from Germany!
Zula the Pom: Dagi Bee's dog on Instagram
If you want to see more about Dagi Bee's Pomeranian, you can find Dagi Bee's dog on Instagram here.
Why do Petinfluencers work as a part in the marketing concept?
Let's face it, who hasn't watched a funny cat video on YouTube? Animals are cute, everyone knows the feeling of "warmth" and "trust" somewhere from their own childhood, that "good" feeling. No one can be mad at a cute dog or a cute cat. They don't even have to be creative. For a little puppy, just sitting at the food bowl or yawning tiredly is enough on Instagram. The cuteness factor plays an extremely large role with Petfluencern an and of course the high affinity of the citizens to animals. If you look at the statistics, then so and so many percent of Germans have a dog. At the same time, so and so many Germans have a cat. So there is a constant need for new accessories, new food and much more. The market is very large and offers companies millions in profits. Who sends the targeted reach of petfriends and uses, can significantly increase their own profit.
Here are a few more recent numbers from Statista.com:
Number of pets in Germany: 30 million
Number of puppies in Germany: 77,509
33% of Germans have a pet
28% of Germans have several pets
39% do not have a pet
According to Spiegel, Germans spend nine billion euros a year on pets. An extremely high sum. Of this, 3.7 billion is spent on pet food alone. Great potential for influencer marketing. Especially since more and more purchases are made directly online.
What would a Petfluencer campaign look like?
A Petfluencer campaign is not much different from the normal campaigns you run with bloggers and influencers. Products are cleverly placed, such as the treat just freshly taken out of the plastic bag, so that the logo is still a little visible in the picture. Even in the evening it is emphasized how much the dog likes the new "parsley turkey creation". Constant brand placement ensures that names get stuck in your head. If the name of one has stuck, we will probably go back to this product at the next supermarket or female is recommended to us by our favorite channel.
How do you become successful as a Petfluencer?
Ideally, one is the pet of a successful person, which pushes through its own reach directly also the own channel of the pet, as already described with Dagi Bee and Paola Maria. Through this migration of fans, the increase of one's own fans is extremely fast. Anyone who starts from scratch, I must first work up to 1,000, 5,000, 10,000 fans. Only after that does real relevance emerge, which makes for a lot more new followers. The second profitable aspect for new petfluencers are masters or mistresses who are also photographers or like to take pictures. Then no matter if it's YouTube or Instagram, the footage and the quality of the footage also plays a big role in the ultimate generation of fans. So of course, it's beneficial if you always have a camera handy. The success of influencer campaigns on Instagram can be measured with social media tools like social analytics.
What do #petfluencer posts look like?
Before you start looking for animal influencers on Instagram yourself, I've already put together a little top list for you here! Petfluencers build their reach with posts like these. In addition, I have a few interesting links to good channels here!
Petfluencer posts on Instagram: Advertising with dog, cat and hamster
B e S t y l i s h
INFLUENCER #1 Leading Fashion | Lifestyle | Luxury Motivation and Inspiration blog
PR : bestylish@gmx.com
KIK : instaday
DM or Email for marketing
More about @bestylish
FASHION BLOGGER CARMEN MERCEDES
?? polish / german Lifestyleblogger
? blog: www.allaboutkarma.de
? cologne
? carmen@hype-lab.com
? daily Stories 'daily carmushka'
More about @carmushka
Cookie Dough & Malibu
? two special pomeranians – double the cuteness, double the fun | ?Germany ♥??
? may 12th
? oct. 10th
fb, ? | cookiemalibu
?cookiemalibu@yahoo.com
More about @cookiemalibu
Minzi
Hello. Nice to sweet you ?
I'm a three pawd little trouble makers.
Teacup Pomeranian.
2 years.
Germany
More about @missyminzi
Sammy & Yuna
Don't let it get you down, be bold, be wild, be wonderful! ✨
↠ Rescue Advocate
– Germany
– Raw fed after PMR
? ig.fairytrails@gmail.com
More about @fairytrails
Jasmin with Sheltie Bailey?
?? my life with ? bitch Bailey (23.03.15) #jasminandbailey
? House purchase 2017
?? Bride 2018
? Contact: hundetraum2015@gmail.com
? Our blog:
More about @traum_vom_eigenen_hund
Sheltie Nala ? | Germany
? Shetland Sheepdog, blue merle, *04.02.2014
? E-mail: kleinesblauesherz@gmail.com
? Homepage:
More about @littleblueheart_
MOJO & RANA
…just a spoiled minpin & an innocent streetprincess on a mission to steal your heart ❣
? ig.verpinscht@gmail.com
?Germany
More about @verpinscht
https://socialmediaagency.one/wp-content/uploads/2018/01/petfluencer-social-media-experte-stephan-czaja-interview-1live-radio-wdr-haustiere-kunde-katzen-marketing.jpg
600
1300
Stephan Czaja
/wp-content/uploads/2022/08/social-media-one-advertising-werbung-logo-2022-facebook-tiktok-instagram-youtube.jpg
Stephan Czaja
2018-01-05 20:14:32
2021-04-07 18:50:49
Petfluencer. Cat and dog in social media marketing – 1LIVE / WDR Interview