Ordering fresh food online, whether in organic quality or the conventional products, more and more people are enthusiastic about food ordering from the Internet. Food, nutrition, healthy living but also the little temptations of everyday life such as a delicious barbecue with friends or the calorie-containing dessert are part of a good life. Everyone knows their own supermarket around the corner, and in large cities you often even have the choice between several providers. Even on the Internet, you can choose this great advantage between different online store providers for food. Thanks to the search engines, we always have the best recommendations for online shops at hand, even on the go on the phone, we can see what offers are currently available. Whether fruit, vegetables and meat and sausages. You can order everything online today. In Germany too, more and more supermarkets are converting from stationary to online retailing. Digital commerce offers great benefits for everyone involved.
+ AD: Do you know?
Best Practice Food – More about this topic:
Benefits of Food Online Trading
Less waste, the logistics chain produces less waste that is commonplace in brick-and-mortar retailing. Over amounts are thrown away or donated to aid projects. The majority ends up in the garbage bin. By pre-ordering on the Internet, you need fewer products in the central trade and thus in the supermarket.
All orders are managed centrally on a regional warehouse.
Less effort for the customer. No carrying, dragging or moaning under heavy bags anymore. Especially for heavy products with drinks and water, the customer does not need to carry bags anymore. That takes over the delivery service. Even third, fourth or fifth floor boarding is done by the caterers. Of course, such a food online ordering is of course very valuable, especially for seniors and the elderly, and that is why this concept pays off, even if very few seniors and older people currently order online.
Higher costs. Although one would think that prices fall through the online trade, these remain almost the same. The warehouse operator no longer pushes an 800 kg pallet at once but has to divide the big containers into individual pieces. 5 apples, three pears and 4 carrots. For this purpose, the logistics is much more complex, every single person must be approached, resulting in shipping costs. Ultimately, the purchase costs 2 or 3 € more, but you save a lot of work.
Prefer to order online or shop locally?
I myself am not a big fan of shopping online and how was in the supermarket around the corner. See products, but they also feel spontaneous considerations, what am I cooking today? On the other hand, there are products that we constantly need in our daily lives, not only kitchen rolls but also products like salt or milk or water. Such products can be perfectly covered by online orders. Also through subscription features that allow products to be delivered on a regular basis. As a social media agency , we wanted to take a closer look at this digital food trend. The food industry, as a very young segment, is also very interesting for our next lectures and speeches. The first pilot models and start ups have been around for 4 or 5 years now. That brings a lot of experience and expertise together. But how are the big food suppliers on Instagram? What effect do they achieve and which reaction? Today we take a close look at the food online suppliers and their Instagram Marketing .
The Market and Delivery Comparison: Who Convinced Instagram?
Rewe is an absolute role model in social media management. Chic, direct, well packed and makes you want more!
Rewe as a role model: recipes, help and delicious -9.1 / 10
Edeka: Tasty and with a line -8.5 / 10
Alnatura: Organic Supermarket -8.9 / 10
Temma: Organic Supermarket -5.6 / 10
Kaufland: baking and frying -6.2 / 10
Lidl: There's no arguing about taste -4.3 / 10
Quick check for engagement
The quick check at the bottom of each retailer's retail list gives you an idea of ​​the interaction rate. Quickly skipped is the formula:
Engagement = (likes + comments * 4) / number of followers
Of course, the result can be influenced by social bots. Ultimately, however, at least a cross-sectoral indicator that allows quick conclusions. These interaction rates can be checked more precisely by long-term tracking of posts, comments and likes. The Total Rating then stands for the combination of interaction with the visual performance of the channel.
Rewe as a role model: recipes, help and delicious!
Rewe not only has his @rewe channel, but also various subaccounts, such as careers @ Rewe career. Of course, not everyone can afford such a large network, but it is exemplary. In addition Rewe puts always small cards with short, suitable texts like "Mango No.5" (allusion to the summer hit) or also with pancakes "Yes! Queline". Clean integration of private label Yes! in the post.
Rating: 9.1 / 10
792 posts
130,000 subscribers
Subscribe to 378
2,000 likes on average
30 Comments
Quick Check: 1.53% engagement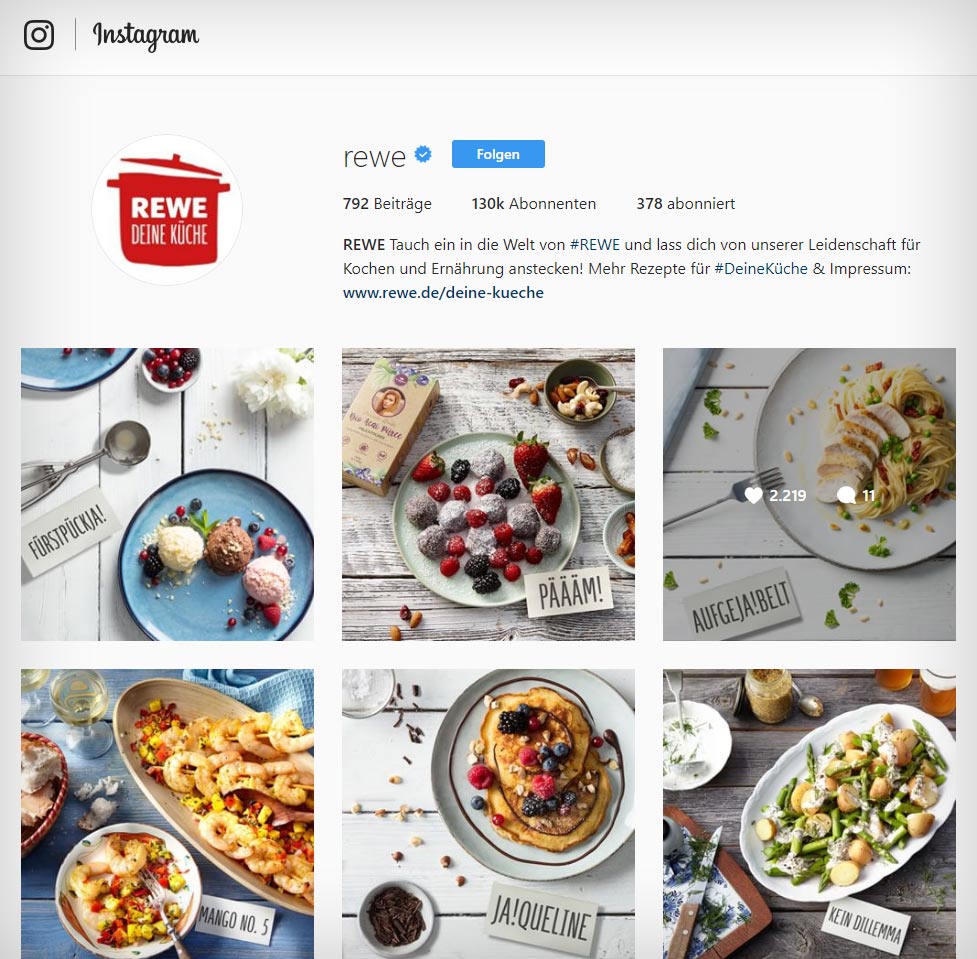 Edeka: Delicious and with a line
In particular, Edeka focuses on his well-known corporate design of dark background and colored, colorful foreground. Simply explained: Black slate in the background and delicious food, logo or writings on top.
Rating: 8.5 / 10
469 posts
81,800 subscribers
308 subscribed
1,200 likes on average
16 comments
Quick Check: 1.46% engagement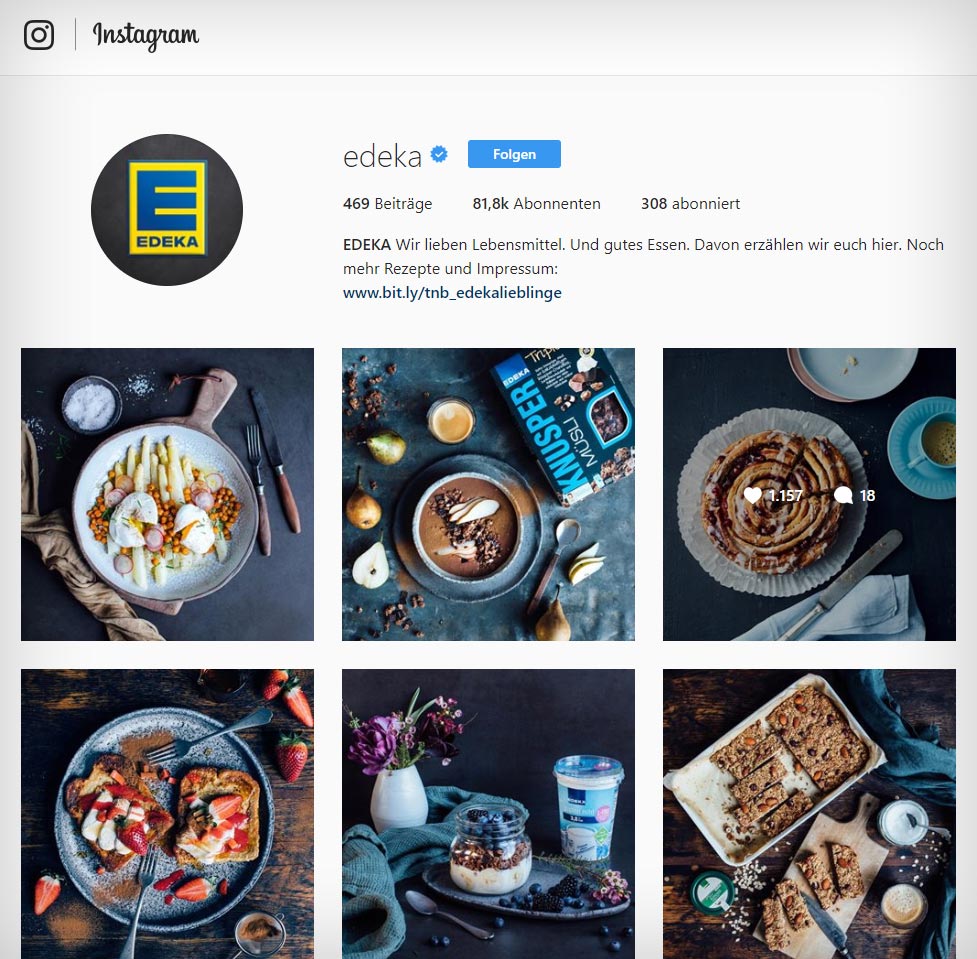 Alnatura: Organic Supermarket
Alnatura is about organic products. The assortment is designed for this purpose and Alnatura is no longer found only in big cities but more and more distributed in Germany. The company is also busy on Instagram.
Rating: 8.9 / 10
522 posts
100,000 subscribers
252 subscribed
1,625 likes on average
18 comments
Quick Check: 1.62%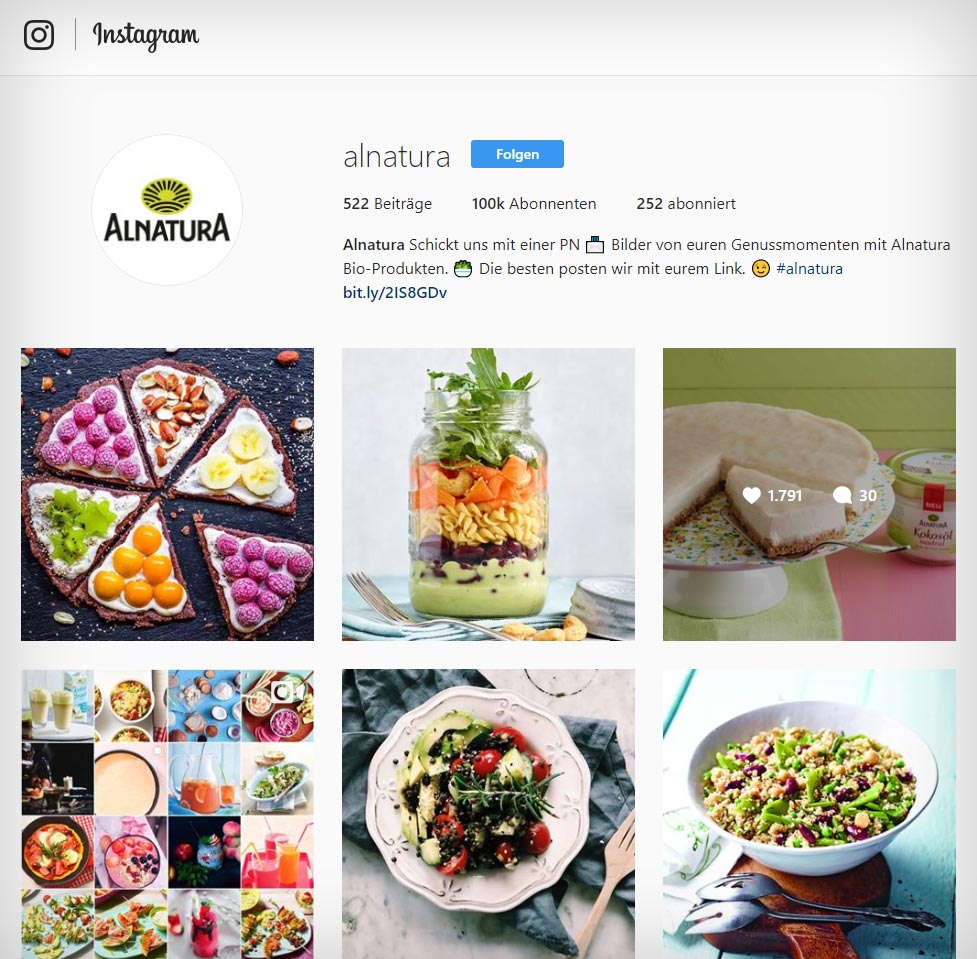 + AD: Do you know?
Temma: Organic Supermarket
The Rewe daughter is currently being tested in Cologne and Dusseldorf and I am to add as a high quality organic segment to the parent company. Rewe has many daughters, including Penny. The high engagement rate (return of likes and comments of the followers per picture) is still so high Temma, since it is a young channel. The first followers are often employees, friends, etc. Of course, they have a higher involvement and tend to like it more.
Penny is currently still on its own Instagram channel and currently serves only Youtube and Facebook. Facebook makes it to 327.103 like "likes" information, so the jump to Instagram would be made quickly.
Rating: 5.6 / 10
95 posts
403 subscribers
259 subscribed
35 likes on average
Up to 1 comment
Quick Check: 8.68% engagement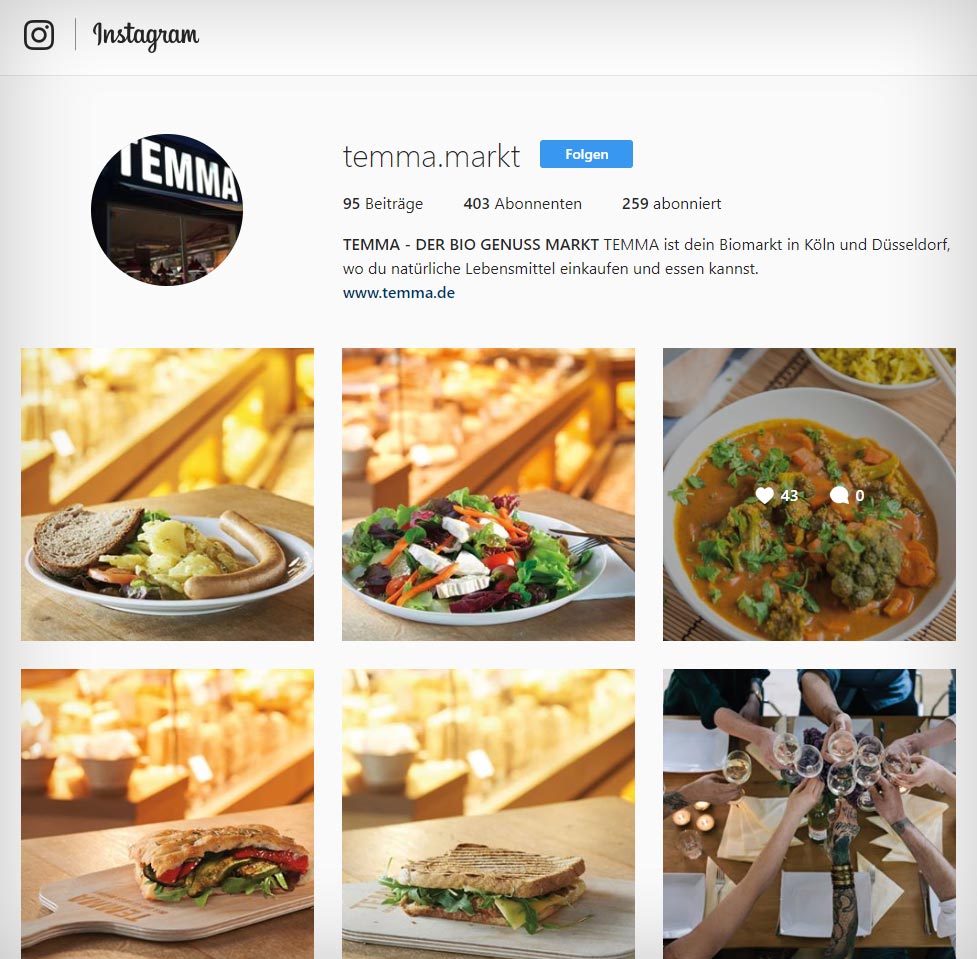 Kaufland: baking and roasting
Kaufland relies less on the actual Instagram user (reference: lifestyle, tendency to a healthy life), Kaufland rather picks up the roast and roast friends. From stewed goose to hearty ribs on dumplings.
Rating: 6.2 / 10
214 amounts
31,600 subscribers
23 subscribed
1,150 likes on average
14 Comments (sometimes 100+ with questions)
Quick Check: 3.63% engagement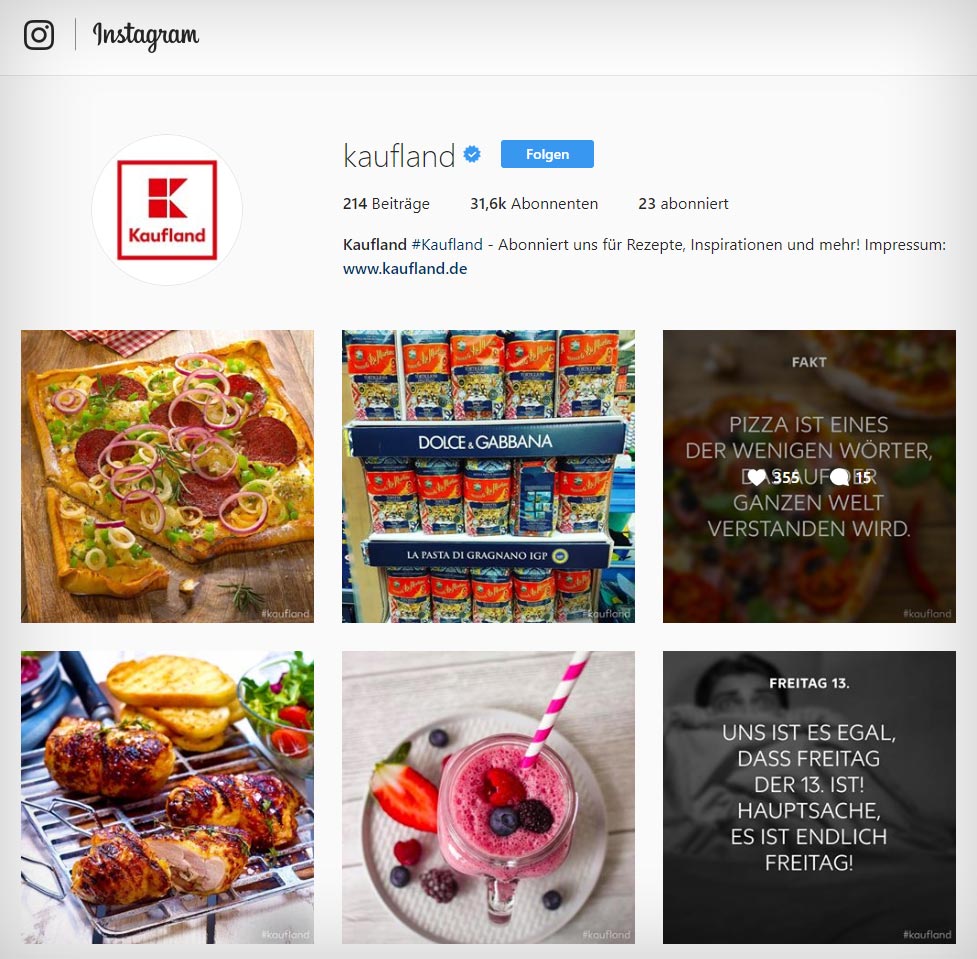 Lidl: You can argue about taste – not!
Phew. Tasty far from delicious is Lidl. Black people, next to black sandals and below text, text, text. Products are small, there are many, no focus. Where do you start? Not at all.
Rating: 4.3 / 10
1,185 posts
131,000 subscribers
30 subscribed
530 likes on average
22 Comments
Quick Check: 0.40% engagement
Hello Fresh: Tasty Recipes in a Box
Hello Fresh supplies cook boxes containing fresh food and suitable food. On Instagram, Hello Fresh convinces very simply with healthy meals on rustic plates. Top!
Rating: 6.0 / 10
1,897 posts
42,500 subscribers
2,700 subscribed
1,086 likes on average
31 Comments
Quick Check: 2.55% engagement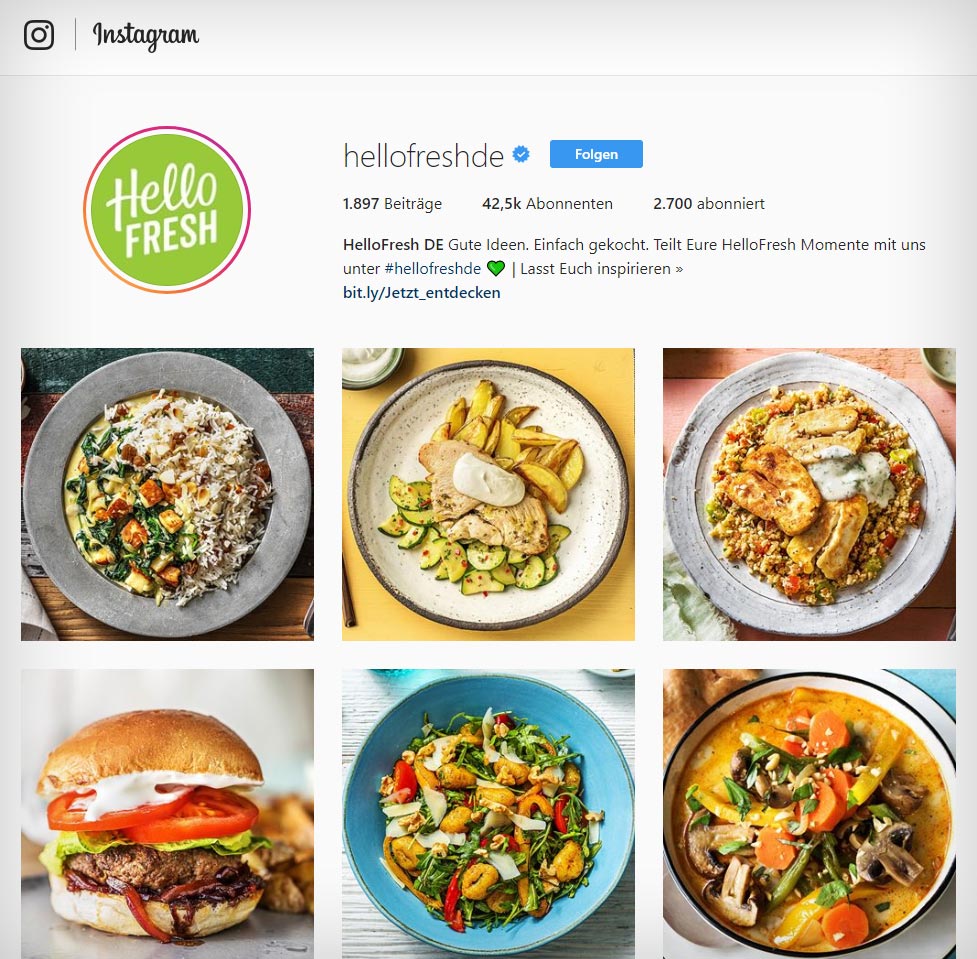 Conclusion German food supermarkets on Instagram
After 3 days of intensive work with the food industry in Germany, the USA and Europe, we can draw the following conclusion for Germany. Especially the big chains, if they are represented on Instagram, are well positioned. The only exception here is Lidl, either the concept is not aesthetically planned or one has forgotten to deal with Instagram. Rewe and Edeka focus on delicious dishes, freshly presented, day after day. Even Kaufland can convince less, currently reaches more than 100,000 people. In addition to the traditional supermarkets, there are also the organic grocers!
Instagram is made for lifestyle! Of course, biologically correct diet, vegan trends or even others like Detox fit perfectly into this social network. That's why the organic online retailers are relatively strong in the market. Alnatura sets a good example and shows how to connect the world with a good attitude to life and your own brand. If one compares the interaction rates of the different supermarkets, then it turns out that with the fewest a high interaction exists. Although a relatively large number of people follow the channel, only relatively few likes or comments are made. On average, the major German supermarkets barely manage one percent of the interaction rate. In contrast, there are startups who can look forward to almost 10% interaction rate! What can the big companies learn from the new players? Here's a glimpse of the Food Start Up World on Instagram.
+ AD: Do you know?
https://socialmediaagency.one/wp-content/uploads/2018/04/food-check-america-germany-online-shop-list-marketing-instagram-social-media-bio-vegan.jpg
600
1200
Laura
https://socialmediaagency.one/wp-content/uploads/2021/02/social-media-one-agency-marketing-strategy-brand-strategie-marke-agentur-youtube-instagram-tiktok-facebook-seo-logo.gif
Laura
2018-04-30 14:30:01
2021-04-07 18:48:57
Online Supermarket Check Germany! Food on Instagram: Who is the best?