In the United States, there are now the largest supermarket chains in the world, Walmart, Whole Food or even Trader Joe's. Doing the big weekend shopping and then driving home in the SUV to the family, the few want to do that themselves. As a result, US online food retailing is growing rapidly. From New York to Los Angeles and Las Vegas, more and more people order their food, from fruit to drinks, vegetables, sugar, bread and salt more and more on the Internet. It pays off an online order! Not only that you save a lot of time shopping, as well as carrying the many shopping bags, sometimes you even save real money! Because it's worth shopping online, especially when you're buying in bulk. Not only for families, but also for singles, the online order is always attractive and therefore we wanted to look at the US supermarket chains in comparison. Who tries, who gets his fans involved, who reaches the most people?
The big supermarket chains have long been on the Internet and try to bring their products digitally to the man and to the woman. The Internet shops are very simple, so that you can not only order conveniently from the notebook but also from the phone. Not only the big supermarkets are involved, also Amazon is becoming more and more widespread in food online trading. With the first pilot projects you try to become a permanent player in the market. The food industry is very hard! It's about every single center and every single gram. You only make money with the big crowd, that's why it is so important for online shops to reach a lot of people.
+ AD: Do you know?
Best Practice Food – More about this topic:
Target group for online food
The target group for online grocery orders is clearly defined and aimed at an audience that is very Internet affine anyway. If you do not order anything else on the internet, you will not start with food. However, the other ordered products, no matter in what form, for the jump to the first food order is not far. If you look at the online usage of the Americans, we focus on an audience of 20 to 40 years. For people from 35 to 45 years you should drive another campaign. For people, including seniors and retirees, a second campaign, which specifically addresses the children of the elderly, is also profitable. With the incredible advantage that the old man or the old lady no longer has to carry their bags themselves. But they are conveniently delivered to the front door. It is not just about fruit but also about everyday things and kitchen rolls or toilet paper, dish soap but also sugar, pepper or paprika spice powder.
Instagram Marketing of the Big US Supermarkets
In addition to Facebook and YouTube, Instagram is part of everyday life today. Thanks to the new Instagram shopping function, you can now also guide your own fans to the online shop for the first time. No winning code or awkward clicks through a link on the biography page of Instagram. Shopping on Instagram has never been so easy and that's why we wanted to take a close look at the market. Food on the internet that is relatively new, that's why here our market check USA!
Markets in comparison
If you take a look at the Instagram channels of America's largest supermarket chains, it quickly becomes clear that the social media managers attach particular importance to healthy food, families or animals. Especially Whole Foods has come up with a very nice idea: a dog carrying the Whole Foods bag in its mouth? Brilliant! Kroger is a little less creative on Instagram. The food does not look appetizing, the posts are not varied, here simply the creativity is missing.
Whole Foods: Getting the Dog – 8.5 / 10
Walmart: The Family Market of Fashion, Food and All – 7.2 / 10
Trader Joe's: Tasty Meets Art – 8.1 / 10
Aldi USA: Upcoming for Fresh Foods – 7.8 / 10
Sprouts: The Farmers Market – 6.9 / 10
Fairway Market: Freshness that does not quite perform – 6.7 / 10
Wild Oat Marketplace: Wild, wild, wild! – 6.2 / 10
Kroger: Well meant, but no – 4.8 / 10
Food Lion: Little Performance – 6.0 / 10
Quick check for engagement
The quick check at the bottom of each retailer's retail list gives you an idea of ​​the interaction rate. Quickly skipped is the formula:
Engagement = Likes / Followers
Of course, the result can be influenced by social bots. Ultimately, however, at least a cross-sectoral indicator that allows quick conclusions. These interaction rates can be checked more precisely by long-term tracking of posts, comments and likes. The Total Rating then stands for the combination of interaction with the visual performance of the channel.
Whole Foods: Getting the Dog
Whole Foods is a real giant! The Instagram channel has over 2.5 million fans and the concept is also very delicious. A special teaser at Whole Foods are the dogs in each 7/8 image. A small, cute dog with Whole Food bag.
Rating: 8.5 / 10
2,962 posts
2,500,000 subscribers
4,517 subscribed
13,600 likes on average
157 comments
Quick Check: 0.54% engagement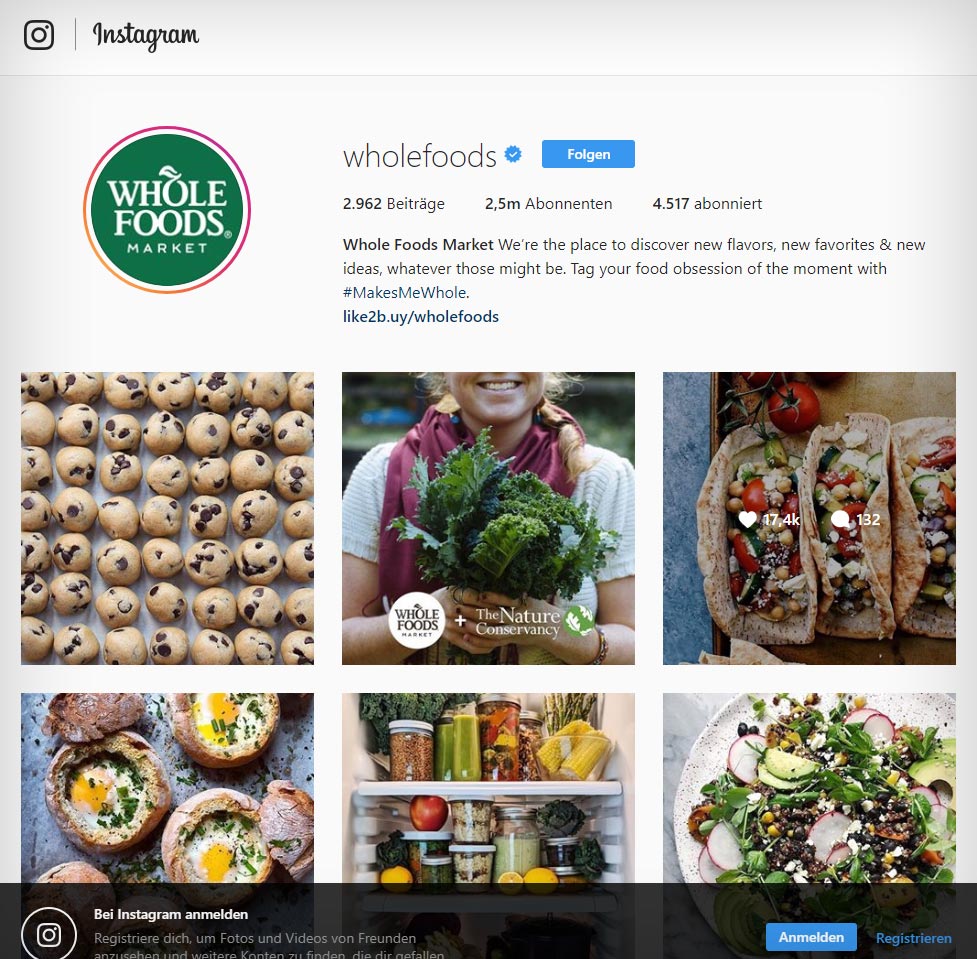 Walmart: The Family Market with Fashion, Food and Everything
Walmart is known worldwide and Walmart brings it to Instagram on Instagram. Walmart is clearly broader than the typical food supermarket. Fashion, furnishings but also events, sports and animals.
Rating: 7.2 / 10
1,326 posts
1,000,000 subscribers
54 subscribed
3,600 likes on average
132 comments
Quick Check: 0.36% engagement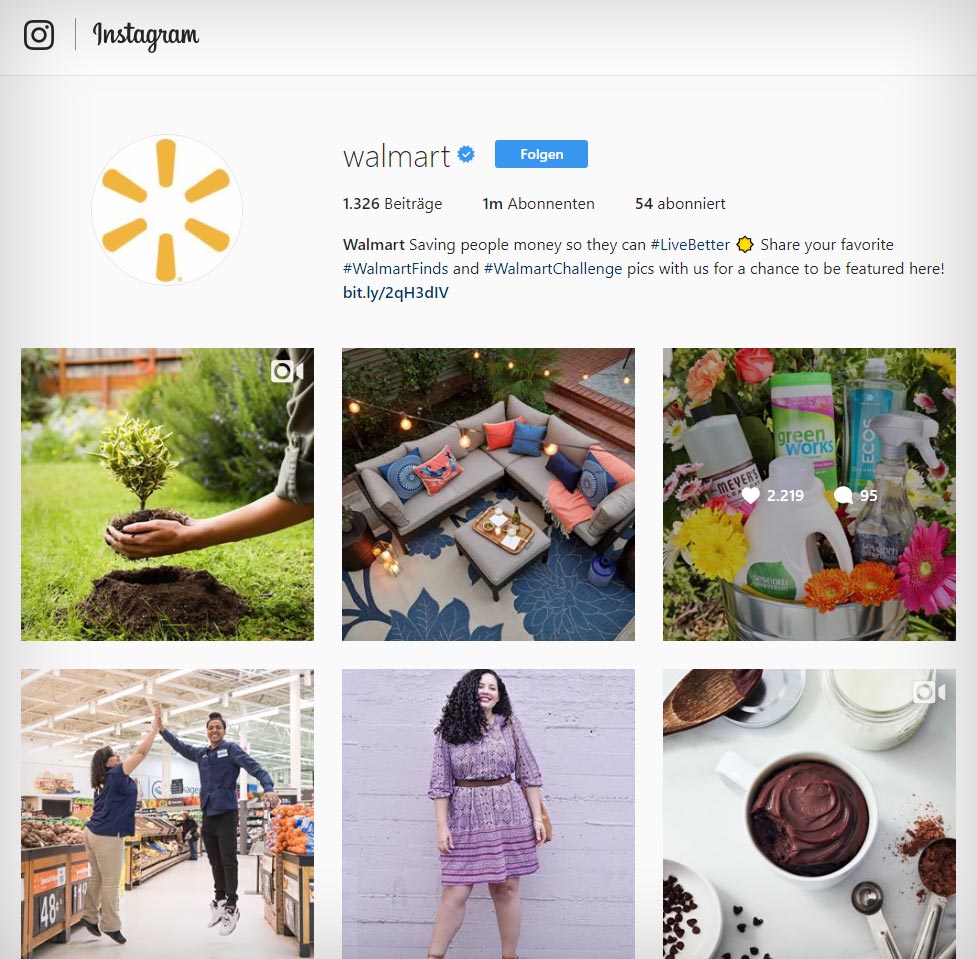 Trader Joe's: Tasty meets art
Trader Joe's has one of the most beautiful channels because they dare. With small drawn cartoon sketches they tell little stories or take drawn hands that pick up the bacon. Very loving and partly elaborate thought and produced.
Rating: 8.1 / 10
292 posts
424,000 subscribers
0 subscribed
9,870 likes on average
241 comments
Quick Check: 2.32% engagement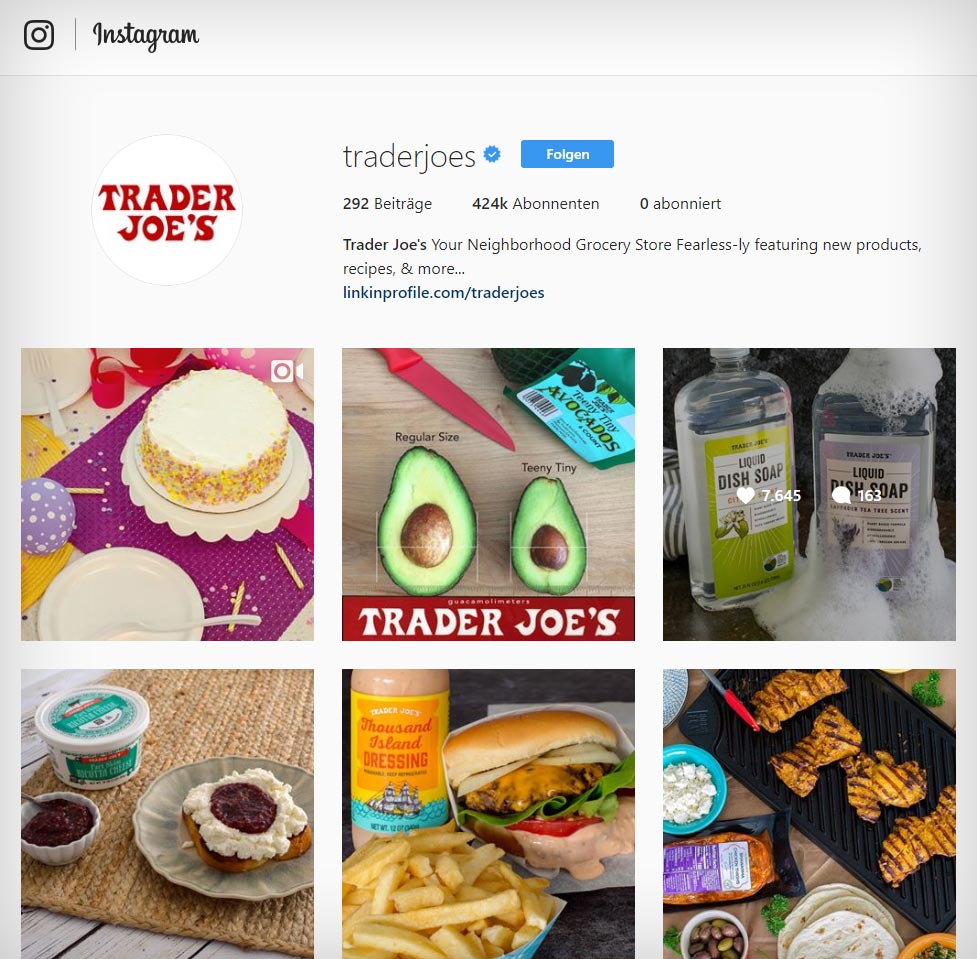 + AD: Do you know?
Aldi USA: Upcoming for Fresh Foods
Tasty and fresh, very different than you know it from the German original. Aldi USA presents itself as a healthy brand with fresh fruits and vegetables as well as delicious breakfast ideas.
Rating: 7.8 / 10
545 posts
185,000 subscribers
114 subscribed
1,900 likes on average
32 comments
Quick Check: 0.10% engagement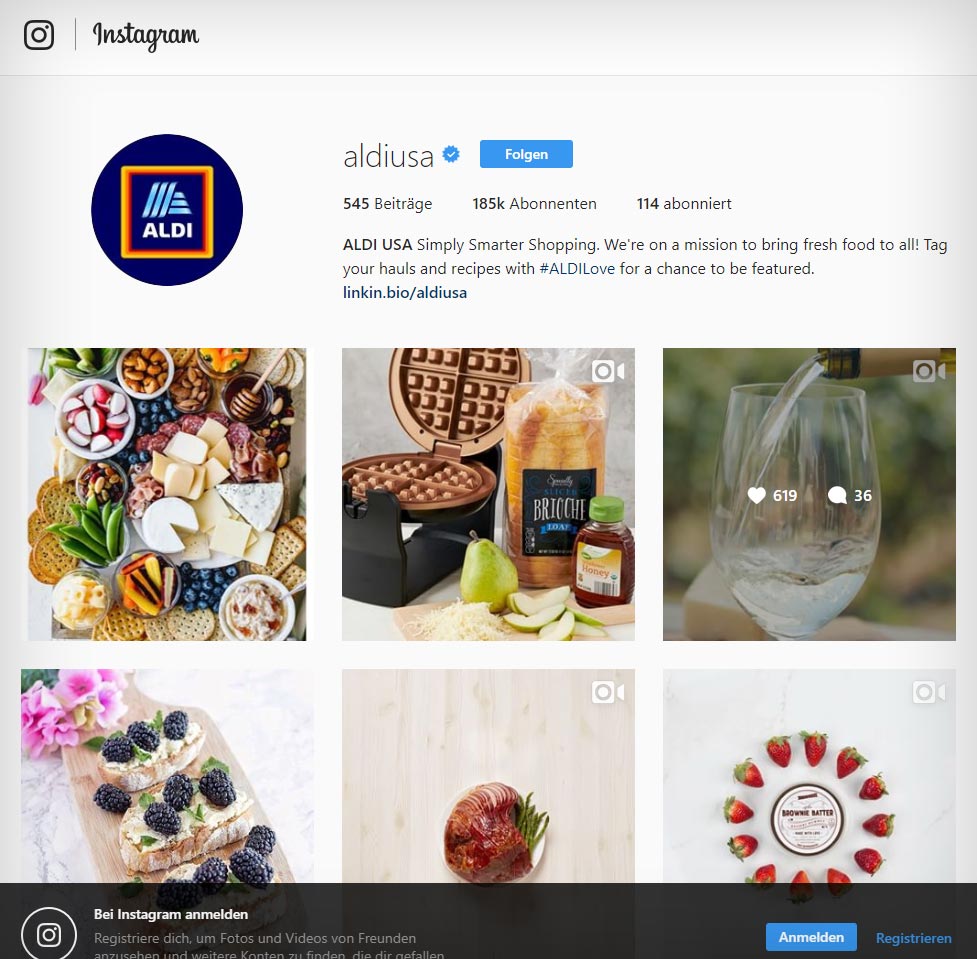 Sprouts: The Farmers Market
Go Green! At Sprouts there are fresh vegetables and fruit from the countryside. Sprouts knows how to deal with delicious novelties as well as classics like tomato and paprika.
Rating: 6.9 / 10
1,544 posts
113,000 subscribers
6,879 subscribed
813 likes on average
14 Comments
Quick Check: 6,08% engagement
Fairway Market: freshness that unfortunately does not quite perform
Fairway Market is unusually fresh, showing not only products but also manufacturing and producers. From grilled meats to delicious desserts, everything included. Nevertheless, Fairway Market with 1,119 postings manages only 6,819 followers. Strange, still nice!
Rating: 6.7 / 10
1,119 posts
6,819 subscribers
2,724 subscribed
104 likes on average
9 comments
Quick Check: 1.52% engagement
Wild Oat Marketplace: Wild, wild, wild!
After the good recommendations, it is now a little unsorted at Wild Oats. As the name Wild says, here on Instagram we have a mix of sunsets, reposts of other users, shelves, flower markets – what? Where is the focus?
Rating: 6.2 / 10
345 posts
8,556 subscribers
Subscribe to 1.451
82 likes on average
4 comments
Quick Check: 0.95% engagement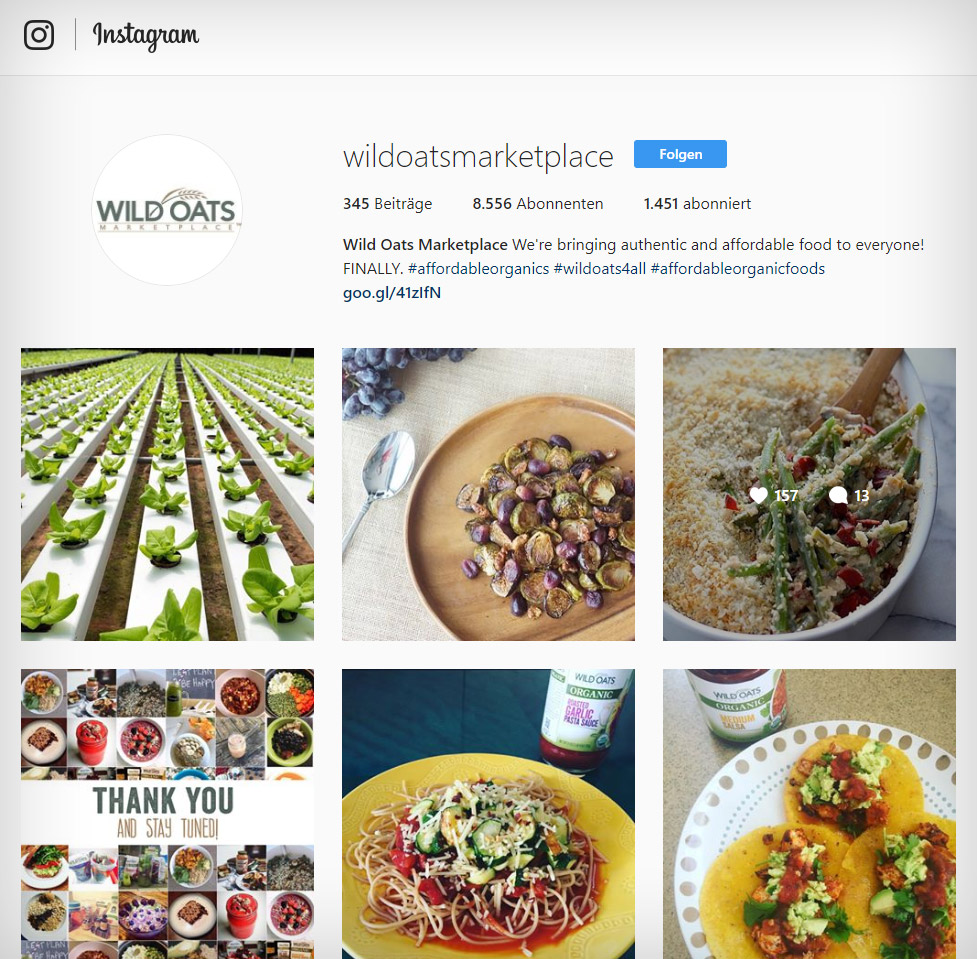 Kroger: Well meant, but no
Kroger is also one of the largest supermarket chains in the US, but Instagram does not represent that at all. Blurred photos, not very well put together food (pancake disaster or muesli / cheese / something Bowls), right after spooky photos with supposedly funny fonts. Heavy food with few followers. The CTA link (Call to action for possible sale) leads to a PDF form. Only just over 50,000 followers in over 1.5 million Facebook. Weak performance.
Rating: 4.8 / 10
1,142 posts
52,100 subscribers
Subscribe to 1.452
439 likes on average
22 Comments
Quick Check: 0.84% ​​engagement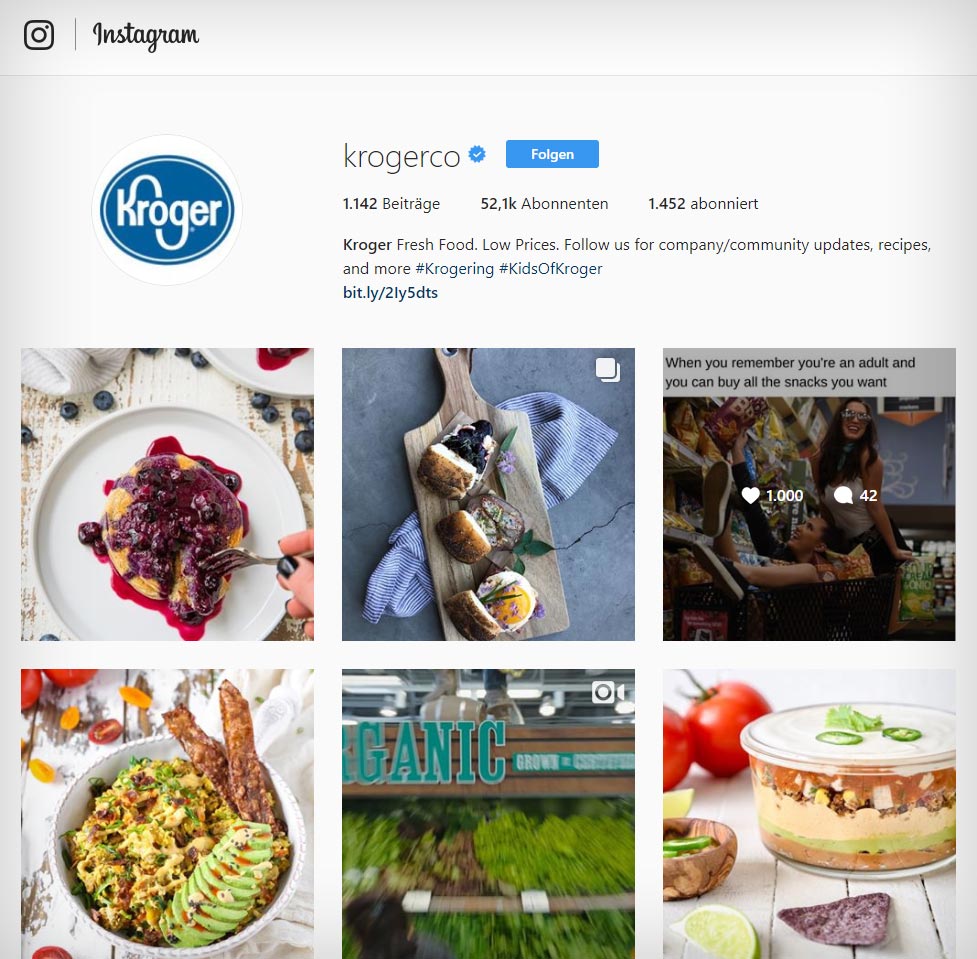 Food Lion: Little Performance
Surprising is also Food Lion. One of the big supermarket chains in the US, but only 6,627 followers. Strange but true. They try very hard, but only makes the typical mix of Facebook photos and any tasty reposts.
Rating: 6.0 / 10
177 posts
6,627 subscribers
0 subscribed
68 likes on average
Up to 2 comments
Quick Check: 1.02% engagement
The largest food chains in the US
These are the largest chains of the USA currently (source: Wikipedia).
Albertsons LLC – 2,400 stores
Aldi Nord (operates under the name of Trader Joe's) – 479 stores
Aldi Sud (operates under the name Aldi) – 1,600 stores
Costco – approximately 500 warehouse stores
Ahold Delhaize – 2265 stores
Kmart Super Center – 1 store, formerly 105 stores at its peak
Kroger – 2,460 stores;
SpartanNash – 167 retail stores
SuperValu Inc . – 1,582 stores (691 corporate and 891 franchised stores)
SuperTarget – 251 stores
Walmart – 3522 stores + 699 Neighborhood Markets + 660 Sam's Clubs
Whole Foods – 430 stores
Conclusion it could be more in food online trading
Instagram marketing has not yet fully penetrated the big US supermarket chains. In particular, 2 of the big chains are so far hardly trouble on Instagram to be present. As they gather over a million fans on Facebook, the Instagram channels abandon loveless postings. Badly copied is only just won and therefore it is advisable to reconsider its Instagram marketing strategy for large American food retailers. New content, new ideas, new photos and videos! A large part of the US supermarkets already has a good figure in Internet marketing. Nevertheless, the giants can learn something from the small startups. That's why we took a close look at the food startups to find out why their interaction is 10 times higher on average! How does it work out here compared to food startups!
+ AD: Do you know?
https://socialmediaagency.one/wp-content/uploads/2018/04/food-check-america-usa-online-shop-list-marketing-instagram-bio-vegan.jpg
600
1200
Laura
https://socialmediaagency.one/wp-content/uploads/2021/02/social-media-one-agency-marketing-strategy-brand-strategie-marke-agentur-youtube-instagram-tiktok-facebook-seo-logo.gif
Laura
2018-05-07 09:57:48
2021-04-07 18:48:58
Online Supermarket Test USA! From organic food to grilled meat on Instagram