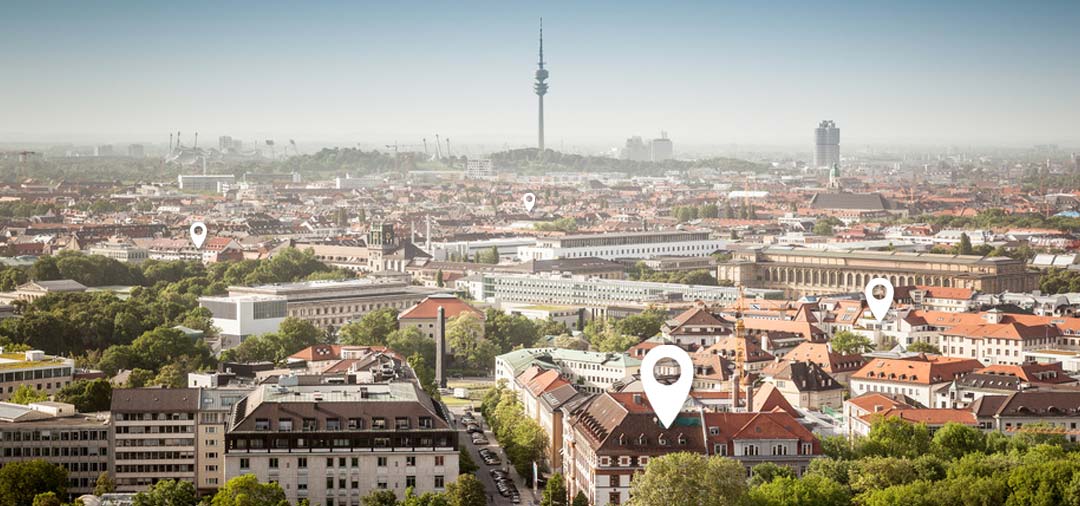 Geotagging, positioning and geotargeting
Geo tagging and location are important features in social networks. On the one hand for users who would like to show other people where they spend their time and what they have experienced. On the other hand for companies and advertisers who want to place advertisements on Facebook, Instagram and other social networks. As we already reported last week in the article Geofilter, especially the location is a first-class feature for every advertising company to avoid wastage.
Example: Promotion for Berlin
We are opening a new fashion flagship store in Berlin-Mitte!
We are in the middle of Berlin, which means that our catchment area is ideally the direct footpath to our new shop, maximum 1 to 2 km around the location.
Geotargeting, thanks geotagging
They used to send employees out to hand out flyers downtown. Today it's all a little different. The advertisement is sent directly to the user's smartphone. The advertisement is sent out accordingly extremely exactly, only to persons, who are in a 2 km periphery of the location. You can do that? Yes! With Geo Targeting?
But how do we get the data? For example, by geotagging, marking people and photos with locations. Facebook also learns about other social networks where a user is currently (probably) staying. This makes location determination (among others) possible.
We can send another advertisement to people living in the catchment area. This can include all persons of a certain age, perhaps even with certain interests and a place of residence or stay within a radius of ten kilometres.
Because people have activated their location determination relatively frequently, e.g. to use other apps such as Car2go, WhatsApp and many others, position data can be determined quite accurately. As soon as a person from our target group is noticed in area XY, they can get our advertisement played out.
Advertising planning must happen early
If you think you can immediately put 10,000 euros into ads, you're wrong. Regular customers are of course always preferred when sending out advertisements. Companies have no direct and immediate influence on the playout of advertisements. If the social media platform already has a large customer (who advertises in the same area [locally, thematically]) who relatively regularly and frequently books advertisements at certain times, this regular customer, if you want to call him that, will of course be given preferential treatment. After all, as a company we wouldn't do it any differently!
Where is it worth advertising?
Here is a current distribution of social media users in Germany.


More statistics can be found at Statista
People love to mark places
People love to mark themselves in places. Social networks are also always a reputation opportunity for people, which means you can present yourself. By the book, my house, my car, my boat! Although we probably spend most of our everyday life in the office and in our apartment, we especially like to post holiday photos or the trendy bar in Berlin-Mitte. We want others to know where we are, what we are experiencing and with whom! Therefore, geo-tagging plays an important role for private users. The combination allows companies that want to place advertisements through location and geo-tagging to have a lot of options.
Geotargeting: What is it?
Geo-targeting enables advertisers to place targeted ads on social networks such as Facebook, YouTube and Instagram based on geographic information. How exactly does geo-targeting work in advertising?
Advantages of geo-targeting
What are the advantages of targeting? We avoid waste coverage in advertising.
Example classic poster: Every single large poster on which an advertisement can be seen, whether for a jeweler or for a new TV show, is aimed at target groups. Not only on target groups, but also according to the available budget. Both factors limit advertisements, classic in print, but also advertising in social media marketing.
Which target groups should we reach and where do we meet them?
What budget is available for the contacts?
TKP, the thousand contact price
In the advertising industry, everything depends on the CPM, the thousand contact price.
How much do we have to pay for about 1000 contacts or impressions?
By the targeted sending of advertisements to a certain region or the users of a certain region, advertisements can be designed very effectively, because not a lot of wastage occurs.
In a concrete case study, geo-targeting for a supermarket chain would be particularly worthwhile if it addresses only those users who live in the catchment area. Such a complex geo-targeting includes of course many cities and regions, of course also special districts. Geo-targeting can also be done for events. For example, live, 3 days before an event, or festival, you can address specific people in the immediate vicinity, as described above.
Even if the person does not live on site, the smartphone permanently registers the current location data. This allows advertisements to be broadcast specifically to those individuals located in a particular region. This is exactly the secret of Geo-Targeting's success. The more information a social network has about the individual users, the more accurately the advertisements can be played out.
Geo targeting for cities
Advertisement managers, such as Facebook's, make it possible to advertise individual cities here. It addresses all users living in the urban area. This urban area will be shown as a visual map when the first advertisement is created, of course also for all others, practically and simply. Here you can see for example the whole city of Berlin marked in blue. Especially for local companies such a function is of course worth a lot. You can target people from your city, whether for your own car dealership, the bus company, or the local travel agency.
Geo-targeting for radius search
Of course, the targeting functions can not only be applied to the cities, but also to a certain radius of a region. Especially useful for local advertisements.
In your Ads Manager, you can set a marker, specify a location, and start the settings for the area. In the next step you determine how many kilometres the catchment area should be, 10 km, 20 km, or 80 km, you have the free choice.
Optimization of advertisements and save money at the same time
The practical geo-targeting function allows you to avoid a lot of unwanted scattering loss. This means, for example, that contacts that do not live in the catchment area are excluded from the search. This will of course save you money when placing advertisements. If you then associate this geo-targeting feature with the target group setting in your ad manager, you will not only be able to target specific people from a city like Berlin, you will also be able to determine the age of the target person, what gender they are, or what hobbies they should have.
Social Media Consultant & Agency
Any questions? We look forward to your call or e-mail:
https://socialmediaagency.one/wp-content/uploads/2019/04/geotagging-ortsbestimmung-und-geotargeting-lokal-werbung-social-media-berlin-hamburg-muenchen-agentur-skyline.jpg
506
1080
Laura
/wp-content/uploads/2023/01/social-media-one-logo-tiktok-instagram-youtube-facebook-marketing-1.svg
Laura
2019-04-23 08:19:48
2021-04-07 18:49:24
Geotagging, positioning and geotargeting