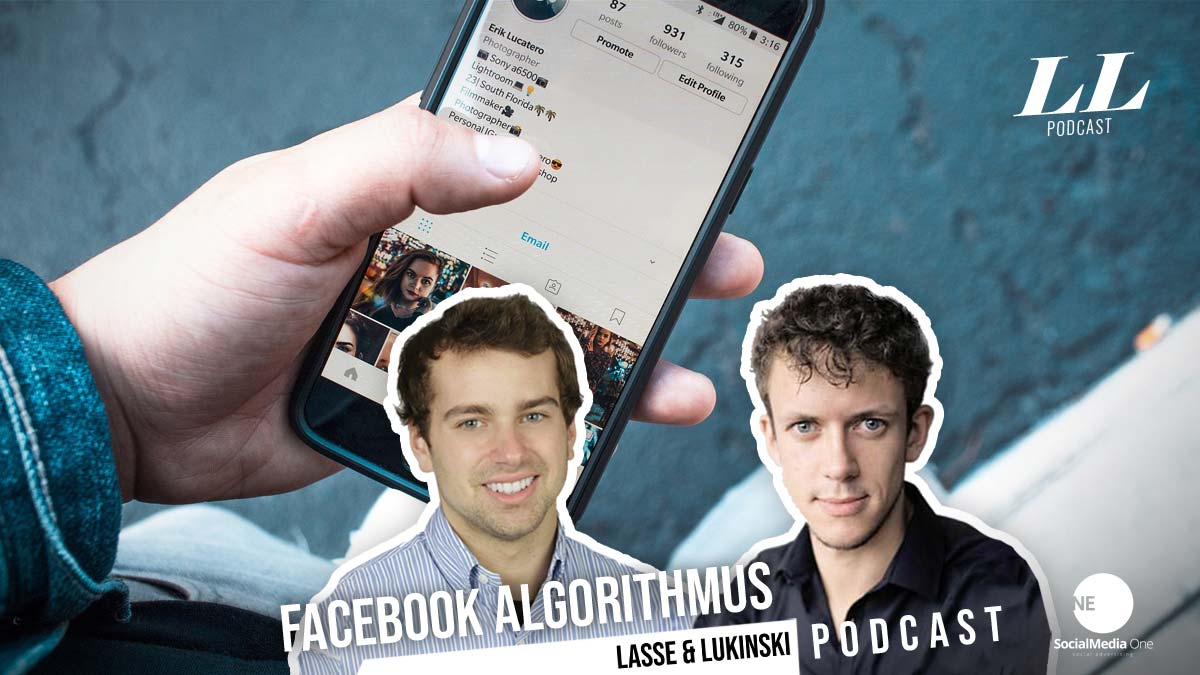 Marketing Podcast – Learn about individual and connected marketing areas in the marketing mix. Or simply put, what is marketing? What are the 4 marketing tools? There are lots of new ideas, methods and strategies this year too. For classic marketing, like trade shows and POS, as well as online and social. Who tests these methods first? Of course, marketing agencies like us! That's why the show features lots of expert tips from the field. Best practice, hot from the kitchen!
Marketing Basics + Expert Tips in Every Show
Marketing explained simply, whenever possible. When we discuss more complex topics like e-commerce, as well as more specific Instagram shopping, Facebook Pixel, SEO, or even Native Ads, you can just rewind the podcast or listen again. Learn marketing for free, with Lasse & Lukinski.
Marketing explained simply: Episode by episode
New now! Lasse & Lukinski, the podcast on Social Media One. Two marketing super nerds, one studio! One went to college, the other likes to watch breakfast TV. We discuss media weeks & more – follow now & never miss a show. Each week we hit new methods, strategies and bring you examples and best practices from great campaigns, talk about speaking engagements, workshops but also new trends, from TikTok to Pinterest. Marketing is moving faster than ever. New social networks come into play, others lose relevance for certain audiences. We also usually come up with live hacks between the lines, which we leave uncut in the podcast. Real-world agency experience with million-dollar adspend. We want to give you inputs that you can use to develop yourself, your business and your brand.
New episodes & marketing news
Plus, of course, here on the social media blog, with extra info and keynotes on each episode:
Learn Marketing: Online and Social – Audiobook 2 go
Marketing tips from practice
Tips for Instagram: Followers, Shopping and Ads
Tips for YouTube: Video Marketing
Tips for Facebook: Pixel, Ads and Groups
Tips for Pinterest: Backlink building for e-commerce
Tips for Google (SEO): Search engine optimization on Google, Bing & Co.Tips for e-commerce: Online shops and social commerce
Tips for sales and distribution: example and best practice
Marketing tips from practice
In our marketing podcast you get the real tips from practice! Every week we bring you examples from big companies, but also ideas that came to us during the week and which we have of course implemented directly!
7 online shops in one month?
16 magazines in one week?
200 campaigns in split test?
Learn with us and many examples from the real agency everyday life, how marketing currently works, or can work. Adopt successes, risks but also mistakes and create your own great marketing campaigns for your company.
Want to learn even more about our social media agency?
Tips for Instagram: Followers, Shopping and Ads
Instagram is a great place to run ads – why? Targeting and re-targeting. Briefly explained:
Targeting = advertising to specific target groups
Re-targeting = advertising to visitors again
Especially since Instagram Shopping has taken a very present role in the app, meanwhile the icon is in the main menu of the app, excellent sales can be achieved here, especially for e-commerce companies. Of course, when you think of Instagram, you don't immediately think of advertising and placing ads, but you certainly think of influencer marketing. Instagram, more than any other social network, has ensured that influencer marketing has an extremely high profile in referral marketing. Not only the big companies work on Instagram, but also small self-employed people who work with affiliate marketing or dropshipping.
Tips for YouTube: Video Marketing
YouTube is an excellent branding channel, especially since the time spent on it is so long (most brand videos are between 8-10 minutes long; the general average is 12 minutes). Advertising on YouTube is extremely interesting because users have a very high engagement. For this, however, the concept of video marketing in social networks, especially YouTube and its target audience must be understood.
While content on platforms such as Facebook, Twitter or Instagram, just like in classic marketing advertising posters on the street, only have a few moments to attract attention, users follow content on YouTube extremely intensively. That's why more and more companies are taking advantage of the opportunities that YouTube, or Google as the owner, makes available.
However, video marketing also presents companies with a special challenge, here it is no longer just about a single photo! An ad on YouTube usually has 5 seconds, after which users can skip the ad. Exactly these 5 seconds are very important to get everything out of this moment. In doing so, companies can make many mistakes that end up costing money.
Learn what the failure points are, the risks and develop your own campaigns from them in our social media marketing podcast.
Tips for Facebook: Pixel, Ads and Groups
Facebook is so yesterday! Is it? Over 2 billion users are signed up on Facebook, making Facebook still the largest social network. And remember, the world population is almost 8 billion. Accordingly, you could also say only 20% of the world's population is signed up on Facebook so far! That's a completely different perspective on the social network, isn't it?
That's exactly why we introduce you to many aspects of Facebook marketing in our podcast. About ads, content marketing with influencer bit to channel building and the question, how can I gain reach on Facebook? Facebook is not only the big player when it comes to the number of users. Facebook also includes Instagram, as well as WhatsApp. Therefore, there is a lot to learn just in the area of Facebook marketing.
Best Practice: Simple Facebook Campaign
Here is a small example of a simple Facebook Ads without complex extras. Reached 8,758 people, with 109 sales and a spent budget of 59.09 euros. Achieved were 490.27 euros profit. here in the example 2 campaigns were tested against each other.
Key figures:
59,09 Euro Cost
8,758 people reached
109 contracts at 19.90 euros (gross) / 18.59 euros (net); margin 5.04 euros (net)
549,36 Euro Profit
490,27 Euro net profit (excl. expenses for Facebook Ad)
Tips for Pinterest: Backlink building for e-commerce
We even made a separate episode about Pinterest! Because Pinterest is often underestimated. As the Pinterest share price shows, which has just increased by about + 340 % in 12 months, Pinterest has reached a great relevance. Pinterest is also becoming increasingly interesting for search engine optimization (SEO). Why, we discuss among other things in episode number 3: Pinterest underestimated?!
Pinterest allows you to create galleries. You can focus them on certain keywords. For example, the topic "Apartment New York" or "Statement Shirt Ladies".
Currently, a mix of 2 to 4 keywords is ideal. Together, these form the headline of the gallery. As you can hear in our podcast, even top keywords make it to third or fourth place on Google, even though you only have about 50 followers on Pinterest. What's the reason for that? Few creators, many pinners! Use this advantage!
Tips for Google (SEO): Search engine optimization on Google, Bing & Co.The big goal is to get 1st place.
This is where most of the traffic takes place. About 85% of users do not scroll down in the search results, but click on the first results (including Google Ads). That's why Google ads are played here. So if you manage to get your e-commerce or any other online project, from an app to a corporate website for a brick-and-mortar fashion chain, on the first place of the search results, you will attract a lot of visitors and, accordingly, potential buyers.
A lot of money is invested in search engine optimization, which is why it's so important to know what areas you should pay attention to when investing in search engine optimization yourself. Search engine optimization is important for every business, but especially in e-commerce.
Today, digital trade is the be-all and end-all, even the stationary trade is increasingly converting its marketing measures to digital sales structures. An online shop allows you to reach millions of people virtually overnight. With the right business idea, keyword Lean Canvas, the right sales structure, the right marketing, you can make it, and build an online store within a short time to a large, huge online retailer.
But the possibilities today are better than ever, you can build a free online store within seconds. You can use dropshipping and sell products that you don't even have to store. That means, the entire merchandise management, logistics is omitted for you.
At the same time, it is important for large corporations to be present multilingually, in different networks and cross-medially. In our marketing podcast we combine all these aspects and show you bit by bit, with example and best practice, how you can expand your advantage. Especially because you're interested in modern marketing! We know this because you're reading this article! Is this content marketing already? That's right! Welcome to the world of marketing! Just like we captured you, you can get people excited about your idea. We'd love to show you how it's done on our podcast.
E-Commerce & Online Shops

Tips for sales and distribution: example and best practice

The absolute core in marketing, sales promotion. Sales and distribution is the most important for any company and business.

Because, where no euro or dollar is earned, no money can be spent.

So if you want to make investments as an entrepreneur, you have to make money. You have to make so much money that you don't make more turnover, but profit. Once you've made enough profit, it's about optimizing taxes. Why? Taxes are the biggest expense you have privately but also as an entrepreneur. Read more about understanding taxes here (external).

In our marketing podcast we do not only deal with methods how you can optimize your sales promotion. Here you would also be practical tips on how you can act tax-optimized for your private assets or your assets as an entrepreneur. That of course 100% does not matter! The important thing is to know the methods and possibilities! So you can optimize your marketing campaigns and make good and effective advertising right from the start. In our marketing podcast you will learn with examples and best practices, e-marketing works.

With us you get a practical and direct insight into how marketing works today. Learn from it and develop your own business, your own ideas and your own brand!

Marketing Podcast: Spotify, iTunes, Amazon & Co.
https://socialmediaagency.one/wp-content/uploads/2020/10/marketing-podcast-folge-2-facebook-algorithmus-verstehen-lernen-instagram-whatsapp-werbung-zielgruppen.jpg
675
1200
Stephan Czaja
/wp-content/uploads/2021/02/social-media-one-agency-marketing-strategy-brand-strategie-marke-agentur-youtube-instagram-tiktok-facebook-seo-logo.gif
Stephan Czaja
2020-11-27 21:04:40
2021-04-08 10:36:18
Podcast! Learn Marketing: All About … Online, Social, Instagram, Youtube, Facebook, TikTok, E-commerce, SEO