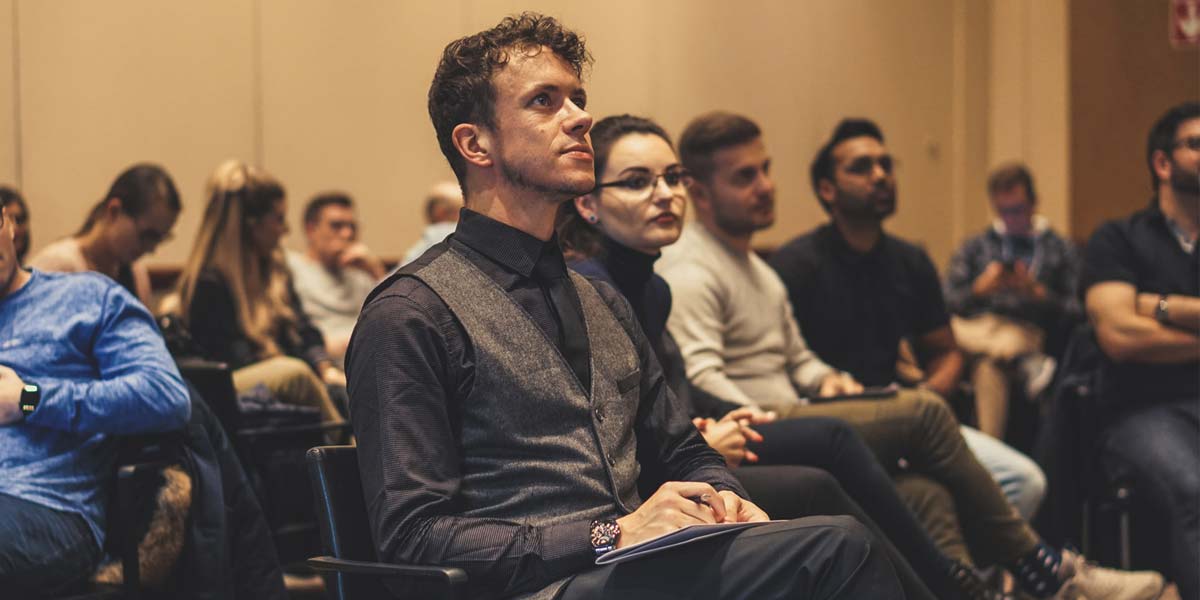 Social Media Keynote Speaker & Marketing Expert: Stephan M. Czaja
Our social media keynote speaker & marketing expert Stephan M. Czaja has already confirmed 10 dates for this year with over 250 guests each in Berlin. As a TV expert he explains complex marketing effects (e.g. influencer marketing) for TV stations such as Sat1, RTL, ZDF as well as renowned radio stations such as Deutschlandfunk. In 2019 he has already published 3 books, two in German and for the first time a book in English. Today we would like to introduce our managing director and keynote speaker Stephan M. Czaja:
His story is not easy to put into a few words. Even before the launch of his Media Group in 2015, he had his own music magazine and lived and worked in ten cities. For four years now, everything has been focused on its own company. The growth was especially through expertise and SEO enormous, as you will see later in the customer portfolio. From the organization of the first Influencer Sport Award of the Generali with tennis world champion Angelique Kerber and Instagram Star Pamela Reif, to the agency visit of the chancellor candidate Martin Schulz or also prime minister Hannelore Kraft up to the establishment of one of the biggest German model agencies in the shortest time – media, brands and marketing are his subject matter – media, brands and marketing are his business. Stephan M. Czaja is the owner of these and other agencies. As a parent company, the Media Group focuses in particular on fashion / lifestyle and modern marketing. In addition there are always new projects, since 2019 the first Musik Verland but also the first real estate portal. Why customers book us and him is the fact that we have built up a worldwide network in just 4 years. He himself is only 32 years old, the team is on average 23 years old. We are extremely on the pulse of time.
Recent speakings:
Media group and company (selection)
Why do we grow so fast? We have our bases among other things in marketing and continuing in the search machine optimization. We are worldwide page 1 in a total of 6 languages, among others for the following internal companies:
Not only agencies, but also social media software is part of the portfolio. Relevant and interesting in the field of social media:
Influencer Marketing – Previous day Example (1 hour, German)
Reach on Youtube and many questions! That's why Stephan M. Czaja regularly publishes new and interesting videos about marketing, design as well as more specific, new topics such as influencer marketing. Here in the example to see all regular content on influencer marketing (admission, 2018). It is available in 6 parts and here in full length:
TV expert on RTL, ZDF, Sat1 and Pro7
In addition to speaker appointments, Stephan M. Czaja is also more frequently on TV as an expert in marketing & social media. With performances on Pro7 'taff', RTL 'Explosiv', ZDF 'Volle Kanne' but also shows like Sat 1 'Frühstücksfernsehn' and 'Endlich Feierabend'. Here he explains complex marketing effects for viewers in simple words. Not only on TV, but also on renowned radio stations such as Deutschlandfunk and DRadio Kultur, he speaks as an expert and commentator.
Sat1: Who else needs Miss Germany?
Sat1: The weirdest advertising tattoos
RTL Explosive Backstage: Young models
Politics Visit to the agency: Martin Schulz & Hannelore Kraft
There have already been visits from big names in politics to the agency offices of our social media agency. Among others NRW Prime Minister Hanelore Kraft but also Chancellor candidate Martin Schulz, as here on this spontaneous Instagram photo:
New Projects / Investments for 2019 and 2020
Stephan M. Czaja rarely sleeps, so there are already new projects and new books at the beginning of the year.
Music meets influencers and real estate
Among others, he currently invests a lot in the real estate sector (online), with his own portal on the subject of capital investments and real estate valuation. We already have several place 1 rankings. The project will be developed for 2020. In addition, Musik Verlag was launched directly at the beginning of the year. Since two days there is the first single of an influencer on all relevant platforms like iTunes, Spotify, and much more.
Stephan M. Czaja is also the author of the book "Speaker Appointments and Corporate Actions". Currently with publications in two languages and worldwide in trade with currently 5 books, one also about 'Social Media Marketing'. Here is an overview of current German publications, available in bookstores and from retailers such as Amazon, Thalia, etc.

Think Big! Social Media Software
As already mentioned at the beginning of this article, Stephan M. Czaja invests a lot of time and energy, also in software applications. As one of the few providers of software for influencer analysis with Social Analytics (Instagram Analysis and Monitoring) but also with Influencer Fee, worldwide page 1 for 'Influencer Calcualtion', our analysis platform is used to calculate the price of postings on Instgram. Here is "Social Racoon", the Social Media Live Wall in the Rheinenergie Stadium, home of 1.FC Cologne, played on over 50 monitors and in the stadium to Germany's largest SEO event, the SEO Day.
Lectures for colleges and universities
Stephan M. Czaja also organizes special events for selected colleges and universities. Here to see with the world's largest and most influential influencer for perfume Jeremy Fragrance. The lecture dealt with 'Influencer faces reality' by analysing and demonstrating the life and work of an influencer. Guest at the private university ISM:
Topics and Date Request
Stephan M. Czaja usually in front of very large groups, this year 10 dates are already confirmed, with over 250 guests per date in the audience. This is mostly about business and marketing. More precise topics are for example 'Social Media Marketing: Impulses for Industry', 'Influencer Marketing: Placement on Youtube and Instagram' or also lectures on the subject of business such as: 'Entrepreneurship and Brand Building: Start Up founding'. More Digital Native, Nerd and Entrepreneur can rarely be found in one person.
https://socialmediaagency.one/wp-content/uploads/2018/12/speaker-investor-stephan-m-czaja-bewertung-firma-unternehmen-gruendung-startup-workshop-berlin-zuerich.jpg
600
1200
Laura
/wp-content/uploads/2023/01/social-media-one-logo-tiktok-instagram-youtube-facebook-marketing-1.svg
Laura
2019-03-26 19:49:24
2021-04-07 18:49:22
Social Media Keynote Speaker & Marketing Expert: Stephan M. Czaja