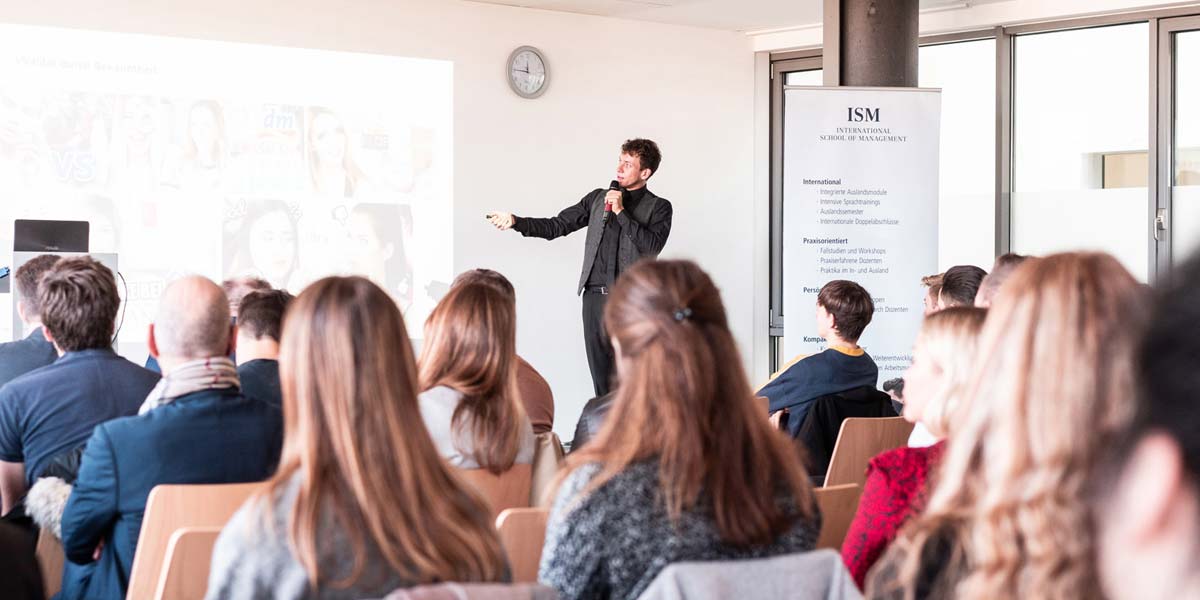 Influencer Marketing Strategies – Speaker Lecture @ ISM
What makes Influencer Marketing so special? In my last Influencer Marketing presentation for this year, we once again focused on the methods and strategies that social media managers need today. As a speaker this was my second appearance at the International School of Management. Here young students learn how media and marketing work. In the middle of the Mediapark Cologne, this is the best location for young talents. Today we met about Influencer Marketing on YouTube. Although Influencer Marketing does not only work on YouTube but also on social media platforms like Facebook or instagram, we still predict the greatest power for YouTube. Here URLs for online shops can be perfectly positioned, influencers achieve an incredibly high interaction rate and real involvement in their stories. Their fans, their community, follow them every step of the way. That's why we wanted to look at the secrets of influencer marketing for the last time this year.
Lecture: Influencer Marketing & Blogger Relations 2019
In the lecture Influencer Marketing on more than 90 individual slides, the magic but also the mechanism behind the marketing strategy will be discussed. Social networks and the World Wide Web have changed our entire world forever. From stock markets that trade in real time today to real-time communication around the world. The friend calls his girlfriend from Australia, they have a first-class conversation, although she is in the USA. Accordingly, information spreads rapidly. Influencers therefore create large viral effects, viral effects that advertising agencies but also social media agencies want to use profitably for their customers. This is also a great business for the influencers, because they can concentrate fully on their biggest hobby and make it their profession.
Of course, my lecture also deals with the topic of earning money as an influencer. On which network do you earn the most money? How much does a marketing manager have to put aside for a good influencer campaign? Do you prefer to book the one big macro influencer or do you prefer to concentrate on micro influencers? Many questions that social media managers have to deal with, especially when they are studying. Therefore I am always happy to give the young students some input from the entrepreneurial world. Let's take a look at a small selection of the slides presented in the lecture.
Example slides from the lecture – selection
If you are looking for an influencer marketing speaker, then I would like to give you a few insights into a selection of my slides.
Location: International School of Management (University)
The International School of Management has its headquarters in Cologne at Mediapark. Indirect with lake and close to the city. The perfect place for creativity but also for the classic buy human knowledge. More information about the International School of Management can be found here:
Influencer Marketing Online Course – now on Youtube (German)
My free online workshop is now available on Youtube. Whole 6 parts about Influencer Marketing. This is part one:
Speaker for Influencer & Social Media Marketing
If you are looking for a speaker for your next university event or your next employee training or further education, please feel free to contact us at any time. We look forward to your call or e-mail! If required, please also send us information about the event as well as the times and general conditions or general information directly.
https://socialmediaagency.one/wp-content/uploads/2018/12/international-school-management-experte-stephan-czaja-influencer-social-media-youtube-instagram-fortbildung.jpg
600
1200
Laura
/wp-content/uploads/2022/08/social-media-one-advertising-werbung-logo-2022-facebook-tiktok-instagram-youtube.jpg
Laura
2018-12-21 08:26:07
2021-04-07 18:49:07
Influencer Marketing Strategies – Speaker Lecture @ ISM