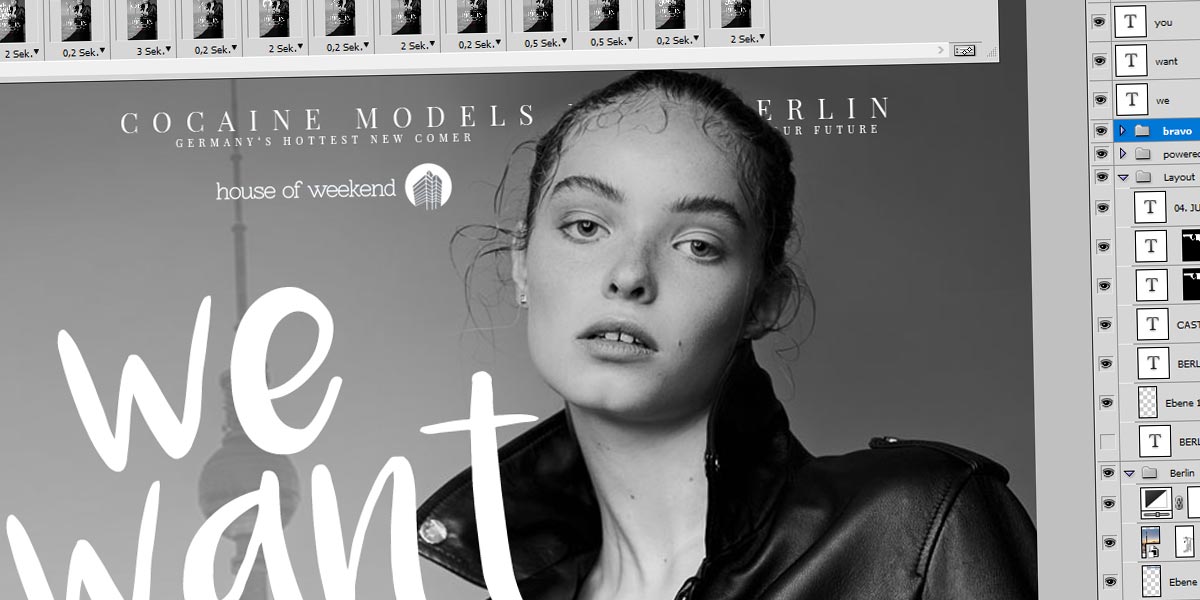 Social Media Design – Graphic design of a creative agency: Best Practice
Social media designs of a creative agency promote the look (the'image') of a company. Modern graphic design increases the interaction with the users and thus the profit – whether registration, sale of the establishment of contact. If you want to keep your social media concept lean, you can rely on Instagram, especially with young target groups. With extensions (crossmedia) to Facebook (ads) and Youtube (embedding on blog, partners and press). Today we want to give an insight into what a modern PR concept looks like. Here in best practice of an event. Here are the key data:
Model castings for international model agency parallel to Fashion Week
Location (first class) above the rooftops of Berlin (House Of Weekend)
Opportunity for agency contract and international clients
Target group: Female (70%) aged 15-22; Male (30%) aged 16-25
Finished design for Instagram posting and story
This is what the finished animated GIFs look like, which will later be converted to MP4 to be compatible with Instagram.
Instagram Story: Design incl. Swipe (Link) Note
The "Swipe up" function is used to gather information. By wiping with a finger on the smartphone, users can access the link directly. It opens in the browser of the smartphone. Learn more about advertising on Instagram: Stories.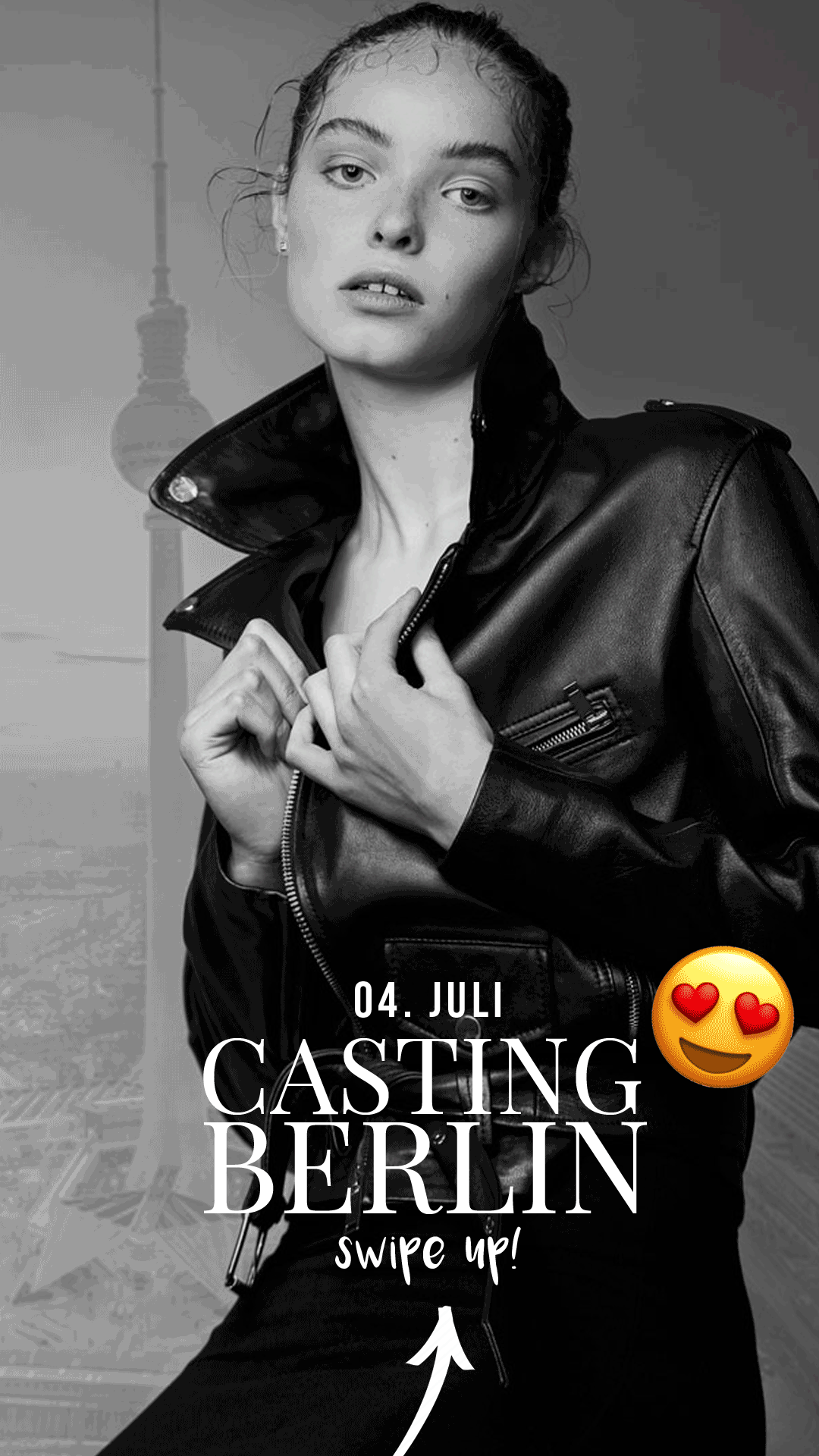 Instagram Posting: Design for channel and advertising
The following graphic is a little smaller in size than the story – why is that? Instagram specifies certain dimensions. Stories are theoretically an inverted HD screen:
HD screen: 1920 pixels wide x 1080 pixels high
HD screen: 1920 pixels wide x 1080 pixels high
Smartphone: 1080 pixels wide x 1920 pixels high
With this you have used the full screen in the graphic design and the user does not see any annoying edges. For postings in the instagram channel or in the timeline we use a smaller version, which fits perfectly into the news.
Another advantage is the use of graphics for advertising on Instagram by the ad manager. Here we achieve additional reach through our lookalike audience.
Graphic design: Creative agency with an eye for style
As you can see in the following screenshot, the development of such a graphic design for Instagram (also Facebook, Youtunbe & Co.) in the high-end area is a complex matter that requires the experience and expertise of the media manager: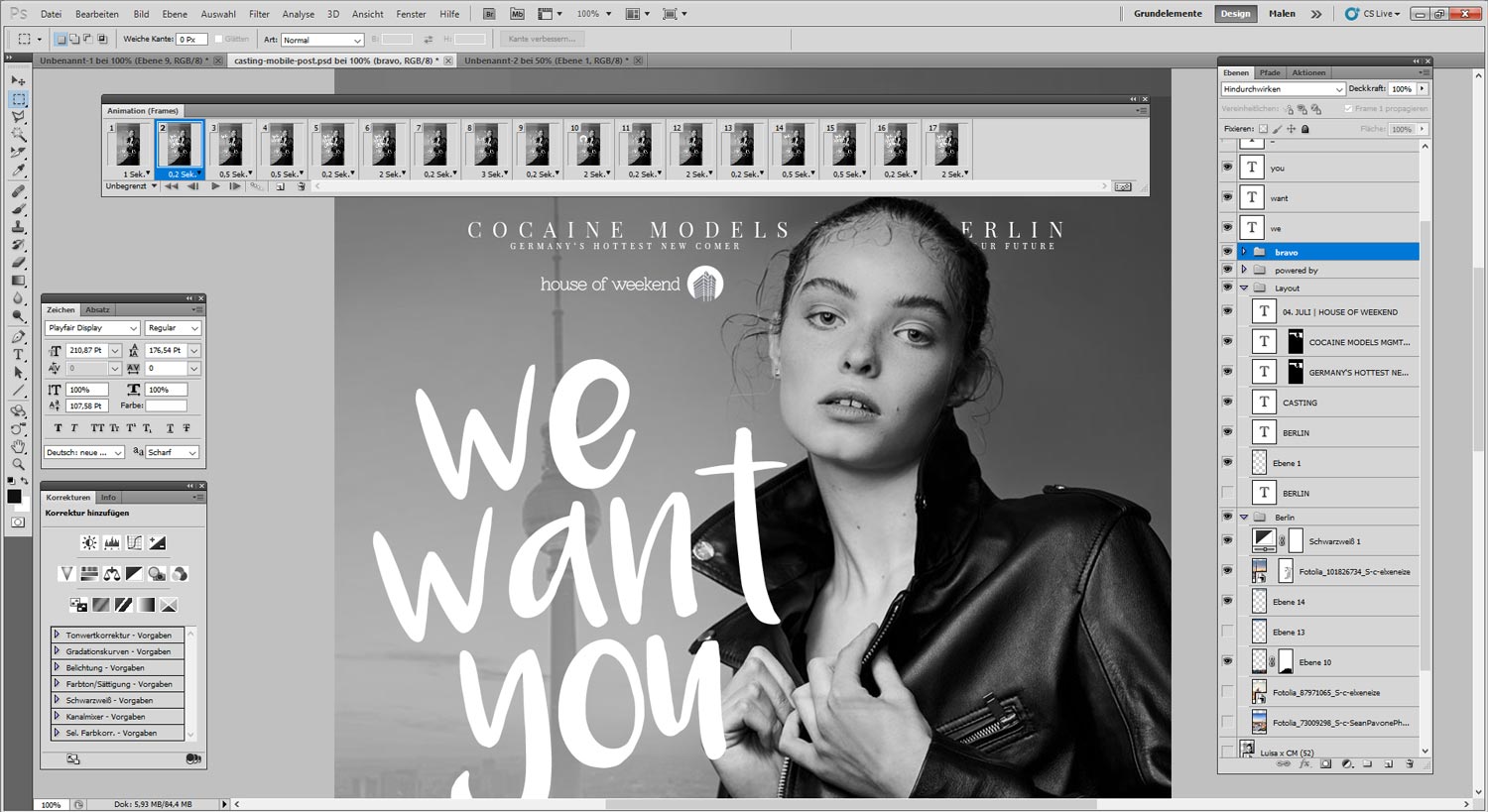 Next: Advertisements and Cross Social Media
The basis, our key data, the strategy, the concept, now it goes to the range! We use a mix of ads (Instagram and Facebook) and a youtube video for embedding in the blog and for the press.
Advertising on Instagram and Facebook
The graphics are now used for the ads after being posted and collecting first organic interactions from fans. Since the promotion is also about people who have not yet interacted with the model agency, the reach is extended by additional, purchased reach. As a social media agency, you pay strict attention to click prices when it comes to effectiveness. An example:
Campaign A: Instagram, Video, 14-24 years, female, Berlin (+20km) reaches a CPC (Costs per click) of 0.38 EUR
Campaign B: Instagram, Image, 14-24 Years, female, Berlin (+20km) reaches a CPC (Costs per click) of 0.61 EUR
Campaign C: Facebook, Video, 16-25 years, female, Berlin (+20km) reaches a CPC (Costs per click) of 0.25 EUR
Campaign D: Facebook, Picture, 16-25 years, female, Berlin (+20km) reaches a CPC (Costs per click) of 0.59 EUR
…
Here we would clearly opt for Campaign C with a click price of 0.25 EUR when it comes to Facebook and at Instagram we opt for the video campaign A. Advertisements are tested and, depending on success, cancelled or equipped with more budget.
Facebook Event: Use Network + Recommendations
Facebook is a great place to work with events. Facebook is happy about good events and plays them off relatively well compared to normal postings. Events are an excellent place to collect prospective customers. This way you can constantly share information about the event but also provide questions and answers. Many advantages, the event can also be advertised and thus higher conversions are achieved by direct click.
Gepostet von CM Models am Sonntag, 24. Juni 2018
Youtube video for embedding for blog and press
Pictures say more than a thousand words – how much does a good video say? We use additional, small social media video clips for Youtube for many campaigns. The reason is simple: there is a lot of information that can be perceived by the user through video. Much more than a picture can do and much, much more than a text can do. Videos are interesting and by the modern content management systems, which are used by publishers in addition, Blogger and enterprises, video are simply divisible. Such a YouTube video is simply embedded and users can click on the video. Here is an example of a small, fast video for the promotion:
Intermediate conclusion: Social media needs creativity and concept
Social media strategies only work if several factors come together. Structure alone is not enough. Design alone is not enough. Social media managers need a feeling for fans and followers, but also for the system, structure and of course the selection of media and social networks, so that the concept remains slim for the customer and the performance is right.
Practical tips for a lean campaign: graphics, time & money
Graphic design for social media sounds like a relatively simple story to many people, but the conception is very complex. Social media live from ensuring a constant flow of information from us as a company to consumers. Constant information, transparent insights but also current news that are relevant for our fans. The greatest difficulty in graphic design for social media, however, lies in the daily preparation of new content. Those who also work cross-medially, i.e. across networks between Instagram, Facebook, YouTube or social platforms such as Pinterest, constantly need new content, which in turn is prepared differently for the individual social networks.
Graphic design for Facebook
On Facebook alone, there are countless opportunities for us to work with media. The simplest form is text, but you can add emoticons, links or quotes to the text. The next step is about photos, sounds simple, but is also complex. What is our strategy? Do we have models who are photographed by a photo shoot that takes place at regular intervals to provide new material? Do we have a design concept because we don't rely on human characters but on graphic elements? Do we use drawings or minimalist styles? The planning of a photo shoot or the concept for a corporate design concept alone, which can then be applied to all social media, even with several graphic designers, takes time. Basically, however, it always needs a good address, which consists of:
Text and wording
Emoticons say more than a thousand words
Link to the online shop or to further information
More possibilities: Quotations, questions, discussions, etc.
Producing or designing photos: Stylish or optimized?
If we now combine text and photo into one element, then we already have another form, information graphics. So we don't just make graphics or beautiful photos, but also edit them further, e.g. with text information or also with icons or arrows and circles. This enables us to provide the user with much faster visual access to the information. e.g. by the text hint, arrows or circles mentioned above. If text is placed, how much at all?
Note different formats and dimensions for end devices
If we also plan advertisements on Facebook, we have to be a little cautious with the text content, because purely from the interaction, we should renounce text shares. Facebook ads make the process even more complex, as different graphics have to be created for the different end devices, e.g. notebooks or smartphones. As shown above, each individual social network, but also each end device, uses certain formats. So if we make a posting that is to be launched as an advertisement at a later date, we have to pay attention to it.
If you want to save budget and place a cheap ad, you can work with a square here, for example. The square can be placed nicely on Instagram as well as on Facebook. In the next step we come to an even more complex form of content: videos.
video content for Facebook and Instagram
Not only are videos much more complex to produce, the content must also be adapted to the social network. On Facebook, for example, most video content is initially played without sound. But if there is no sound available to us and it first has to be switched on by the user, caution barrier (!), then we already have to place elements in our video, as well as text, arrows or circles, which exactly point out the advantages to the user. We do not have long time, such a video ad on Facebook, whether organic or through an ad, should not take longer than 30 seconds. Depending on the product, 15 seconds or if it is about image, no matter if for a company or an NGO, also one minute. The lengths are therefore variable depending on the projects and target group.
All these aspects must be considered before the media production, after that comes the booking of the videograph, the video editing but also the acceptance and certain change loops. That's how complex content planning and production for Facebook can be!
Content Tips for Instagram: Faster Media
How do Facebook and Instagram differ in their approach? Facebook has older users and many users on notebooks and desktops. Here the content and information is often even more detailed, because the individual user gives the content one or two seconds more time – than with Instagram. In addition, text fade-ins are shown immediately. Instagram is much faster here, the timeline lives on many photos and fast likes.
Texts are not placed very prominently and are only partially displayed. It is not possible to set links in the classic postings, only in the Instagram Stories. So our content for Instagram needs to be simpler and deliver the USP that differentiates us from the competition. Products and ideas must therefore be placed relatively prominently, i.e. directly visually perceptible.
That's why the complexity for Instagram is a little easier than for Facebook (faster production). We don't have to think about the different devices, because Instagram is used via tablets and smartphones, desktop and notebook are usually omitted. The user group is very special, young and mostly trendy.
Facebook cost-effective, content and ads
As shown in our example above, this best practice is a great way to learn how to make a simple ad.
Theoretically you only need the basic knowledge in Photoshop, which you can learn here on YouTube, some creativity and stockfotos. From this you create a graphic, which then becomes an animation with a few changes. In our Best Practice design example, for example, it is the font that appears: We, want, you! Through animation and movement, our content is much better perceived by users. We do not need any elaborate productions, no photo shoot but also no video production. All we need is our notebook, Photoshop and creativity.
Mobile First: Think of your audience
Most of today's traffic is generated via mobile devices, so it is worth focusing the ads on square formats or on upright. If you also place advertisements, you can quickly make changes here in the Photoshop file to e.g. make an AB test to find the more effective graphics. The exported GIF file can then be easily converted to a MP4 file, which can be easily published on Instagram and Facebook.
Here once again the differences in the dimensions (pixels):
Smartphone: 1080 pixels wide x 1920 pixels high
Classic HD screen: 1920 pixels wide x 1080 pixels high
Social Media Agency for Graphics, Design, Strategy & Performance
If you are looking for a Social Media Agency , which brings all this experience and expertise with it, just as always has new developments in mind, packs them into new concepts for you and develops strategies for the future, then you are exactly right with us. Our experts are happy to help your company with their experience and know-how in the further development of your social media. Social commerce is playing an increasingly important role and the possibilities of image building and public relations in social media are also on a completely new level. Direct contact with customers not only helps in service, but also in product development and of course in sales – most important.
https://socialmediaagency.one/wp-content/uploads/2018/06/blog-titel-screenshot-social-media-design-instagram-post-story-photoshop-grafikdesign-best-practice-beispiel.jpg
600
1200
Laura
/wp-content/uploads/2023/01/social-media-one-logo-tiktok-instagram-youtube-facebook-marketing-1.svg
Laura
2018-06-24 21:17:37
2021-04-07 18:49:00
Social Media Design – Graphic design of a creative agency: Best Practice