Rooftop tent lifestyle: family friendly, benefits & alternative to camper van?! – 5 travel stories
Roof tent lifestyle – closeness to nature, feeling of freedom and at the same time pure adventure and relaxation! A trip with a roof tent guarantees all this. Every morning completely free and spontaneous to decide when and where to go. These passionate campers have fulfilled their dream, left their stressful everyday life behind, grabbed a roof tent and plunged into the camping adventure. Here they report on their experiences and the unique experience of their multi-day or week-long rooftop tent trip. Click here to go back to the travel trend: roof tent & camping.
Camping with a roof tent: What you should know
First of all, some interesting information about the roof tent and especially about travelling with a roof tent. A roof tent probably offers you the most comfortable way to spend a holiday in nature. You can start your holiday directly after the assembly on the roof and are completely flexible in your travel arrangements. The whole thing is erected at the campsite with just a flick of the wrist. With an integrated mattress and ladder, you already have an enormous, comfortable sleeping and living area ready for individual use. Not to forget, the best thing about the roof tent: the unique price-performance ratio. From 1,500 euros you can have your dream roof tent mounted on your car and enjoy a carefree and unforgettable holiday – whether as a couple or with the whole family!
These are the advantages of travelling with a roof tent:
Set up in seconds with just one hand movement
Enormous sleeping and living area for up to 5 people
Also ideal for families with children
Most comfortable travel option
Closeness to nature and a unique feeling of freedom
Flexible daily and travel arrangements
Normal continued use of the car (no speed limit etc.)
Mountable on any car
Amazing value for money
Made in Germany: Campwerk
Our recommendation? Campwerk. Technology, quality and stability. Starting at 1,200 euros for a two-man tent.
You want to know more general information about the hype around camping with a roof tent? Then read all about the advantages, the setup, costs, different models and frequently asked questions here: Roof tent trend!
Roof tent: Alternative to the campervan?!
In this first video, passionate campers talk about their four-week trip with the roof tent. After they have already tried several travel options, such as the trunk of their car and a camper van, they came across the roof tent! Is a rooftop tent the best travel option and alternative to all other options? Here, the two share their experiences of their trip with the roof tent with you, answer frequently asked questions and show, or rather explain to you, the advantages and disadvantages of having a roof tent. In advance: The question whether the roof tent is the better alternative to the camper van, can be answered with yes.
From the Dolomites to Venice
Here you can accompany the 2 adventurers Anna and Mario on their camping trip from the Dolomites to Venice. Which beautiful places they drove to, what they experienced and how relaxed and comfortable you can camp with the roof tent, you can watch in this video. In addition, they reveal some beneficial tips that make camping life much easier.
This is how expensive a road trip with a roof tent is
What does the whole fun of a roof tent trip actually cost me? At the beginning you have to buy the fully equipped roof tent, but then you don't have to pay for accommodation on the road. You will only have to pay for food, cooking equipment, fuel, excursions, ferry crossings and other expenses. In this video, camping fans Anna and Mario talk about their 16-day trip with the roof tent, their route and their experiences on the road. In addition, they present you in detail what they have spent everything and on what and give you helpful tips for your own roof tent trip.
You will have to pay for this:
Roof tent incl. equipment (bought or rented)
Cooking accessories (gas cooker, cool box etc.)
Food and catering on the road
Other camping accessories (awning etc.)
Fuel
Ferry crossings (+tolls if applicable)
Fees for campsites
Additional excursions
Let's do the math:
About 848,50,- Euro per person for the complete trip (incl. rented roof tent)
Norway with the roof tent: Tour to the Lofoten Islands
This couple also loves nature and especially camping! For them the ultimate solution: travelling in a roof tent! Here they take you with them on their multi-week trip to Norway and give you tips for your own trip! What are the advantages of a roof tent, how comfortable it really is and what you should keep in mind on the road? Even strong wind and rain can't spoil their holiday – their solution? Check it out in this video.
Roof tent camping with the family: 10 tips!
Even if you want to go camping with your entire family, the roof tent is a very good and carefree option. Here you can accompany a family on their camping holiday including children. How you best proceed and what you should consider to get the most out of a rooftop tent holiday, they show you during their trip. Whether it's packing recommendations, helpful outdoor life hacks or tips for chilly nights, check out this family's top 10 tips and tricks for a relaxing camping holiday with a roof tent in this video.
10 Tips and Tricks:
Do not take too much with you
Only the most necessary toys
Electric blanket for cold nights
Boxes instead of suitcases
Gaffers and cable ties
Fairy lights
Carpet or tarpaulin
Use ladder wisely
Play Safe
Warm outdoor clothing
Roof tent: Camping holidays by car – Travel trends
The most comfortable way to sleep in nature! Camping is becoming more and more popular with young and old and especially travelling with a roof tent on the car is becoming more and more trendy! A roof tent convinces alone by a completely flexible travel option, the quick and easy setup, a comfortable living and sleeping area and the unbeatable price-performance ratio. You can start your holiday immediately and travel to any place you want, with a rooftop tent you are guaranteed relaxation, adventure and the feeling of being close to nature. If that doesn't sound like the best plan for your next holiday?! Here's everything there is to know about a camping trip with a rooftop tent! The overview, Travel Trend: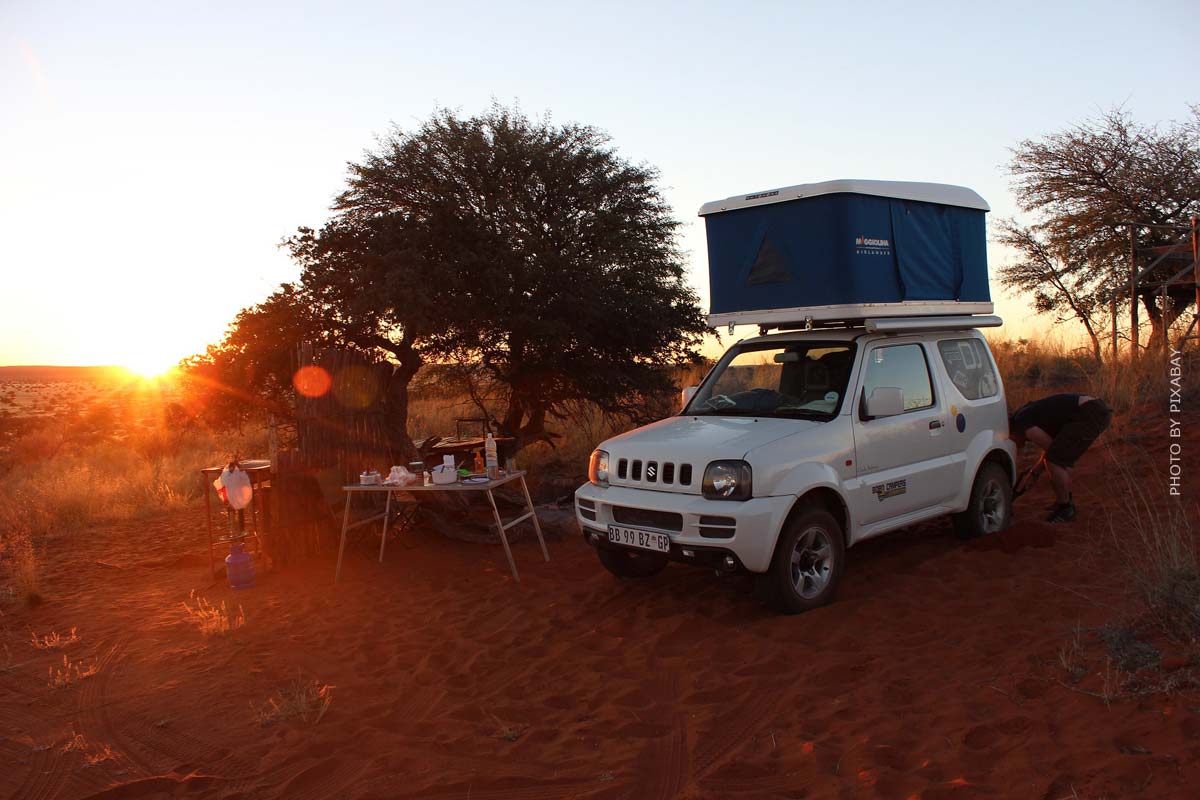 Camping: Trend Individual Travel & Nature
Camping Trend: Overview, Prices & Statistics
Camping Trend: Overview, Prices & Statisticscamping holidays, just like millions (~18% of 20 to 60 year olds) of Germans. For many years there has been a movement that is getting bigger and bigger: Individual travel! Holidays in a two-man tent, family tent, "vanlife" or camping site – there are now millions in Germany who love camping, as can be seen in the statistics in a moment.
On Youtube, Instagram and TikTok we see adventure, campfires and pure nature. But what's the best way to travel? There are various options, from a simple tent to a big, bulky camper van; complete with shower, camping kitchen, 4K screen and bedroom.
Roof tent & Camping

Vanlife Stories: Travelling by bus

Advantages, experiences, low budget DIY expansion & finance van tour – camping is becoming increasingly popular with young and old and especially traveling in your own van is an optimal option to switch off from everyday life and enjoy the feeling of complete freedom and closeness to nature! These enthusiastic nature fans have dared and plunged into the camping adventure with their own campervan.

What sounds completely crazy for other people but fascinating at the same time, is for these campers a fulfilled life dream! Take a look at some vanlife stories here, in which they report on their adventures and experiences on the road, and in the best case inspire you with tips and tricks for your trip!
https://socialmediaagency.one/wp-content/uploads/2021/03/natur-berg-wandern-camping-urlaub-sonne-himmel-landscape-freiheit.jpg
800
1200
Laura
/wp-content/uploads/2022/08/social-media-one-advertising-werbung-logo-2022-facebook-tiktok-instagram-youtube.jpg
Laura
2020-12-18 12:45:31
2021-04-07 18:51:39
Rooftop tent lifestyle: family friendly, benefits & alternative to camper van?! – 5 travel stories