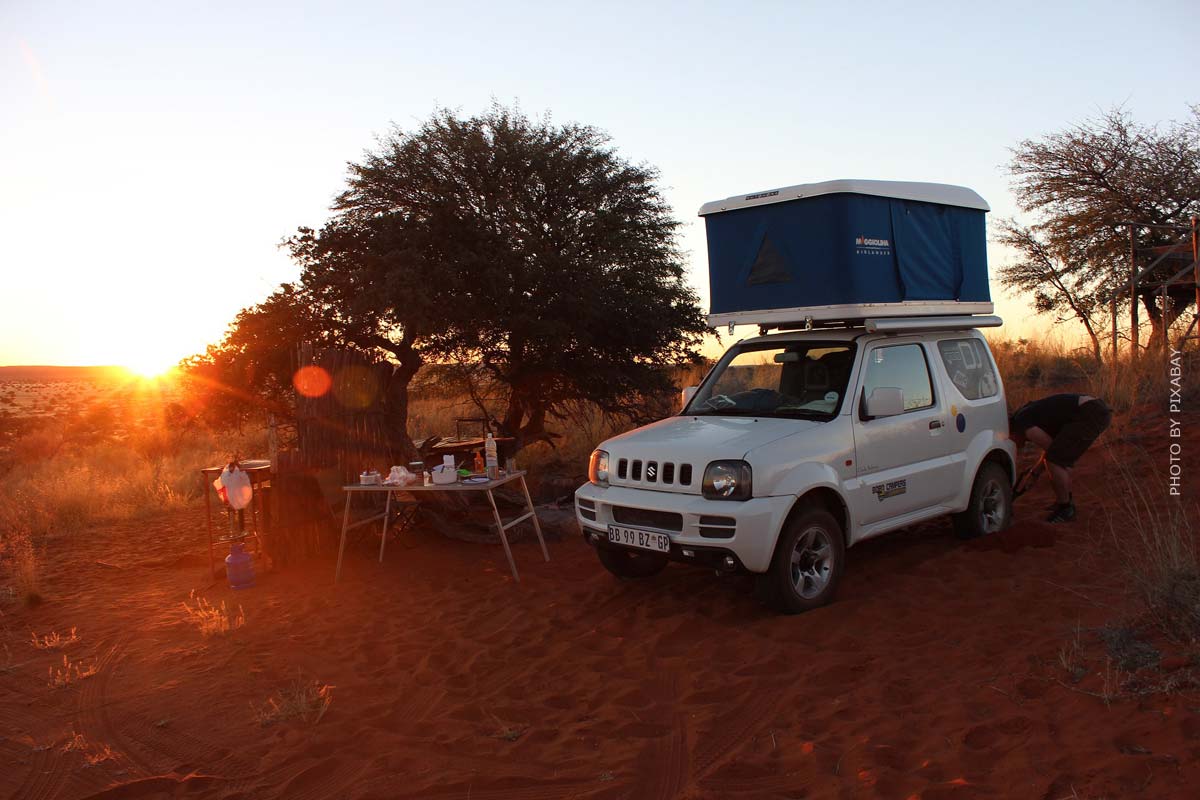 Roof tent & Vanlife! Camping holidays in the car: adventure, families, travel trend
Camping with car roof tent – Why do you write about roof tents? Because we love them and camping holidays, just like millions (~18% of 20 to 60 year olds) of Germans. Since many years there is a movement which is getting bigger and bigger: Individual travel! Holidays in a two-man tent, family tent,"vanlife" or camping site – There are now millions in Germany who love camping, as will be seen in the statistics in a moment. On Youtube, Instagram and TikTok we see adventure, campfires and pure nature. But what is the best way to travel? There are various options, from a simple tent to a big, bulky RV; complete with shower, camp kitchen, 4K screen and bedroom. If you compare the different forms of travel options, you'll learn to love rooftop tents above all! Set up in a minute, prices from 1,200, 1,300 euros, alone in a two man tent or with up to 4 people. Our own little declaration of love and a look at the travel trend and our "Made in Germany" recommendation for roof tents: Campwerk.
Camping, roof tent, vacation: travel trends
Why do millions love camping & nature?
Roof tents combine all the advantages, from tents to tent trailers, caravans and motor homes, many swear by them.
Inexpensive, independent: Travelling in a roof tent
Why? They are cheap, they fit any car model and you are independent of hotels, rental cars, etc. Wake up at the lake, shopping in the city, no extra driver's license like with caravans and motorhomes. Roof tents are simply mounted on the car and you are ready to go. No trailer hitch, no extra driver's license, ready to go right out of the box and all for between €1,500 and €4,500. For couples or young families with baby, the roof tent pays for itself after 10, 11 saved hotel nights, for most less than 1 holiday and you stay overnight as cheap and flexible as never before.
Who goes camping? Statistics and age
If you look at statistics on camping and the different target groups that are interested in camping, you will quickly see that camping is an age-independent phenomenon. The very young go camping, the old drive through the country in a motorhome.
In between, one variant in particular is popular, the roof tent for your own car.
Everybody loves camping
Since we as a social media agency also want to take a little look at the different age groups, here are official figures from the German Federal Statistical Office (Statistia, 2020). Indeed,
Age group, share of campers, share of population
14 – 19 years: 10.3% / 6.7%
20 – 29 years: 18.0% / 13.6%
30 – 39 years: 19.2 % / 14.7%
40 – 49 years: 17.9 % / 14.5%
50 – 59 years: 17.7 % / 18.8%
60 – 69 years: 10.7% / 14.4%
70 years and over: 6.3% / 17.3%
Holiday in Germany, Italy, Croatia, Denmark or France, with the roof tent you are immediately on the road.
Holiday without "must": assembly / disassembly in 1 minute
The biggest advantage and what many appreciate in camping holidays, is clearly the flexibility, spontaneously to the beautiful mountain lake, yet the small shopping trip in the city (impossible with the camper), then back to the country or to a nice campsite, maybe even with a restaurant; or yet pithy in the forest with campfire. The next day it goes on to the next region.
This great flexibility is made possible above all by the rapid erection and dismantling of roof tents.
Setting up a rooftop tent is so quick that it won't take you more than a minute, even on your very first try. In fact! The technical construction has been developed in such a way that you do not need any tools or strength to erect the roof tent. Basically, you unfold the roof tent once by 180 degrees. You then climb into your roof tent via a small ladder. Voila.
Then there are of course much larger forms of roof tents, eg for families, up to 5 people. Who still needs a number larger, which can buy a folding tent trailer, which is relatively space-saving, light and expanded quickly 10 times as large, with awning, canopy and everything that goes with it. For even more comfort, or for longer road trips perfect.
Made in Germany: Campwerk
Our recommendation? Campwerk. Technology, quality and stability. Starting at 1,200 euros for a two-man tent.
Camping holiday with roof tent on the car
Are you longing for an adventurous and at the same time relaxing holiday? Then camping is just the right thing to get away from the stress of everyday life, enjoy a unique feeling of freedom and spend a lot of time with your loved ones. Especially for several days or even weeks, there is a super comfortable and practical option that is becoming more and more popular: A roof tent on the car!
The most comfortable way to sleep in nature!
Camping is becoming more and more popular with young and old and especially travelling with a roof tent on the car is becoming more and more trendy! A roof tent convinces with a completely flexible travel option, the quick and easy setup, a comfortable living and sleeping area and the unbeatable price-performance ratio. You can start your holiday immediately and travel to any place you want, with a rooftop tent you are guaranteed relaxation, adventure and the feeling of being close to nature. If that doesn't sound like the best plan for your next holiday?! Here you can find out everything there is to know about a camping trip with a roof tent!
Here you get an insight into camping life with a roof tent! Passionate campers report on their unique road trip to Norway and take you along on their exciting journey.
Practical, simple & convenientAdvantages: Travelling with the roof tent
A roof tent is actually a normal tent that is already on your car while driving. This means that it does not take up any space or storage space on the road and can be unfolded at any time. The setup is very easy and can be done with just one hand movement. You then have a large, high-quality and robust tent at your disposal, which you can easily climb up with the help of a ladder. A mattress is already in place, so you don't have to think about anything else. In the best case scenario, mosquito nets will keep mosquitoes at bay and an integrated mattress pad will keep dirt and moisture out.
Takes up no space / storage space on the road
Easy handling
Quick assembly
Comfortable, convenient bedroom
Additional living space and usable space
Space for up to 5 people
Ideal for families
Robust, stable and waterproof
Integrated mattress, ladder, mosquito net etc.
Extendable with add-on tent / tent trailer / awning
Alternative to motorhome, caravan, camper van & Co.
Cost-effective variant (excellent price-performance ratio)
Flexible travel is possible (vacation can be started directly)
Roof tent fits on any car
No speed limit
Space in every parking space / parking space
Now that the advantages of travelling with a roof tent have been listed and you have learned why travelling with a roof tent is the best holiday option, the question remains: How does the roof tent actually get on my car? Here you will find everything you need to know about mounting the tent and setting it up at the campsite.
Roof tent assembly: Instructions in a few steps
The only thing you have to do, or rather think about, in order to use a roof tent is to mount it on the roof of your car before you even start. But will a roof tent even fit on my car?! Probably yes, because in general a roof tent can be mounted on any car, as long as it has the appropriate roof racks. So whether you drive an Audi, BMW, Opel or VW – nothing stands in the way of your camping adventure with a roof tent.
Assembly, mounting & handling
Fitting the roof rack on your car
Lift the folded roof tent and push it onto the roof
Roof tent has rails that slide onto the beams
Fasten the whole thing securely (the experts at the store will help you)
Close protective cover
Set up at the campsite or on the road:
Detach the protective cover and loops from the roof tent
Fold up the roof tent once completely
Attach stem and secure everything
Set up and lock the ladder
Climb up and enjoy the comfortable sleeping place
Video! Setup without effort
Now you know how easy and uncomplicated it is to set up a roof tent, but now you can watch an informative video in which everything is explained and shown to you in detail. If you couldn't really imagine the whole thing until now, after this video, which already has half a million views, you are definitely smarter and best prepared for your next holiday with a roof tent.
Car roof tent for couples or the whole family
A roof tent is not only set up in seconds, but also offers a lot of space at the same time. This makes it a must-have on the campsite – whether for couples or the whole family. Are you travelling as a couple with your boyfriend or girlfriend? No problem in a small roof tent! Travelling with your whole family, including children? You can also find the right XXL roof tent for 4 or even 5 people.
Roof tent 2 persons: Holiday for couples
If you are planning a holiday with your partner, a two-man tent is perfectly adequate. Even with this, in addition to a comfortable sleeping area, you'll also have enough space for other uses, such as playing. Even a toddler would find room in the middle of you. You are completely flexible with your travel route and can park and stand anywhere with a roof tent. A holiday with a roof tent is therefore the best way to enjoy the togetherness and tranquility in idyllic nature and to admire the starry sky from your tent until late in the evening.
Roof tent for the whole family: 4 to 5 persons
If you are planning a holiday with all your loved ones, a hard-shell roof tent for 4 or 5 people is recommended. This offers you a huge sleeping and living area on the roof of your car and is all the smaller and more inconspicuous folded during the day. If the children and parents each need a bit more privacy, you can make sure that the tent has additional partitions so that everyone has a bit more peace and quiet at night. You can also get an additional extension tent or tent trailer, especially for very long trips, so that you have even more space to use on the campsite. You can use this extra space for cooking with a camp kitchen, showering, playing or just relaxing, or you can divide the sleeping spaces so that some family members have a comfortable place to sleep in the tent trailer.
Of course, depending on how many people you are traveling with, one or the other roof tent variant offers more for you. But what are the costs if I decide to buy a roof tent?
Roof tent / Vanlife Lifestyle: 5 travel stories
Suitable for families, advantages & alternative to the camper van? Close to nature, a feeling of freedom and at the same time pure adventure and relaxation! A trip with a roof tent guarantees all this. Every morning completely free and spontaneous to decide when and where to go. These passionate campers have fulfilled their dream, left their stressful everyday life behind, grabbed a roof tent and plunged into the camping adventure. Here they report on their experiences and the unique experience of their multi-day or week-long roof tent trip.
Costs: Buy roof tent
You want to buy a roof tent? Then there is the question of how much a roof tent actually costs. Depending on the size, model and additional equipment, the price of a roof tent can of course vary. For a 2-person roof tent with integrated mattress and ladder, you can plan from about 1,500 euros. Depending on which shop you buy it in, maybe a little more or less. A large hard-shell roof tent, in which the whole family finds place, can cost gladly around the 3,500, – to 4,000, – euro. Although this sounds like a lot of money at first, it is well worth the investment as you will have to pay for it once and you will be guaranteed a stable and high-quality tent that you will most likely be able to use for many holidays.
In addition, a caravan or motor home would be even more expensive and the overnight stay in a hotel would also dig deeper into your pocket in the long run. Therefore, a roof tent is worth it just because of the price-performance ratio, as it combines everything you need for a successful holiday.
These are the costs you will incur for a high quality roof top tent:
From 1.500,- Euro for 2 persons roof tent incl. mattress and ladder
From 3.000,- Euro for hard shell roof tent (4 / 5 persons), incl. accessories
Rent a roof tent
If you are still unsure whether a roof tent is really the right thing for you, you can try it out for a short trip! Just grab your loved ones and rent your roof tent for a few days. The cost for this is about 30,00,- Euro per day, so you have to pay the corresponding price depending on the duration of your trip. This way you can easily test a roof tent on your own car and convince yourself of the advantages of a camping holiday with a roof tent!
Regardless of the size of the roof tent, there are still different models and variants between which you can decide. What are the differences and what do I need to consider when buying?
How much does a complete rooftop tent road trip cost?
Whether you decide to buy or rent a rooftop tent, there is of course the question of how much money to budget for when you are on the road. First of all, you don't have to spend anything on accommodation, as you always have your sheep's place ready on the roof of your car. There are still costs for food, fuel, campsites and other expenses.
Check out the video below where passionate campers talk about their 16 day camping trip to Norway. How their itinerary was and what they paid along the way they show you here. Finally, you'll get some more helpful tips and tricks from them to be prepared for your holiday.
Variants, models and tips
Which roof tent is the best? If you want to buy a roof tent, depending on the duration of the trip, the region, the route and the number of people you are travelling with, one or the other model might be more suitable. Of course, there are various manufacturers, such as Campwerk, who have a large number of different roof tents ready, so there is something for everyone. Firstly, you need to ask yourself whether you prefer a folding entry level roof tent or a hard shell roof tent. The latter not only looks more premium, but also offers a lot more space and storage, is more robust, better insulated and dries faster. Just to name a few advantages. However, a foldable tent is ideal for camping beginners.
If you want to travel with 4 or 5 people, you should make sure that there are individual partitions so that children and parents, for example, have a little more privacy at night. Of course, in the best case, there should also be an integrated mattress and ladder, so you don't have to worry about anything on the road.
Advantages of a foldable fabric tent
Ideal for beginners
Lighter dead weight
Can be easily assembled and disassembled
Integrated mattress and ladder
Extendable with extension tent / awning
Advantages of a hard shell roof tent
Large sleeping and use area
Suitable for several people
Robust and stable
Not felt while driving (even in strong wind)
Quick and easy to open and close
Well insulated / weather and heat resistant
Solid roof (protection e.g. in case of hail)
High quality design
Holiday with roof tent: What do I have to consider?
Now that you've learned a bit about travelling with a roof tent, you can imagine why it's the best way to travel for passionate camping fans! You are completely flexible, can park anywhere and drive as fast as you want. Anytime, anywhere, you can create a large yet super comfortable living area in no time and with no hassle, while still maintaining that unique feeling of sleeping outdoors! Sounds like you can get started right away? To clarify any questions you might have, here's everything you need to know along the way.
Which car is suitable?
Which car is actually best suited for a roof tent? As already explained, it does not matter which car model it is. A roof tent can actually be mounted on any car as long as the roof load is at least 50kg, which is the case with most cars. You just need the right roof racks and a roof tent can be set up – whether for 2, 3, 4 or 5 people!
Pitch, car park and camping site
Where am I allowed to stand with a roof tent? Are there any rules that I have to observe on the road? In general, you can park your car and roof tent at any campsite and spend the night there. In addition, it is permitted in Europe to park your roof tent in public parking lots, so that you can take a break at any time while you are on the road. As long as the roof tent is folded in, it hardly stands out from the car. You can therefore use it in the same way as a normal car. If you want to unfold the tent and spend the night, you should choose a larger pitch or campsite to feel as comfortable as possible.
Installation on the roof
How do I actually get the roof tent onto the roof of my car? The roof tent is lifted onto the roof of your car before the start of your trip, preferably by two specialists, complete but folded up, and then pushed onto the roof racks. These must of course be mounted on your car beforehand. If the vehicle height is too high, the car tent can also be lifted onto the roof with a forklift. However, all this is taken care of at the time of purchase, so you don't have to worry about anything yourself and can simply drive off with the finished roof tent.
Accessories and other equipment
Last but not least, you might want to ask yourself whether you need any additional accessories for the roof tent. Usually, your roof tent already comes with an integrated mattress, ladder and, in the best case, mosquito nets for the windows and entrance area. If necessary, you can also purchase a suitable mattress underlay to keep moisture and dirt out. Otherwise, you might want to consider matching hanging lockers, so that you can even keep things tidy in the tent.
If you are travelling with your loved ones for several days or even weeks, it is worth considering investing in an additional tent, awning or tent trailer. This will increase your living space by quite a bit, making your holiday a carefree, relaxed and unforgettable time due to the numerous possibilities of use.
You could use these accessories on longer trips:
Extension tent or awning for expansion
Awning as sun and privacy protection
Wall cabinets for order in the tent
Mattress underlay against moisture and dirt
Mosquito nets for windows and entrance (partly already integrated)
Tips. Popular destinations for camping
Now you have learned a lot about the new hype around the rooftop tent and especially a camping holiday with a rooftop tent. Now that you are well informed and prepared for a camping holiday with your loved ones, you just have to find the right itinerary. What are the best places to go camping? Where should I start and how long should I stay in each region? Of course, you can plan your trip individually and be completely spontaneous on the road. That's the beauty of a roof tent! You have a place to sleep anytime and anywhere, so you are completely flexible and can plan your holiday as you wish.
Here are some tips for popular, idyllic and beautiful places to camp:
Baltic Sea (e.g. Rügen, Usedom)
North Sea (e.g. Sylt, Borkum)
Lakes in Bavaria (Chiemsee, Eibsee, Hopfensee)
Regions around the Moselle
Resin
Black Forest
Berlin / Hamburg (mix of city and nature holiday)
https://socialmediaagency.one/wp-content/uploads/2021/02/dachzelt-urlaub-auto-zelt-camping-platz-natur-sonne-baum-sunset-himmel.jpg
800
1200
Laura
/wp-content/uploads/2022/08/social-media-one-advertising-werbung-logo-2022-facebook-tiktok-instagram-youtube.jpg
Laura
2021-03-11 14:56:47
2021-04-07 18:51:38
Roof tent & Vanlife! Camping holidays in the car: adventure, families, travel trend