Does Instagram fear TikTok? Competition: Videos instead of photos – algorithm update
Is TikTok the new instagram? Currently there are many changes on the Instagram App. The extremely prominent Instagram Shopping feature, as well as a new aspect that we noticed today while recording the Marketing Podcast. The competitive pressure from TikTok is forcing Instagram to change. You too should consider this in your social media marketing plan. More about the current competition between TikTok and Instagram, can be found here as an update in the article.
Insta wants to stay number 3
After Facebook and YouTube, Instagram is number 3 among social networks with well over a billion users. PS: Number 3 apart from the Chinese market, where other apps are used. But TikTok is catching up and approaching the 1 billion user mark.
#foodporn and #travel – in the past, you remember?
Instagram has become famous as the social media network for photos. No matter if it is delicious food #foodporn or photos from the last vacation trip #travel. But since TikTok is gaining more and more market share and especially since the billion dollar investments are now also building up in Europe and the United States, I have to change Instagram as well.
However, unlike Instagram, TikTok is investing heavily in its own marketing. In Europe, they are even showing advertising on TV at the moment. This in turn shows that TikTok wants to expand its users. Currently, almost all users are under 20 years of age.
TikTok Download Figures current
The trend clearly goes in one direction, when looking at the current download numbers:
Number of TikTok downloads from the Apple App Store worldwide from January 2017 to October 2020(in millions)

You can find more statistics at Statista
TikTok impresses above all with its many video contents. Users can use songs by stars and sing or dance about them. The app was formerly called Musical.ly. Since re-branding, things have been going uphill. Of course, you could say that this already exists on YouTube! Right, but in the proven format for 4K TV, desktop, notebook, tablet or at most the smartphone in widescreen mode. Video content in upright format (i.e. mainly mobile) is consumed (new generation) especially on TikTok.
Now that Instagram has already placed the shopping function very present in the app, directly in the main menu, there is another change.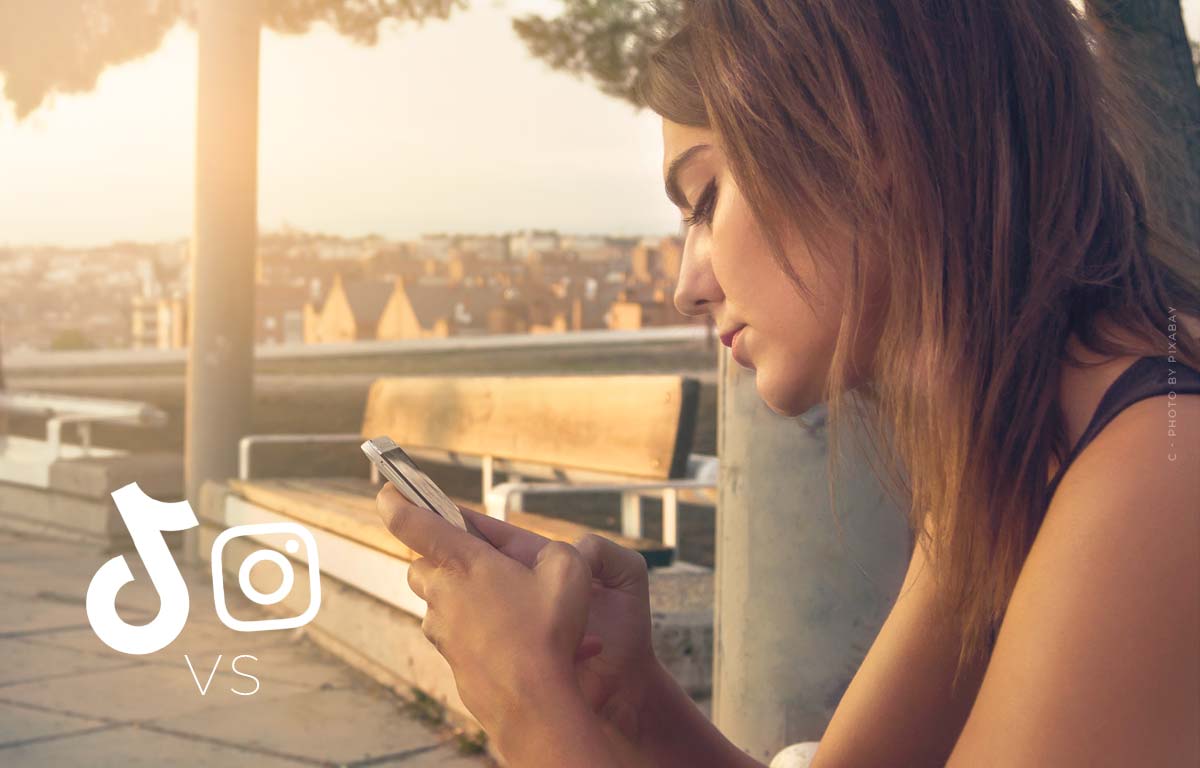 Data capacities and streaming behavior
As already described, photos in particular have made up the social network. So usually the algorithm preferred to play photos and photo galleries. In between there were small videos from time to time, but the focus was clearly on the image material of the users. At that time we hadn't even reached the 3G network yet, today we were almost at 5G. Real-time data transmission is standard and so, with increasing bandwidth, the streaming behavior of the users has changed.
TikTok has been extremely successful with its mini video clips. Due to the high competition from TikTok, or rather their concept, Instagram is probably forced to play more video content. A very important aspect, after all it means that from now on you need more videos for your Instagram Marketing if you want to be considered by the algorithm.
Only a few days ago, 60% of your photos were saved, currently 95% are videos. So depending on which channels you follow, your own stream consists almost exclusively of videos. So if you do not only follow private accounts, e.g. of friends, you will see more and more videos due to the algorithm. This allows Instagram to stand up to TikTok.
To ensure that you don't lose reach for your Instagram channel, whether for your own brand or for customers, you should increasingly rely on small videos. Of course, videos are much more challenging than creating visuals. But the change in the algorithm shows that the reorientation is worth it.
Why must Instagram take TikTok seriously?
User migration is now well known due to the development of social networks. In the past, kids used to meet at savings banks or on sports fields; today, people look for their own social network.
As the users of the social network grow older, the next generation will look for a new social network. To prevent users from migrating completely, technical innovations that are very popular must be adopted by the established social networks. The normal game of innovation.
Ebay (comment function, social network 0.9)
MySpace
Facebook
Instagram
TikTok
… Next?
What is TikTok? Users and Marketing
If you haven't visited the What's TikTok? app yet, it's quickest to explain than a video platform. It is specially designed for smartphones. The TikTokkers dance to songs known from Spotify, Charts & Co. This enables a special cooperation between TikTok and the music industry. That's exactly why the app used to be called Musical.ly. Videos that are published here are usually 10 to 20 seconds long and very entertaining. Colorful filters are used, music is played, dancing and fun is made.
TikTok has now for the first time published numbers for Europe. According to its own information, there are over 100 million users and accounts. Worldwide there are currently about 800 million users, with more than half of the users coming from China.
Advertising on TikTok: Little competition
Proportion of companies using the following social media platforms worldwide in January 2020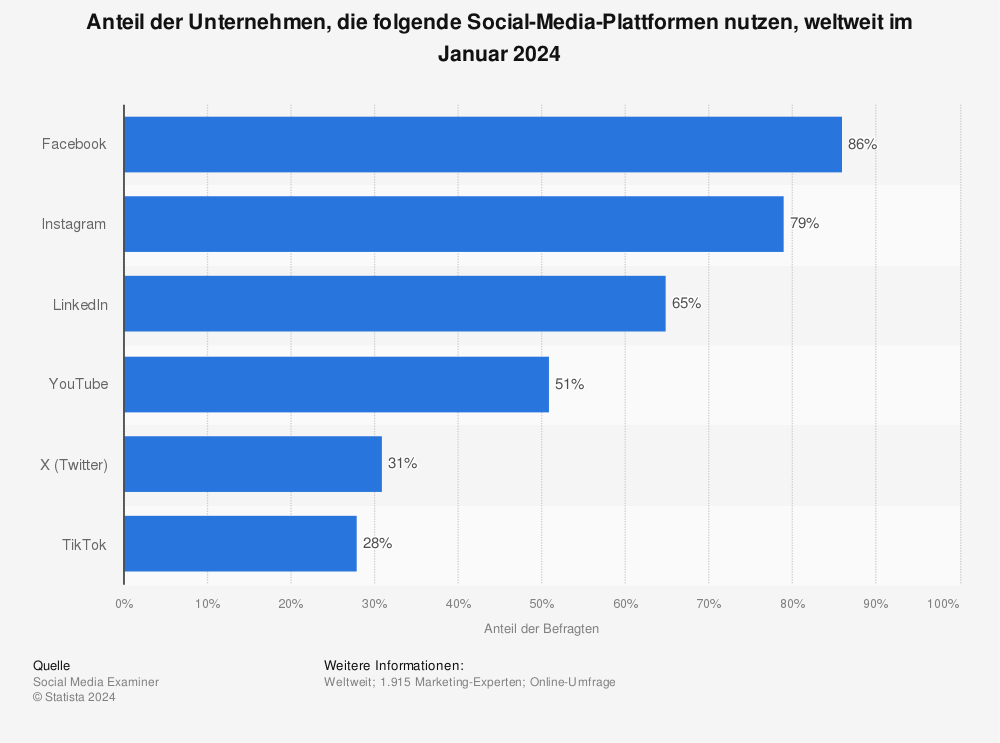 TikTok Marketing Agency: Certified
Did you know? We are one of the few certified TikTok marketing agencies in Europe and Germany. If you want to learn more about the social network, read on here: TikTok Marketing.
https://socialmediaagency.one/wp-content/uploads/2020/11/tiktok-vs-instagram-social-marketing-konkurrenz-analyse-video-verkauf-trends-2023-maedchen-junge-frau-foto-selfie-iphone-berlin.jpg
768
1200
Laura
/wp-content/uploads/2023/01/social-media-one-logo-tiktok-instagram-youtube-facebook-marketing-1.svg
Laura
2020-11-16 17:49:06
2021-04-07 18:50:13
Does Instagram fear TikTok? Competition: Videos instead of photos – algorithm update