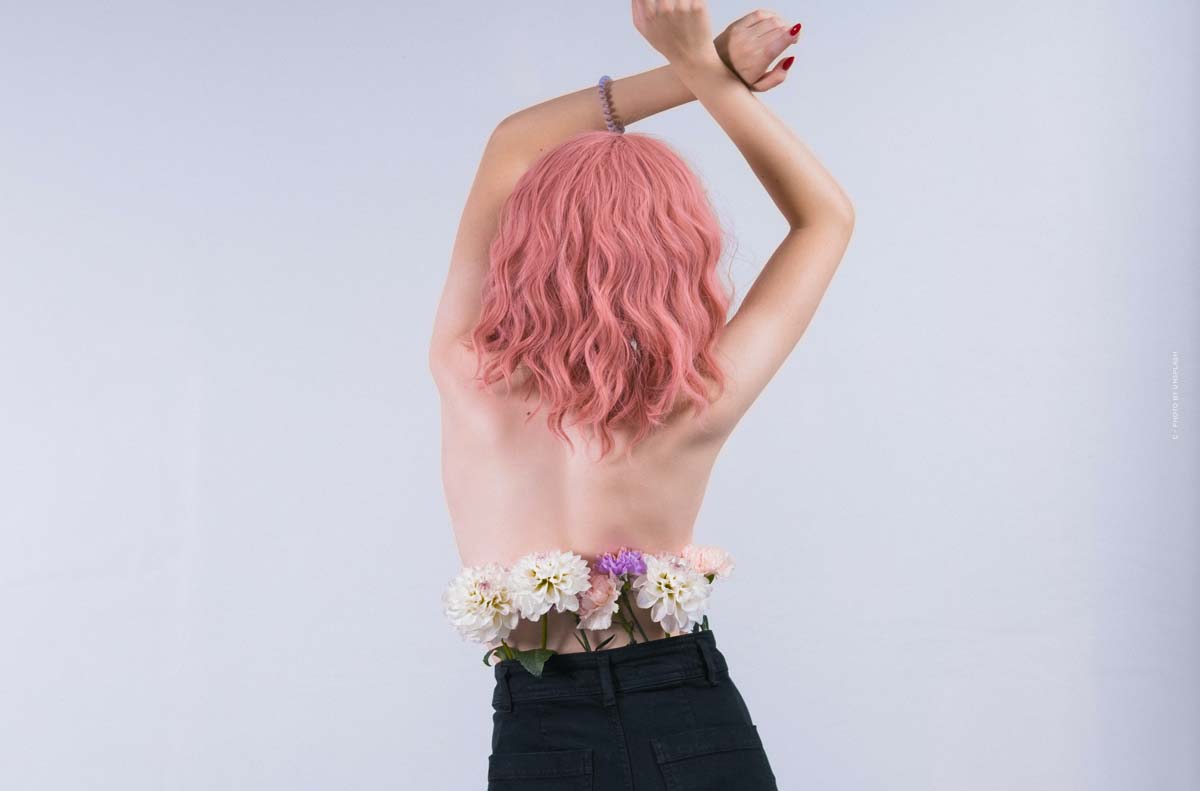 Ella Stoller – The digital influencer and virtual model from Tel-Aviv, Israel with multi-faceted personality fascinates the internet. The phenomenon from Israel also inspires the fashion world beyond the borders of Israel. With her active Instagram account, creative TikTok videos and first modeling jobs, she inspires the fashion world and draws attention to herself. Who is Ella Stoller really? With which model jobs and campaigns she has achieved first attention in the fashion world? This and much more you will find out in the following article. Welcome to the virtual world of Ella Stoller!
Ella Stoller: Virtual Model from Israel
Pink hair, bright eyes and gaudy outfits. Ella Stoller is not easily forgotten. Find out how the virtual beauty is doing in the fashion world, who created her and what her career has been like so far.
Tip. Read more about virtual influencers here!
Creation and "birth": Zoe01 creates virtual models
Zoe01 is a technology and creative company specializing in the design & development of computer generated personalities. They offer a new kind of service – they create a custom face, body including personal voice and individual traits.
They design and characterize a digital model that is brought to life with the power of social media. This is also the case with Ella Stoller – the company Zoe01 has designed the digital avatar with personality for reality. With success – in the meantime, the virtual model has built up a fan base and is able to record numerous model jobs with accompanying success in Israel as well as in Europe.
Time Line: career and development of virtual beauty
Origin: Tel Aviv, Israel
November 21, 2019: 1st public performance
Magazine Cover: AT Magazine
Modeljobs: Palette Swim
Modeljob: Fix Underwear
TikTok success (6.5k followers)
Instagram Success (11k followers)
Digital model with pink hair and sympathetic charisma
Ella Stoller may not be a "real" person, but she is able to inspire her community on social media channels with her likeable charisma, her colorful and extravagant style and her self-confident appearance. How does a digital model differ from her model colleagues? To what extent does a virtual personality possess individual character traits? You will find answers to these questions and more in the following paragraphs!
Virtual beauty with shoulder length hair, perfect complexion and extravagant outfits
While Kaia Gerber, Bella Hadid and Co. have been conquering the catwalks of this world for years, virtual models are also celebrating more and more success in the fashion world. Those CGI models with a special look with recognition value can enjoy particular popularity. Pink or platinum blonde hair, almond-shaped eyes and striking facial features. Who, if not Ella Stoller, can be remembered for her looks! Her clothing style also speaks for itself. Colourful patterns, body-hugging cuts and stylish combinations. Whether floral two-piece in pink, bikini in animal print or sports outfit in neon batik pattern – Ella Stoller knows how to inspire her community and the fashion world with her outfits!
Character: self-confident & likeable digital influencer

Virtual influencer, digital model and much more!
She shares her entire lifestyle on Instagram without losing that certain nuance of mysterious. With this concept she captivates the fashion world. She inspires with classic model jobs in well-known campaigns, interesting collaborations via Instagram and likeable, entertaining and at the same time no less intelligent TikTok videos. Her community describes her as a very confident, likeable and creative personality in the social media world!
Digital model in the digital world with Instagram and TikTok
Digital influencers and models without digital media would be like a top model without a catwalk. Not imaginable. Accordingly, Ella Stoller more than lives up to her role as a virtual personality. She shares her life on various social media platforms and thus entertains her continuously growing community!
November 21, 2019: the birth of a new virtual beauty. Ella Stoller posts her first Instagram post on that day, taking her first step into the fashion world.
"New girl in town!"
With this comment under her post, she confidently states that a new digital beauty has entered the fashion world. Within a year, her Instagram account has reached 11k followers. Her posts count several hundreds of likes and regular comments. And the trend is on the rise! She refers to herself as a "Human Robot" on her platform. With this, she makes it clear from the start that she is a virtual model. With this honesty, her "perfection" looks authentic in the "fake" world of the 21st century!
Creative Tik Tok videos of a CGI model: @ellastoller
With nearly 7k followers on video platform TikTok, Ella Stoller has adapted to the 21st century zeitgeist. She inspires her community with classic TikTok videos. So far, she has already shared six humorous videos on the platform. Her most clicked video even counts almost 215k clicks. In total, she already has 17.2k likes on her TikTok account. And the trend is rising!
Booking, Career & Jobs of a CGI Model in Israel and GermanyCocaine Models. Within a year, she has already landed some model jobs and was able to inspire with her extraordinary look and her friendly charisma. The following is a short overview of some of the most successful model jobs and campaigns.
Virtual Beauty as Cover-Girl of AT Magazine
Together with a real model, Ella Stoller graces the cover of the Israeli lifestyle magazine AK. With her self-confident charisma, her platinum blonde hair and her magnetizing eyes she gives the cover her individual touch. A successful first appearance as a cover model!
Modeljob: Fix Underwear
The virtual model is just starting out in the fashion world. One of her first modeling jobs is a collaboration with the label "Fix Underwear. On her Instagram account she regularly posts updates and new footage with the underwear label.
Modeljob: Paletté Swim
Ella Stoller inspires not only with her look and her outfits. She also knows how to put her body perfectly in scene. So it was only a matter of time until she inspires her community as a swimwear model. With Paletté Swim she has found her perfect cooperation partner. Flattering yet body-hugging cuts, bright color combinations and daring pattern combinations perfectly reflect Ella Stoller's style. She especially opted into a blue ensemble with a perfect cut. This outfit graces several of her Instagram posts. See for yourself!
CGI model as the face of a campaign
The digital model not only shines in her role as an influencer, but also inspires as a campaign face. With her memorable hair, bright eyes and friendly charisma, she convinces not only her community but also well-known companies. See for yourself which companies have put their trust in the virtual model!
Digital food campaign with Take3: Next Level
Ella Stoller promotes an Israeli delivery service in the following video. Whether it's sushi, pizza, Indian or co. – she shows that you can fulfill your food wishes comfortably from your couch. She wows with her smile, her comfortable yet stylish outfit and her dance moves! See for yourself:
https://socialmediaagency.one/wp-content/uploads/2020/12/ella-stoller-virtuelles-model-virtuelle-influencer-agentur-buchen-artificial-intelligence.jpg
791
1200
Louisa
/wp-content/uploads/2021/02/social-media-one-agency-marketing-strategy-brand-strategie-marke-agentur-youtube-instagram-tiktok-facebook-seo-logo.gif
Louisa
2020-10-05 07:00:44
2021-04-07 18:51:33
Ella Stoller: Virtual model and digital influencer with pink hair and individual styling