Find influencers: Search engine for Instagram
Find the right influencer quickly and easily with a tool for Instagram? That works! Especially the search for cities and conurbations is important for Influencer Marketing. This is where the buyers, who daily flow into the shops of the inner city and the suburbs, focus their attention. That's why many are looking for an Influencer tool for Instagram that will help you find the right bloggers quickly and easily. Of course the search must not be complicated, especially for patches and offers the search has to be fast. Social media managers are therefore dependent on good software for analysis and detection of influencers.
Influencer Search Engine: The Online Tool for Instagram
A simple Influencer search engine does not exist! Or is it? Instagram belongs to Facebook. Facebook's business model is data about users. If Facebook or Instagram made this data available so easily, the business model would no longer be exclusive to them. Other companies could quickly settle down to steal their own programs from the data. Facebook or Instagram acts as an intermediary and therefore keeps all data to itself. If you remember the data scandal of the company Cambridge Analytica, you will see what you can do with large amounts of data. In the course of the data affair and after Mark Zuckerberg's hearings with high-ranking US officials, access to the data was restricted even more. Instead of thousands of accesses again, now only a few hundred are possible per minute. Therefore companies, software in addition, most on-board systems cannot pull large quantities of data any more. Since Instagram has nearly one billion users, one would have to update all these profiles daily, in order to be able to supply really meaningful values. With only 200 requests per minute, you can't get that far every day. That's why there is no exact analytics software for Influencer on Instagram.
The best alternative to detecting Influencer on Instagram is therefore a small live hack on our part!
Finding influencers with Combin
Agency everyday life: Influencers are sought by hand on the smartphone. This takes a lot of time. It is better to have a smart tool work for you: Combin.
Search function and results
Combin stands in particular for increasing reach through interaction. The basic function is to find the right audience using parameters. These include, for example, the number of likes on a picture or the targeted search for media with a specific hash tag. If you are looking for influencers, you can use this function to track down people.
Combin analyses millions and billions of contents in the search and sorts itself according to search criteria and chronologically. You get a simple overview with media and the most important data (likes, comments, etc.). Now you have 50, 100, 250 or more influencers at a glance! So the selection is easy.
Search filter
The search can be further restricted by entering hashtags. For car manufacturers #mercedes or #bmw easy to find people who:
Post the right content (with hashtag)
A certain number of Likes have (correspondingly many followers)
Associated number of comments
Time factor
Much more…
Specific search for influencers in regions? Whoever works internationally, for example in Europe, is confronted with many different languages. Our tip: Translate words with Translator (e.g. Google Translator) into national languages, then search. International search? When searching, it is particularly worthwhile to search for terms in the national languages.
If you search only for a #hashtag like #fashion, all postings (also with 0 Likes) appear, so you should set the filter directly to 5,000 + Likes. So the general search looks up with results, only filtered to one #hashtag.
Combin continues to evolve into Instagram marketing and content planning solutions.
Analyze channel
Here in Best Practice to see a new channel for a fashion magazine. This gives your own social media / influencer manager an immediate overview.
Instagram Analysis Online with a few clicks
Of course Combin can do much more! With our online tool you can perform the Instagram Analysis online. Very easy and convenient, from notebook, tablet, desktop PC and of course from smartphone. So you always have an overview of your current influencers, for different projects or campaigns.
Find influencers: Database for exact search
Most influencer agencies as well as social media agencies still work in Excel lists. Here the individual influencers are collected, with their channel ID, the individual URL but also the current follower and the current news. The data must be constantly updated, this costs a lot of time from employees and therefore a lot of money! Finding influencers is definitely not free of charge. For some campaigns it is 97.98 % time saving. The tool offers so many advantages to your company. Also in our consultations we see how much time can be saved in some agencies. Especially if one or two employees update data every day. After the online tool for the influencer search was integrated into the everyday life of the agency, these people were able to focus directly on more effective work.
amit you not only have a huge selection of influencers to find in Germany, but also in Europe and worldwide. So far, the search is focused on Germany, but you have protection access to many countries and cities in the world.
How to categorize influencers?
More about this topic: Influencer categorization.
Infographic: Classification of influencers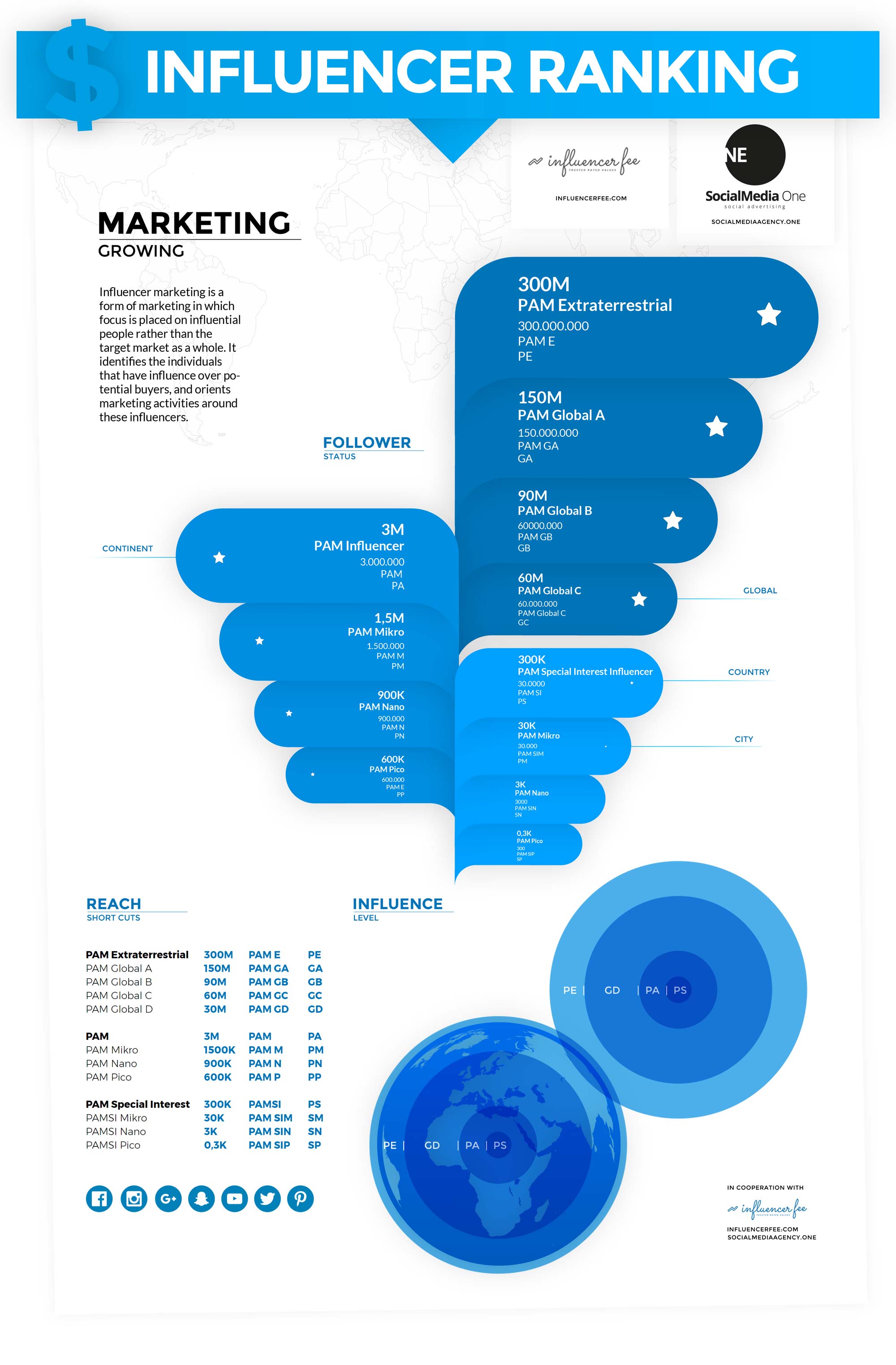 https://socialmediaagency.one/wp-content/uploads/2018/11/influencer-suchmaschine-analyse-online-tool-datenbank-1.jpg
500
1000
Laura
/wp-content/uploads/2023/01/social-media-one-logo-tiktok-instagram-youtube-facebook-marketing-1.svg
Laura
2019-09-25 08:00:23
2021-04-07 18:49:04
Find influencers: Search engine for Instagram