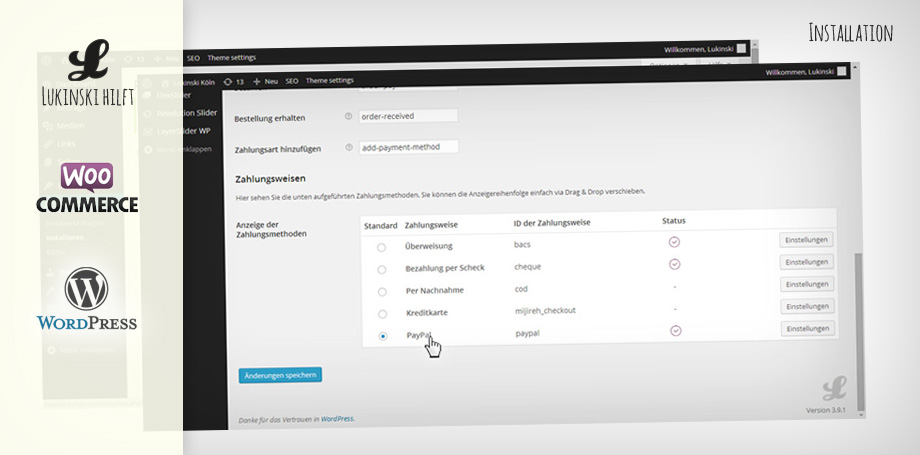 Online shop with WooCommerce – Set up the system, set up payment & get started
As a rule, I tend to deal with e-commerce on the margins. Mostly it is projects in which I deal with media around e-commerce, from brochure design to website. Currently I am also working on a new project myself. Since I was looking for tips and found mainly English instructions, I thought a German, simple explanation would still make sense on the Internet!
Your online shop with WordPress + WooCommerce
The prerequisite for this is a basic technical understanding. But don't worry, by clicking on the website you have already fulfilled 80%! With a little effort and a few hours time, anyone can set up their own online shop – free of charge, completely based on open source. It's worth it. Because in the end, WordPress + WooCommerce is a stand-alone system for your individual needs as an entrepreneur.
Why? If you invest a little time, you will save a lot of time later. My recommendation:
A good cappuccino from your trusted cafe
approx. 2-3 hours Time
WordPress
Today it is all about making WordPress + WooCommerce functional in a short time. Once you have practised, you will only need a few minutes. But today we take a little time. The basis for our online shop is the content management system (CMS) WordPress. With it, content (e.g. texts or image media) can be managed relatively easily with just a little technical experience. At the same time WordPress also allows complex systems. WordPress can be extended. Like small apps for smartphones, there are plugins that enable new functions. One of these plugins is called WooCommerce.
WooCommerce
With WooCommerce, online shops can be implemented in a similarly simple and straightforward manner. In order to save the often expensive way to the agency, I will first introduce you today to the setup of WordPress and WooCommerce:
Installation
WordPress
The requirement for WooCommerce is WordPress. WordPress can be started easily, often already pre-installed by the provider. Alternatively, you can also create your own system at www.wordpress.com. For more experienced users, a separate installation (FTP/SQL) should be mandatory.
WordPress Download
WordPress Online at www.wordpress.com
Even with FTP/SQL try? The Elma Studios explain here how it works
WooCommerce
If WordPress is installed, only one plugin is missing, WooCommerce. The online shop plugin for WordPress. The easiest way is directly via 'Dashboard > Plugins > Install'. The download is alternatively available as a link (below the screenshot)


WooCommerce asks you to set up all pages in the dashboard after installation. Once you confirm, WooCommerce is fully installed. The plugin and all necessary pages (like 'My account', 'Shopping cart')

In front of you is a new, clean online store. Congratulations!
Set up WooCommerce
First settings
A few settings are essential for the operation of the system. You can find them in 'Dashboard > WooCommerce > Settings'. In the 'General' tab you should definitely consider countries and currencies:
Germany
Sales locations
Currency
…

Value added tax
In the tab 'VAT' (if you do not fall under the small business regulation) the option field "Activate VAT" must be activated.

TIP! For a simple price calculation I also recommend a click on "Yes, I enter the product prices including VAT". Why? So you can set your prices, for example 59.99 and WooCommerce will automatically calculate the net amount and the VAT. In the selection field "Show the price in the shop" you select "Inclusive VAT". Otherwise all prices in the online shop will be without VAT.
After the 'value added tax options' we now go to 'standard rates'. There you enter the standard rate, in Germany usually 19% VAT. In the screenshot you can see the most important settings, like country code, tax rate and tax name.


This is exactly what you can do for the 'Reduced Rate Sets'. Here you can enter reduced rates into the online shop. For example 7% for most foods. Afterwards as always "Save changes".
Payment and more
In the 'Settings' you will find many more options besides 'General Settings' and 'VAT' – which are a bit beyond the scope of the blog post. Click a little bit around, choose the relevant options. Everything is well described.

For example, you should take a look at the 'Cash' tab. At the bottom of the page you will find "Payment methods". Here you can choose a standard method, a classic bank transfer or payment via Paypal.
Congratulations – you are ready to go!
Next week! Part 2: Managing products in WooCommerce
[shortcode variables slug="adsense"]
https://socialmediaagency.one/wp-content/uploads/2015/03/lukinski-wordpress-woocommerce-anleitung.jpg
455
920
Laura
/wp-content/uploads/2023/01/social-media-one-logo-tiktok-instagram-youtube-facebook-marketing-1.svg
Laura
2015-12-25 14:08:56
2021-04-07 18:49:47
Online shop with WooCommerce – Set up the system, set up payment & get started