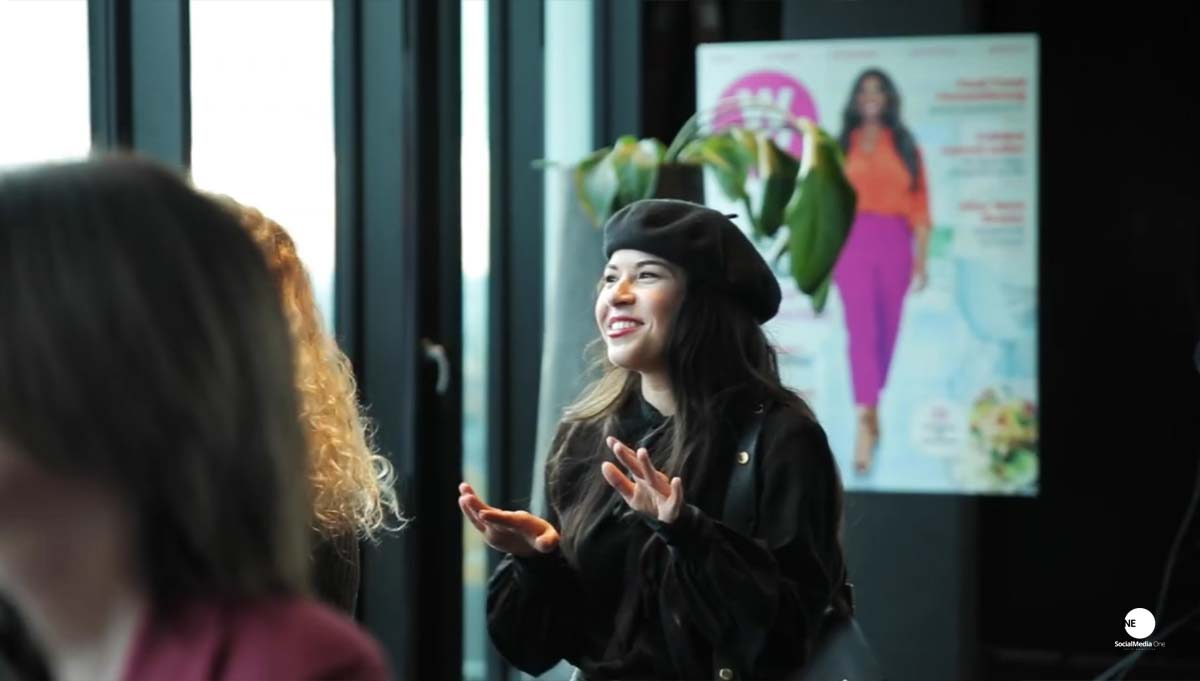 Influencer x Blogger Event Examples: Agency Highlights & Best Practice
Influencer Event Examples – No event is like the other, no customer, no product and accordingly it needs creative ideas for marketing! In our strategy, we therefore no longer "only" present products, but meet the needs of the users! A simple example? A test drive in the new electric car, with your own social media star. Exclusive dance lessons for selected people. Fashion events with glamour factor. Tip. Read more about the effectiveness and impact of influencer events here.
WeightWatchers Annual Meeting: Dancing with Motsi
One of our last highlights (before Corona), the WeightWatchers annual meeting with over 50+ active WW influencers. In addition, there was food from star chef Andi Schweiger and exclusive dance performances and training from Motsi Mabuse.
Highlights:
Over 50+ active WW Influencers
Dancing with the Queen Motsi Mabuse
Dinner from star chef Andi Schweiger
Fashion Week: Fashion Show Saturday Night (Final)
There is no business like show business! We don't just do the typical fashion events, we create highlights! For example, at Berlin Fashion Week 2019, with the final show on Saturday evening at 8:15 pm. Among others, "Sat1 Prominent" will be there. This shows, Influencer Marketing has additional benefits, the impact on more media. I want to report all about them! In addition, again scatter effects, for example, if the contribution runs at "Sat1 Prominent" and the next day again in the "breakfast television".
Highlights:
Swimming Pool Runway
Last show of Berlin Fashion Week 2019 at 8:15 pm
Celebrities, TV stations (like Sat1), magazines (like Harper's Bazaar)
Test drive in an electric car: Test drive with fans
Hybrid cars, electric cars, they are taking more and more space on the road! In 2018, the topic was still absolutely "new" and accordingly we should create attention. The idea, test drive with your favorite social media star, at 5 locations and 5 days. Change starts in the minds of people and accordingly the ones with the youth. When they go for change, the parents and grandparents follow suit – sooner or later, simply put.
A simple principle of change.
Highlights:
Bringing new technology into the conversation
Followers meet their social stars privately
Inspire offline, connect online.
Then online, on Instagram: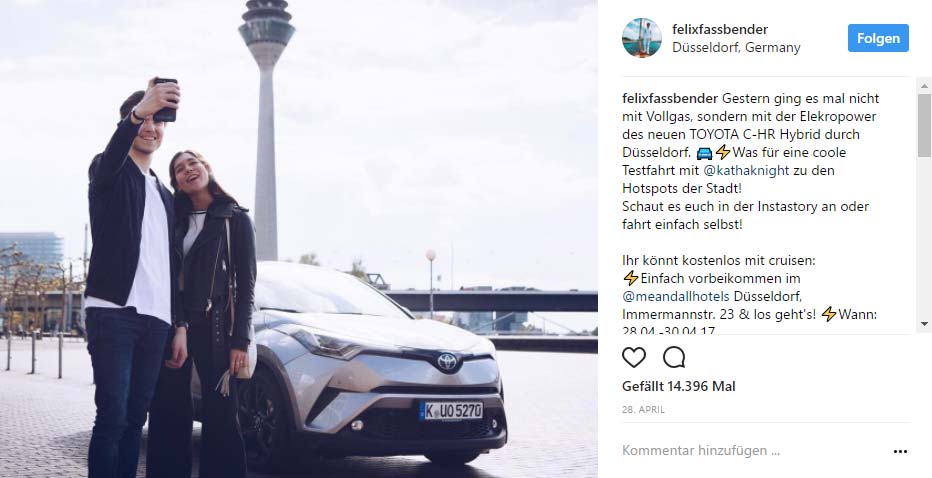 Sports Influencer Award: Celebrating Fitness
How can you make social media marketing interesting for insurance companies? First, we exclude the insurance, in the strategy planning, and bring the actual advantage in the foreground, exercise, nutrition, sports!
Those who live healthy, live longer!
Accordingly, we wanted to recognize the social media stars who are positive role models on social media. No matter if Instagram, Facebook or YouTube. Social media stars such as Pamela Reif were honored, as well as up-and-coming talent from none other than tennis world champion Angelique Kerber.
Highlights:
Award by tennis world champion Angelique Kerber
Over 20+ active fitness and sports influencers
Awarded among others: Pamela Reif
Location: Near Munich Olympic Stadium
Influencer Marketing? In fact, marketing via influencers is now an integral part of the marketing mix of small and medium-sized enterprises, but especially of large companies.
Running Social Media Ads: Distribute content effectively
Yes, influencer marketing brings organic reach, but also "only" for a temporary period of time.
For example, consider the algorithm of TikTok and Instagram. This is usually set to a 24 hour cycle. Of course, there is also content that is a few days longer under the "top messages". However, the content usually disappears after a short period of time. It is a bit different with YouTube, if the content is well planned, it will still be displayed by the algorithm after weeks, months and sometimes years.
Read more about here:
https://socialmediaagency.one/wp-content/uploads/2021/01/influencer-event-case-study-marketing-agentur-7-cover-motsi-mabuse-hintergrund-frau-lacht-freude-kennenlernen-ideen.jpg
681
1200
S_kinski
/wp-content/uploads/2022/08/social-media-one-advertising-werbung-logo-2022-facebook-tiktok-instagram-youtube.jpg
S_kinski
2021-12-03 18:05:31
2021-12-03 18:05:31
Influencer x Blogger Event Examples: Agency Highlights & Best Practice