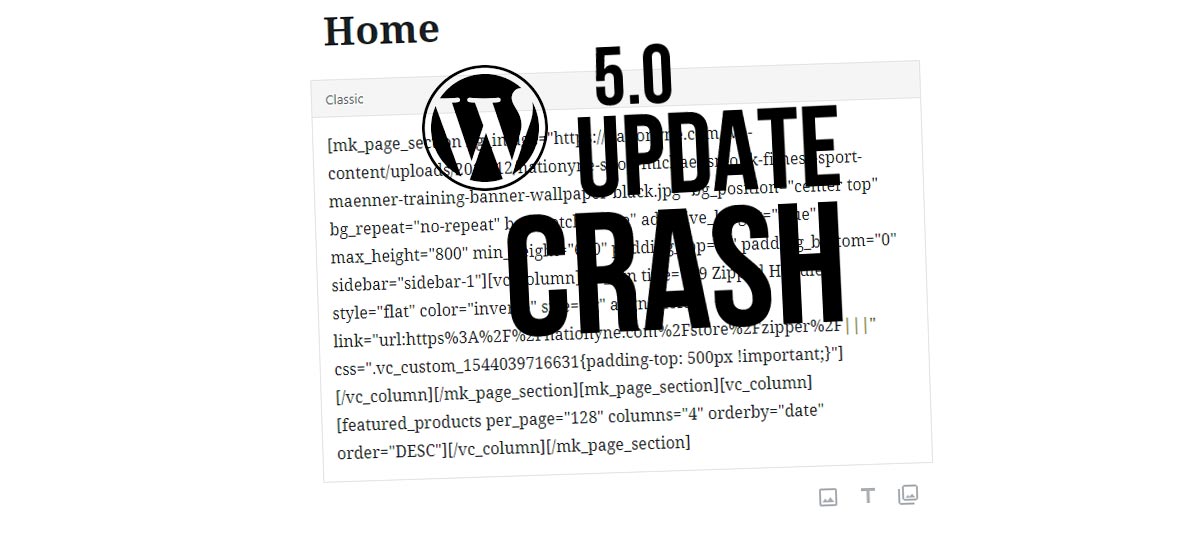 WPBakery page builder is no longer working? WordPress 5.0 Update
Shock moment! The WPBakery page builder is no longer working. Right after the WordPress 5.0 update. Bug: Due to the new Gutenberg editor, instead of the usual page builder, you'll only see shortcodes inside the editor. Fortunately, the content is still displayed cleanly in the frontend. However, editing the content is no longer possible. If you are now faced with the question: "Update or not?", you need a quick solution.
It's because of WordPress' new Gutenberg editor.
WPBakery Page Builder for WP 5.0 – how to do it
We had exactly this case today, the home page should get a new element, bang. Downtime. What to do? Google doesn't know the answer. This is what your screen looks like after the 5.0 update:
Also in the Envato Store the WPBakery Page Builder is only shown up to version 4.9.x.
Nevertheless, there is a solution that has already been considered by the creators of the Builder. Something tricky, because in the first moment you often do not see the forest for the trees. Therefore, here, directly my Quick Fix, if you have the same error with the WordPress Core Update.
Solution: Reactivate WPBakery Page Builder
Update a WPBakery Page Builder
Go to the "Settings" of the Page Builder
Disable Gutenberg Editor
Already you are back in design!
Update a WPBakery Page Builder

Go to the "Settings" of the Page Builder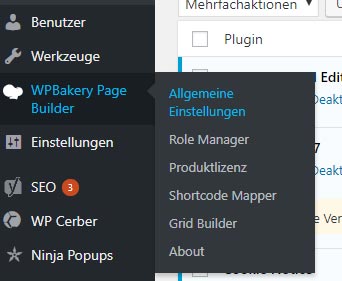 Disable Gutenberg Editor
If you're using Composer for landing pages in particular, then Klick-Tipp is the recommendation.
Klick-Tipp – Email Marketing: Most popular software
Email marketing makes sales! When it comes to the topic of email marketing, and then most look for the best software mainly around the fact that it is a free provider. But is free software for email marketing really recommended? Free software has the disadvantage of always being limited in features. So anyone who really wants to do sustainable email marketing and thus drive their own sales up, should rely on professional software. Through numerous best practice examples, it shows that just the paid providers, deliver the most performance. Also from my own experience, the limitation starts e.g. with the amount of email addresses and continues with the functionality around Call-To-Action and analysis as well as monitoring. My recommendation is Klick-Tipp.
What is a funnel or sales funnel?
When you collect email addresses, you have direct access to targeted, quality contacts. Klick-Tipp can help you as a German email marketing provider that offers marketing automation usually reserved for large companies. In fact, Klick-Tipp was one of the very first email systems in the world to allow you to manage your subscribers using tags (called labels) rather than simple lists.
Tagging allows you to write to your contacts in an extremely targeted manner. The newsletter software is therefore specifically tailored to the needs of online marketers. If you want to have a strong, much used newsletter or email marketing, the Klick-Tipp automations are perfect. In this video tutorial, you'll learn how to better handle newsletter and email lists and generate sales. You don't want your customers to receive boring newsletters anymore – with Klick-Tipp that's over!
What is Funnel Cockpit?
In the cockpit, you can make the various settings and create links. Here you have the complete overview of your prepared, running and past campaigns.
Basic advantages of the software
Before you read all the advantages in detail under the link to the provider, here are the central and basic advantages of the newsletter software for your online marketing:
Easy to use drag & drop composer to create responsive newsletters<
Unlimited number of subscribers with statistics
Unlimited number of newsletters with tracking (follow-up)
…
Learn how to use click-tip automations now! Start with:
Video Tutorial: Create a Klick-Tipp Campaign
Subscriber system for WordPress: Recurring payments
Subscriber system and passive income. The WordPress solution to fully automate the sale of your memberships and subscriptions!
DigiMember 3.0 – Subscriber System for WordPress
To have customers on subscription (daily, weekly, monthly or on individual order) is the big goal for many in online marketing. Because through subscribers number can be generated suitable income, everyone dreams of it. New customer acquisition? That was once. Here it is about existing customers. Good, free plugins are not available from vendors. Subscriber payments as a free WordPress plugin (subscription management software) is too complex, accordingly, you have to test and compare paid software. Of course, it is totally understandable that most of them first look for free subscription management software. Whether as software for desktop or software with a practical app extension, subscription management makes life in e-commerce immensely easier.
But since the profit from subscriber payments is so profitable, it's worth investing in a good (reliable and secure) system: Luckily, the plugin doesn't have to be expensive at all! Here is our recommendation for subscriber payments on WordPress.
Recurring payments in the subscription model
Recurring payments in the subscription model: This is how billing and management work. The payment methods are extremely diverse. For example, support your online store by paying with credit cards, digital payment or other global payment methods. These can be easily activated from the dashboard. Payment providers galore:
Bancontact
Giropay
IDEAL
SEPA Direct Debit
IMMEDIATELY
…
Features of DigiMember 3.0
Sale of memberships and subscriptions
Sequential activation of the contents
Exams & Certificates for Members<
Teaser function
Auto Tagging with Klick-Tipp
Addressing your members personally
…
Now we're ready to go!
https://socialmediaagency.one/wp-content/uploads/2019/03/wordpress-wpbakery-page-builder-plugin-update-5-loesung-website-internetseite-firma-onlineshop.jpg
550
1200
Stephan Czaja
/wp-content/uploads/2022/08/social-media-one-advertising-werbung-logo-2022-facebook-tiktok-instagram-youtube.jpg
Stephan Czaja
2018-12-12 19:45:45
2021-04-08 13:24:41
WPBakery page builder is no longer working? WordPress 5.0 Update