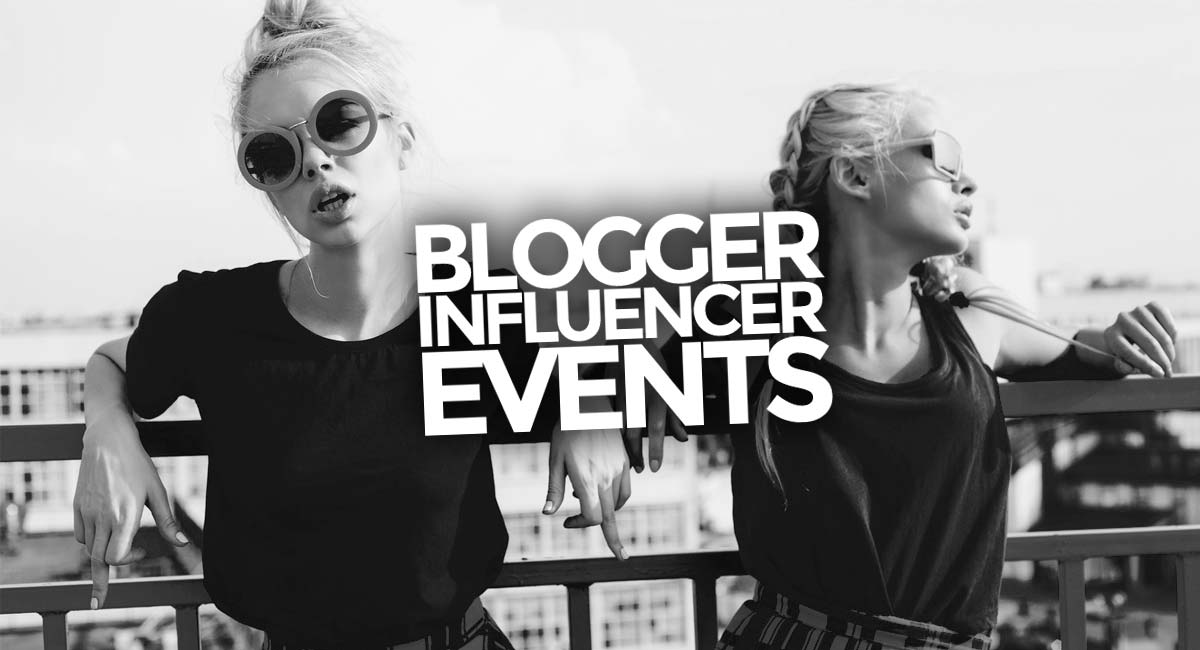 Blogger and Influencer Events: How it works
Blogger & Influencer Events worldwide are taking place more and more frequently in recent months and years. Whether Hong Kon Fashion Week, whether perfume or modem magazine, events with Instagram and Youtube stars are now en vogue. Fewer agencies have focussed on these young talents. We want to give you an insight into our work, around campaigns and events with young social media stars worldwide!
Influencer events, what is the secret?
High user involvement, instead of shutting down
What is a "follow me around" video?
How can you use Influencer events for your company?
What does a social media campaign look like?
User transfer of bloggers: hike of the fans
Strategy development for user conversion
Complexity of Influencer Events
Increase in scope at the event, integration of spots
How old are the fans and the target group?
How long is the planning time for such an event?
Do you need a VIP or star guest?
How to measure the success of an influencer campaign?
Are there more female or male bloggers?
Who organizes blogger events?
Influencer events, what is the secret?
The secret of Blogger and Influencer events lies in the enormous reach and the extremely accurate target group that unite the guests here. Bloggers and influencers reach millions of people with their social media channels. So, if you bring together the right people in a targeted way, you can generate more reach in a special target group at a single event than creating big TV shows at the best time. If you compare the cost of a large production with a blogger and an influencer event, you will quickly see that the costs are much lower and the resources used are much more efficient. More target group, more involvement, less expenditure.
Involvement, instead of switching off
Advertising is what it is: advertising. Many viewers turn off actively. This means that the advertised advertising is never noticed by someone. The same principle prevails in many newspapers and magazines, the advertising of which is only riddled once without reading a single word of the advertisement.
While the classic displays are barely perceived, such events are very im- pensive and extend over a relatively long period. They not only take place for a second, as well as the reception of an advertisement in a magazine. They also take place not only for an hour, as well as a TV show. The bloggers post time displaced. Influencer events extend from the previous day, eg. The first postings in the Instagram Stories, through the event day, through further small Stories and Instagram postings, to post-reporting, eg. On YouTube, through a "follow me around" video of the bloggers.
What is a "follow me around" video?
Especially popular with bloggers that everyone sees at first glance at Instagram, are Selfies. Selfies are self-made images taken by themselves with their own mobile camera. The photos usually show a portrait of a single person or a group. "Follow me around" are very similar, from the I-perspective, only in the moving picture format. Here, for example, A youtuber the camera and tells, in running, from the respective event. On the left and on the right you can find people, short statements come to you or even parts of the show. The camera accompanies the blogger permanently. The video material is cut up at the end, usually in a 10 minute video. Here the bloggers give their viewers and readers very intimate insights into events.
This kind of video love the users of YouTube and other social media platforms, the principle behind the scenes, has always worked. So it is also at Hollywood parties or at exclusive galas in Berlin. Only a selected audience has access, the interest of the people increases the interest of third parties and so a simple party quickly becomes a media spectacle.
How can you use influencer events for your company?
Bloggers and influencers work so well because they are private individuals who share "something" of themselves and their lives with others. As soon as the channels become too advertising, the whole principle would no longer work. Most bloggers pay close attention to who they work with, what they post, and how much. To integrate as a company into the channels of the bloggers is sometimes not a simple undertaking.
As a case study, let's look at a large insurance company that tries to place its own brand within a blogger and influencer event. It would be relatively difficult to say that all stakeholders are just here to market an insurance policy. Therefore, "natural" concepts are forged, which in turn provide a conclusive story, for the fans and for the blogger himself. Campaigns are most successful when bloggers themselves are convinced of the products they represent. So let's change the story to "Nutrition" and invite us to a lifestyle blogger but on Foodblogger. In addition, a VIP guest, for example a sportsman, who takes great care of his diet. We put the health aspect in the foreground and have a first conclusive story, for the coming together and for the support of the insurance. A simple and well-tried medium in the media world is sponsorship. There are sponsors on each event, which can then be used for example. Also the press wall with their logos. So the insurance would be integrated, the event has a framework and the story becomes conclusive.
The same concept could also be realized for an automobile manufacturer who brings all the influencers to the event with the shuttle service and friendly drivers. Of course, even on departure, an individual driver is waiting for the respective blogger in the niegelnagel new car. So we can also integrate into the automarken into an influencer event.
The easiest way to organize blogger events is through larger events. For example, A big event like the Berlin fashion week, the fashion week. Here a lot of bloggers and fashion editors, as well as a buyer of fashion houses and models, gather to celebrate fashion for a week. Companies that are organizing side events here are generally not available as they are visited by the guests! Especially events that can score with big bloggers draw smaller bloggers completely automatically, because they want, of course, the previously mentioned selfies with the large, rich-strength blogs.
User transfer of bloggers: hike of the fans
If different bloggers get together, take pictures of themselves, then you also mark yourself. This marking makes the users of the respective blogger aware of the smaller blogger. Likewise, the fans will interact much more intensively. Because of the relatively similar interests and the relatively similar target groups of the two bloggers, many of the users will also give the other person their "Like" expression or follow it. This effect in user transfer is not as small as you might think. During a single blogger event several thousands of users can already migrate. This migration of users is a very popular way for many young bloggers to increase their own fans and followers.
If, for example, A blogger with 10k (10,000 follower) hits a blogger with 1M (1,000,000 followers), this one photo released, it is sometimes possible that she spontaneously jumps to 12k, this increase is 20%, by a single photo with the Great blogger. Since many young bloggers are looking for such opportunities, the user migration is a good principle, in order to increase the range of the own event additionally. These smaller bloggers also do not have to be supplied with monetics, but will come from all alone.
Strategy development for user conversion
These effects can of course be integrated into your own campaign! Let's go back to the example of the Berlin fashion week, we organize an exclusive blogger and invite twenty selected bloggers and companions. In addition, there are a few models, smaller fashion designers and a few fashion editors. Exclusive, with music and a good catering. It takes two to three hours for a nice come together. In the run-up, we can host a blogger action with which younger bloggers get a coveted VIP ticket to the event. In order to win this ticket, they must carry out a certain action, which is already in the run-up to the event, for the respective company. Ten bloggers are then selected and one of the exclusive VIP tickets will be sent to them. They have access to the event and can take photos with their stars. So you have even more potential for viral effects, by multiplying the people in the run-up to the campaign, with raffle action.
Complexity of influencer events
With each additional paragraph, you will see how extensive such events can become for the planning agency. That is why it is important to have an experienced partner at hand, who knows how to organize such events. Especially at bloggers and influencer events, it is important to have happy guests! As on every exclusive and high-profile event, the atmosphere is the key to success or failure. Not only do the classic factors come into play such as catering, music and location. Other aspects also play an important role in this, as well as a suitable moderator, which groups the groups together and sets the framework program. It is about the decoration and the possibilities to interact with the fans, as well as the selection of the hosts and the bartenders at evening events.
Influencer events must pay close attention to the various challenges faced by the individual target groups, as the age classes differ greatly in the young years. While elderly people are already very well-off and are relatively similar with 25 or 35, the distinction between an event planning for 14 to 16 year olds is already significantly different to an event for 18 to 20 year olds. This must also be taken into account by a good agency when it comes to the planning of such events.
Increase in scope at the event, integration of spots
Fotobox, Make Up Corner and Candy Bar: Through the integration of fixed spots, one creates for the bloggers and the present guests possibilities to playfully generate new reach. A quite often used the means for this type of internal event promotion are photo boxes. Photoboxes allow guests to quickly and easily produce classic, printed photos. These are very popular at events, especially as a memory. Depending on the target group, one can also integrate minor examples. Especially in younger target groups, it can not be loud and colorful enough. Since many bloggers are female, the focus of the framework program should be more on them.
How old are the fans and the target group?
Most fans who really consume social media all the time are female. The target group is very young, it already starts at 12, 13 years and goes up to the end of the 20s. Here people are in their exploration phase and look very much at what other people are doing, who perhaps lead a (supposedly) varied life, see the distant places or are very sporty. The fans are extremely fashionable and are easy to get inspired for trend products. On the beach of the Maldives, the next day in New York, constantly a new outfit, this is the world of bloggers!
How long is the planning time for such an event?
For such an event, the actual planning time is usually several months. Sometimes less complex blogger events can be planned and implemented within a few weeks. In order to create true stories and to integrate the brands optimally in the story, it is advisable to consider a planning period of at least two months. This is not only about the classic factors of the campaign, but also about the booking dates of the influencers. Many bloggers are, of course, very much on the road, already professional, but also very much private. This must also be taken into account when planning the event. Therefore, it takes lead time. At least two months are recommended.
Do you need a VIP or star guest?
Stars and celebrities value every event. Bloggers are attracting a lot of attention nowadays, you are young people on the way to becoming a "star". Whoever has achieved it and is socially known, emphasizes the value of every event. That is why it is recommended for bloggers and influencer events, the one or the other star guest to add. The VIP is also another highlight (side event) for the bloggers, as well as for all the others who are on this day. This makes for further image material, which is ultimately at an influencer event.
How to measure the success of an influencer campaign?
Traditionally, the advertising costs are measured by means of the thousands of contact prices (TKP or CPT). This value indicates how much money has to be invested so that a thousand people can see this advertisement. Especially classic media such as newspapers and magazines can often only name this value. Thanks to the digital media, you can now synonymous exactly your own conversion tracking. This means that the user flow is recorded, e.g. By clicking on the Google ad and then buying it in the online shop. This dimensioning is, of course, much more accurate since individual processes can be intercepted. So you can also see how many people have put products into the shopping cart but have not made an order process. In the end, you will be able to see how many people the advertisement has to be played in order to make a sale. This type of tracking is of course much more efficient. Blogging, on the other hand, is difficult, especially in the social media. Social media, as well as Instagram are own platforms and of course give only limited data. That's why you can also calculate a TKP for bloggers and influencer events. For example, the events can be To compare with advertisements. Of course, there are other factors in the analysis and analysis. The impressions, or the TKP, however, is decisive. The evaluations are then prepared for all present and invited influencers. This can be used to calculate a total media value. These include the impressions, but also the duration, as well as the virality among the fans. As an agency, the value of the campaigns is calculated.
Are there more female or male bloggers?
In fact, in the social media world around Instagram, YouTube and Snapchat there is a big difference between female and male bloggers. Female bloggers get much more encouragement from the fans and can build up a faster range. They are also more willing to tell about themselves and their lives. Men make it less and also the chance to build up a great range, is much lower for them. For this reason, many products are advertised for a female target group, eg. From the beauty area, with shower gel, creams and perfume. Female bloggers have a much larger community, they are more numerous in the crowd and they are much more active. Bloggers and influencer events should also be geared towards such a target group. Product placement is most effective here.
Who organizes blogger events?
Blogger events are usually organized by social media agencies, since the core of each event is the collaboration with the bloggers and the influencer itself. For working with very young people, what bloggers are usually, it again needs experienced managers who hold together the different actors of a single event. For an event, there is, of course, much more to do than the posting of bloggers. It is about the side events, the perfect location, a well-established team, professional bartenders, DJs, partners and sponsors, who participate in the event, and much more! All these tasks are handled by an agency, ideally you should book everything from one source. Why? This results in a lot of agreements and communication channels, which save them valuable money. What is important is that they can give blogger events exclusivity. Only exclusivity makes social media so special.
https://socialmediaagency.one/wp-content/uploads/2017/07/blogger-influencer-events-how-to-help-social-media-agency-guideline-organization.jpg
650
1200
Laura
/wp-content/uploads/2022/08/social-media-one-advertising-werbung-logo-2022-facebook-tiktok-instagram-youtube.jpg
Laura
2017-07-20 09:07:10
2021-04-07 18:48:42
Blogger and Influencer Events: How it works