As a Facebook agency, we are of course always on the lookout for the latest features offered by Facebook itself. Every now and then you come across a feature that you didn't even expect, such as the personalization of ads or the editing of your own interests and information. Today I can on Facebook through a friend on the "preferences" in the ads. Here, everyone can make their own individual settings and, for example, delete certain interests in order to hide them from advertisers. This makes the selection of Facebook ads much more accurate and also includes fewer "certain topics" that you want to avoid, for example, at work, when everyone can look at your own screen. Convenient!
+ AD: Do you know?
Since I myself was super surprised, also by the results after the settings, I wanted to write directly an article for our Facebook blog. So that everyone can make their own settings, here is a tutorial!
Hide interests and information: This is how it works
Here you can now go through all toggles individually and make settings, for example delete interests or hide information from advertisers.
Remove interests specifically from the advertisements
In the next step, you can hover over the individual photos to remove interests.
In the next step, we go a little deeper! Among others, we look at the information and select whether information such as the "relationship status", "employer" or "education" for advertisers to see.
In the individual toggles you can make the settings.
Make "relationship status", "employer", "job title" and "education" invisible
Here you can now make your "Relationship Status", "Employer", "Job Title" and "Education" invisible to hide certain information from advertisers.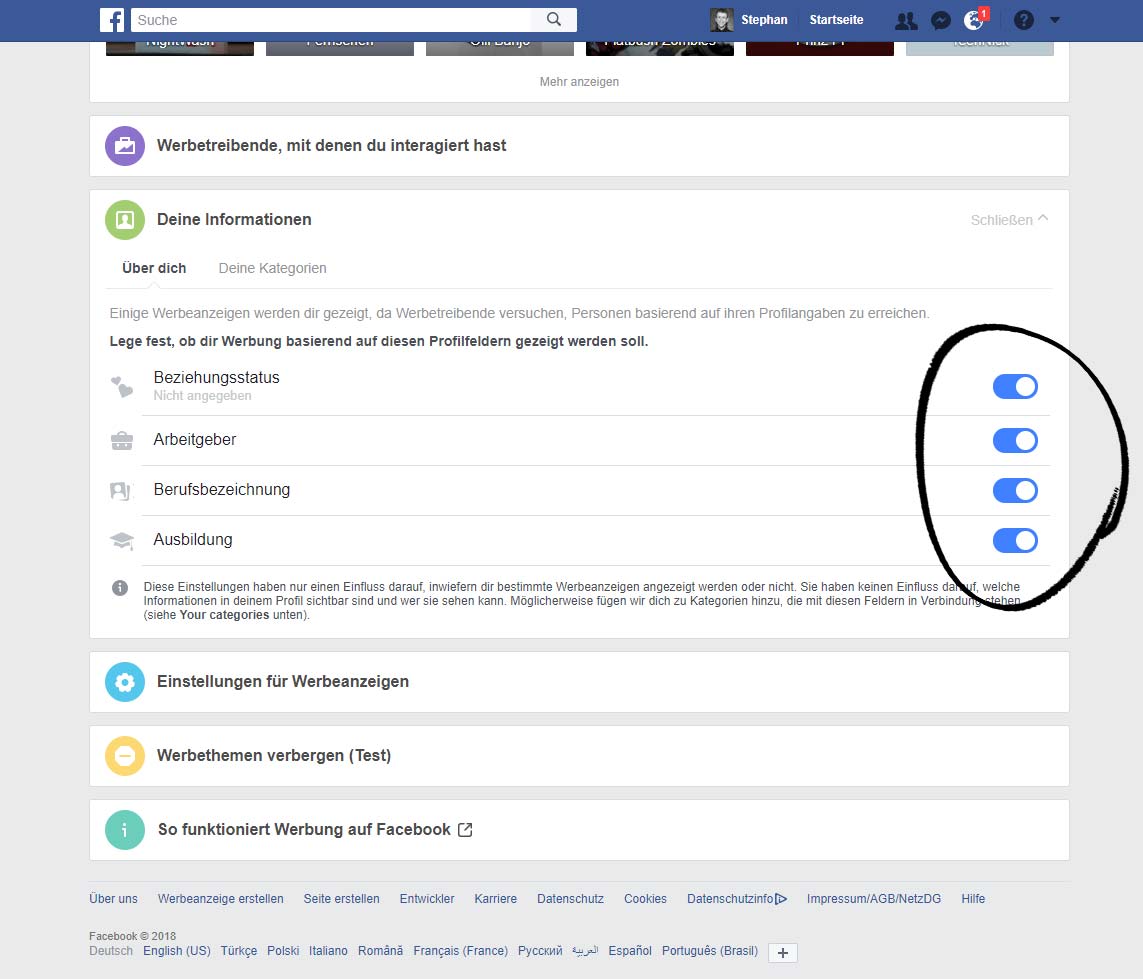 That's it. We have made all the settings. Who now wants to become active himself:
+ AD: Do you know?
https://socialmediaagency.one/wp-content/uploads/2018/01/facebook-personalisieren-anleitung-social-media-agentur-werbung-individuell-einstellen-interesse-blog.jpg
560
1143
Stephan Czaja
/wp-content/uploads/2021/02/social-media-one-agency-marketing-strategy-brand-strategie-marke-agentur-youtube-instagram-tiktok-facebook-seo-logo.gif
Stephan Czaja
2018-01-25 20:17:01
2021-04-08 13:09:36
How to hide interests and information from advertisers on Facebook – Insight!