Do you want to bring employees closer to social media marketing through further training or education? Do you want your employees to be trained as social media managers? Our agency offers first-class workshops for beginners and beginners. Especially for startups, agencies, companies or enterprises. With previous experience or without, the methods and strategies of social media management can be taught extensively in one or more day courses. No two projects are the same: In each further education it is always also a question of the special characteristics of the company. Advantages and disadvantages must always be considered, networks but also developments in social media marketing.
Back to Training & Workshops
Questions of a Social Media Manager in a workshop
These are only some of the basic decision criteria in further training to become a social media manager:
What goals do we pursue with our Social Media Marketing?
Which target group do we want to address with our measures?
Which networks help us to integrate information into the target group?
How do I build my channel, what are the first steps?
How often do I have to post something?
Is the marketing of products or services in the foreground for us, or that "working" with the brand?
Must I switch advertising or does the organic growth of a social media channel suffice Question mark
Function better texts, texts with emoticons, photos or videos?
How complex is social media content in production?
Which Social Media Tools help you plan content ahead?
How to capture results and get data about the interaction of followers and fans?
These and many other questions will be worked out together in our workshop. We will look at the specific characteristics of the company and see who our or your target group online really is. We also speak of digital transformations as Social Media Speaker. She's at the door, and if you don't act now, you're too late. Because at some point all niches are occupied and new, large social media channels are becoming increasingly difficult (and therefore more expensive) for companies to set up.
Target group cluster and target definition of the manager
In our first step we only look at our target group. This first and fundamental step in defining the target group is important in order to be able to assess exactly which social networks and strategies will promise us success – because not everyone is online and everyone is different online. Target groups can be very different:
Strategies and methods by age of the target group
Age is a decisive factor for the audience's way of thinking. Does our audience rather expect "young, loud" advertising or content or "more differentiated, informative" advertising or content? Content and information must always be tailored to how the respective target group perceives the information best (media reception). Interests play an important role across all ages.
Age of the target group decides on ways of thinking
Contents and messages must be prepared and adapted accordingly
Strategies and methods according to interests and preferences
Interests can be very diverse, from common brands that are admired, people such as celebrities, book authors but also leisure activities such as sports, hiking or cooking, or more precisely Low Carb, Bio, Vegan, Detox, etc. to Low Carb for men, young men, young women and older women, athletes, not sportsmen, etc., to be more precise. In Facebook Ad Management and Retargeting, we can create excellent groups here and play with various ads. The conversion (CTA = Call to action) then tells us which display was more successful in the split test. All this connects people and all this allows us to develop coherent concepts.
Clusters and deepens interests
Food > Food vegan > Food vegan for women > Food vegan for young women > Food vegan for young and sporty women
Strategies and methods according to geographical aspects such as places of residence
In addition to age and interests, geographical location is also important. If you spread advertising internationally across national borders, it is no longer accurate. In social networks, thanks to the data records, you can place extremely accurate advertisements. We can specifically recruit women aged 30-40 in the city centre or 35-50-year-olds in the suburbs. Regardless of whether the target audience is targeted or organically structured, it is important to identify your own target group, i.e. the people with the highest probability of interaction.
Sharpen brand profile: Who do we market on the Social Web?
Who are we talking about? Simply copying existing images from brochures or PR texts will not work. Every social network has its own specific characteristics, its own advantages but also disadvantages. No matter whether we are on Facebook, YouTube, Instagram, Pinterest, Twitter or the many other social networks. Our brand should therefore have an exact profile, what do we want to tell people? Which message do we define for ourselves as the core message and which as supporting pillars? After the target group, we take a close look at the company or company, its products and services. The profile layout is very different depending on the size of the company and the variety of the product range or services. For small companies and start-ups it is often sufficient to have a DIN A4 sheet with the most important key points of the concept. In larger companies, the concept already stretches over several pages. Target group and brand are the two key points that we want to combine in social media management. That is why the target group and the company or its message are the first two central points that your employees and new social media managers identify in our workshops and further training – with structure and concept from the expert.
Define marker profile and core contents
A-B-C Analysis of the core messages
Social Media Consultant & Expert: Stephan M. Czaja
Our workshops are planned by the owner Stephan M. Czaja and are mostly carried out. Stephan M. Czaja is not only an expert for companies, he is also a frequent guest in media and TV, especially when it comes to explaining the complex topic of social media / influencers to the viewer.
Selection of social networks: Facebook, Youtube, Instagram, Twitter or Pinterest?
Once we know our two groups exactly, we consider on which networks our target group is active and which networks we can serve with information that is conclusive and useful for our followers (added value). So in the next step of the training we set up a matrix, what suits us? That's the big question. Because not every social network can be served by one company. Because every new social network costs additional human resources, additional work in creating content, additional work and time for editing comments and so on. We therefore recommend companies to focus on a selection of social networks. So you can divide the time exactly and use it effectively. Before much commitment is "consumed" in a less profitable network, one should pay close attention to the network in which one invests his work and time. Because to really build fans, with a "normal brand", you need a lot of patience, motivation and commitment. Because in social networks like YouTube, you have to exist alongside free content posted by private bloggers or even by influencers who are now professionally blogging.
Selection of networks for efficient work
Generate added value for followers (increase interaction rate)
Pedience, trust and motivation are a high value as managers
High competitive pressure through free competitive offers
Social Media content: Text, graphics, photo and video content
After we have agreed on a selection of social networks in the workshop, we think about what content we can use to convince our fans of our channel, so that they can recommend the channel to other friends, interact with our channel, write through likes and comments or even direct messages, e.g. with questions about our products or services. We can also easily redirect users to our websites and online offers. This viral marketing, formerly called word of mouth, is (after advertising) the most effective tool in social media management. If, to stay in the YouTube case study, you produce four good videos that make it into other users' playlists and are therefore seen and shared more often, you can already achieve extreme effects for your brand with the simplest videos. Especially informative and helpful videos, as well as entertaining and funny videos work in this network. Entertaining and funny contents are much more difficult than informative formats. As in acting, comedy and entertainment is the highest art. Whoever creates this art as a social media manager deserves prizes!
Content must encourage interaction (like, comment, message or recommendation)
Place links to lure users to online offers
Viral effects are a high art in marketing
Regular content and consistent community building
For 99.9% of the companies and enterprises, however, it is initially only a matter of publishing regular content (contents). Even if it sounds easy to post "something" every day, it's much harder than you think. Bloggers who do this job full-time sometimes concentrate hours a day on their photos and videos. In addition, there are comments from fans, but also requests from customers who need to be processed in e-mail program. The more fans and followers you have reached with your own YouTube channel after such a training, the more time you have to invest in maintaining the community. To build a community, regular content is important. It is not only your own content, but also a healthy mix of foreign content that is shared. Our channel must seem alive, just like our company. We have to have the desire to interact with our fans and have fun at work. Everything else won't do you any good. Media contents must be produced partly complexly, so that they get "a" Like. Automating this constant work in certain points, be it through the use of social media software or even image editing programs like Photoshop, is the high art of a social media manager.
In our multi-day courses, we also show how to deal with such programs and what means and possibilities there are to produce and distribute content faster.
Regular content is the absolute foundation for Social Media Manager
Community building costs time, proportionally the time for the care increases
Fun at work is very important here (close human contact; reputation of the company)
Media production: postings with added value and retention time
Media production is the decisive part in social media management, because here it is decided whether the content is relevant for fans and followers, i.e. important and interesting, or not. Postings need two factors:
Added value for the fan (content; quality) and the
Option to dwell (amount; quantity)
Text and emojis in postings
It's not directly about producing "big" videos, we only think of a social network like Facebook. Let's take a simple information as a case study, we have a new member in the team. Shall we cover it? Yes! Now the question arises, what does such a posting look like? Let's just publish a simple text
New in the team our Johanna
Or do we give "more" information so that the user also has an interest in staying that way including added value (why? why? what is the point)
New in the team our Johanna! She supports our www.socialmediaone.de [first click option] team now for Tik Tok. Have you heard of Tik Tok? Tik Tok is the new social network in which particularly very young humans stay. As soon as Facebook was replaced by Instagram, Musical.ly is the new hype among teenagers. Do you have any questions or would you like to become active yourself? Johanna has the best tips for you [added value for the user].nd]
Now we have a detailed text, it contains both questions and possibilities for further interaction. The text is so long that it is displayed in a shortened form on Facebook and users have to click on "read more". We provide information that is much more detailed and interesting for the users who already like us.
Now let's move on, Emojis! Emojis express complex emotions in a simple "picture", like the laughing or the sad smiley do. The palm tree, the sun, the wave, the plane, the Paris Eiffel Tower! With emoticons we have extremely many possibilities to enhance our own postings for social media in a way that the users can record the information even faster and easier. You should therefore always add emojis to postings. Here is a complete Emoji list. The next step is to add media content to the posting.
Photos, Videos and Slideshows in Postings
Depending on the company and the size of your own company, your own social media production is easier or more difficult to do. If you have a small team, all you need is a simple mobile phone camera and a creative mind to take care of varied postings. The same person should also be in our workshop so that the contents of the training can be directly implemented by the person who will later be responsible for social media management in companies. When selecting the media, she can then choose different contents: Photos they are easy to produce, with any mobile phone from anywhere. Whether in the office, during the day, in the evening or even live from events. With the mobile phone you are always and everywhere present and can even make live transmissions. If you want to invest in photo shootings for your online shop or your company, it is advisable to book a professional photographer who knows exactly what is important for your brand. In the next step you can also produce videos, here from the aforementioned simple live video streaming from your mobile phone to Facebook or YouTube, or with stories in Snapchat or Instagram. But it's also more expensive! With reflex cameras, gimbal camera movements or explanation videos, with faded in graphics. All these options and possibilities have to be defined first, so that you know which media you will focus on in production. Here, too, we create a matrix in our workshops around training courses to identify which media content we can deliver regularly, which sometimes and which rarely. In addition, there is of course also foreign content, e.g. funny (already viral) videos, which fit to our topic.
Basic a good smartphone is enough for photos and video
Smartphone is always and everywhere ready for use
Image photography should still come from the photographer
Social Media Software Tools for advance planning and performance measurement
Anyone who has created his concept, defined the target group, built the channel, defined the strategy and produced the media can now look forward to the use of social media software tools. Depending on the amount of postings and social media channels, software helps us plan information ahead and measure success. Especially the advance planning of content is very important for companies, not only when working in the German market but also when working internationally. Content can be published in the various networks independently of the company's own office hours or opening hours. Content can also be coordinated, e.g. for actions. Social media software helps to publish content but also to analyze content later on: How successful were our contents? Such social media monitoring is important to identify which postings were well received and which were not. You can draw conclusions from this and discover new opportunities for your own company. But social media software can also help to generate new reach, through so-called social bots. They are not a panacea for everyone, but you can help to ensure some organic range, especially at the beginning. Those who can afford it can also invest in advertising and use software for this area. The large networks around Facebook, YouTube and Instagram also offer their own solutions, but there are also smart programs that can be used to extend these functions. In our workshop we show examples and possibilities according to complexity!
Learn from our TV experts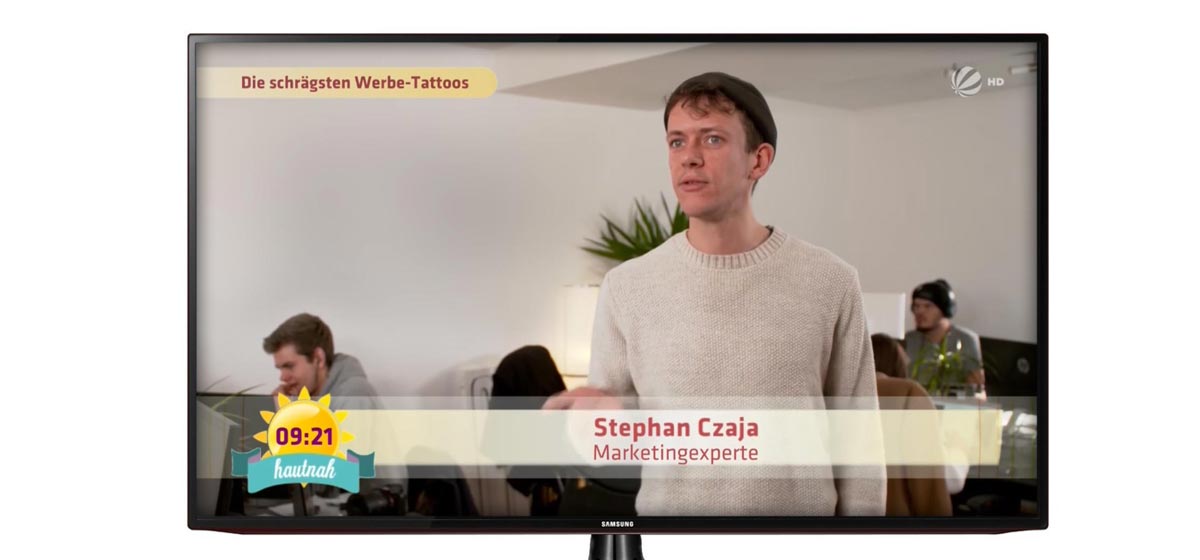 Book now your workshop, further education or training for employees
Our experts help your employees in companies to become social media managers. Send us your inquiry now without obligation and get in touch with our Social Media Coach.